A 10-Song Playlist That Can Make Any Day Better
Physician and New York Times bestselling author
By Lissa Rankin, M.D.
Physician and New York Times bestselling author
Lissa Rankin, M.D., is the New York Times bestselling author of "Mind Over Medicine," "The Fear Cure," and "The Anatomy of a Calling." She is a physician, speaker, founder of the Whole Health Medicine Institute, and mystic. Lissa has starred in two National Public Television specials and also leads workshops, both online and at retreat centers like Esalen and Kripalu.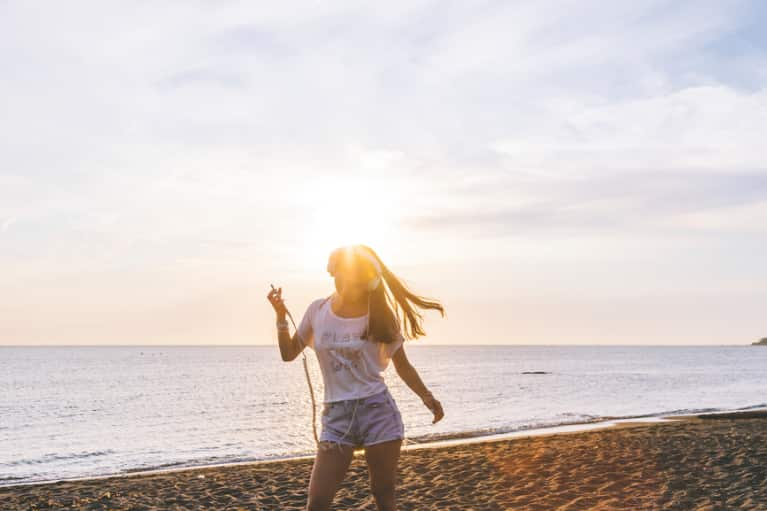 We all have low days, especially when we've received bad news, we're struggling with an illness, we're experiencing a loss or disappointment, or we've been thrust into the kind of uncertainty that can feel frightening. This year, I've lost six people I love, most of them young, dying unexpectedly and tragically. I'm also helping a friend through a cancer journey right now.
Let me share with you my playlist of songs that can help us navigate uncertainty, trust in a benevolent universe, bolster our resilience, and survive life's inevitable rocky patches with a cracked open, humble heart.
1. "Scare Away the Dark" Passenger
This needs to be the anthem of our culture right now! "Sing, sing at the top of your voice/ Love without fear in your heart/ Feel, feel like you still have a choice/ If we all light up we can scare away the dark." (We do have a choice, you know?)
My friend Dave Carroll, who garnered internet fame with his song "United Breaks Guitars," believes that his online celebrity was really a vehicle intended to draw attention to his song "Now," which was written for a sick friend of his and inspired by Eckhart Tolle's The Power of Now. "When there's no way out, there's still a way through/ So don't give up, whatever you do."
3. "Let It Go" Michael Franti & Spearhead
This one asks you to get up and dance. Even if you're too sick to get out of bed, you have to at least bop your head as you trust, surrender, and let it go. "Though the days are dark sometimes, you'll always be my shining star … Just let it go."
4. "Made of Love" Amir Paiss
When things get rough, it's easy to spiral down into darkness. It's easy to forget that we are not only made of stardust; we are made of love. "Everything that happens call me to awaken and remind/ We are made of love."
5. "Waiting on an Angel" Ben Harper
Sometimes when we're struggling, the arms of those we love can lift us out of the darkness. Sometimes, it's the angelic realm that swoops in to beam us with love. "Now angel won't you come by me/ Angel hear my plea/ Take my hand lift me up/ So that I can fly with thee."
6. "Cry If You Want To" Karen Drucker
Sometimes, when you're not feeling 100 percent, you just need someone to hold space for you to have a good cry. Holding space doesn't mean trying to cheer you up, give you advice, or deny what you're feeling. It's just permission to be with you — however you are. "No I won't make fun of you/ I won't tell anyone/ I won't analyze what you do or you should have done/ I won't advise you to go and have fun/ You can cry if you want to."
7. "Prayer for Healing/ Great Mother" Peruquois & Solar Wind
Because we are part of the greater whole, when we feel down, sometimes it's because we are feeling the pain of the collective, the pain of nature, the pain of planetary grief. Calling upon Mother Earth can comfort us. "Oh mother, great mother, help us to heal ourselves and one another."
When I was struggling with a physical illness, shaman and sound healer Rafael Bejarano played this song for me and I had the strangest experience. Something that felt like warm honey started moving in my body, like life force cleansing me as this crystal voice sang, "I am the light/ I am the peace of the world." Rafael died tragically this year, but I still feel his presence when this song resonates in my body.
9. "Keeping Your Head Up" Birdy
"Everyone keeps a darker place/ To lose control, you're not alone/ And when you come looking for embrace/ I know your soul; I'll be your home/ Till you can breathe on your own." Oh yeah. Sweet comfort.
10. "Lullaby for a Stormy Night" Vienna Teng
Sometimes we just need a beloved friend to hold us through a stormy night. "Little child, Be not afraid/ The storm clouds mask your beloved moon/ And its candlelight beams/ Still keep pleasant dreams/ I am here tonight." Oh, the beauty, vulnerability, and intimacy that unfolds when we're willing to just reach out and ask for the love we need when things get rough.
Looking for more playlists to guide you through those difficult moments? I've got you covered:
10 Songs To Give You More Confidence Right Now