5 Ingredients McKel Hill Of Nutrition Stripped Is Loving Right Now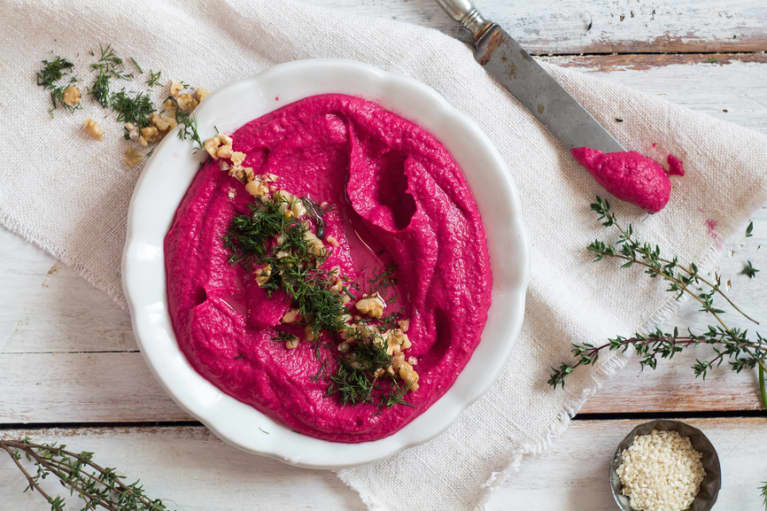 Our editors have independently chosen the products listed on this page. If you purchase something mentioned in this article, we may
earn a small commission
.
It's no secret we love Nutrition Stripped and McKel Hill's straightforward, nutrient-dense, and absolutely beautiful approach to food and helping people eat better. Today, she's sharing the ingredients that she's loving right now.
If you want more from McKel, check out her new cookbook, Nutrition Stripped.
It's not a trend; I'll always be a fangirl for turmeric. It's one of the most accessible and potent foods for fighting inflammation.
The most studied component in turmeric is curcumin, which has been shown to help prevent cancer as well as improve everything from immune health to cholesterol; it's anti-inflammatory and protects the cardiovascular system.
You can use turmeric in many applications, but the NS fan favorite is Turmeric Milk, a classic inflammation-fighting recipe, which made its way into the #NScookbook.
2. Medicinal mushroom powders
You may know the mushrooms that make up these blends by the names chaga, reishi, king oyster, cordyceps, shiitake, maitake, and more.
Each of these mushrooms has been used for centuries as "medicine" due to their high inflammation-fighting compounds, antioxidants, and nutrients such as B vitamins, zinc, manganese, choline, dietary fiber, vitamin D, and copper.
Their earthy, woodsy flavor hides well in chocolate-based recipes like my Ultimate Tonic and several recipes found in my book like the Mushroom Tonic and the Beauty Papaya Potion.
This fermented food and others (such as yogurt and kombucha) take care of our gut microbiome—our inner ecosystem—which is imperative to our overall health and well-being.
Our gut is the foundation for our immune function and requires the balance of prebiotics, probiotics, and synergy with yeast and bad bacteria.
Taking care of our inner ecosystem is a daily practice, and things like taking heavy-course antibiotics, stress, smoking, and/or not supplying our bodies with enough pre- and probiotics are recipes for gut dysfunction.
The answer? A diet made up of whole foods.
They've not just beautiful to photograph! Beyond their outer beauty, avocados are one of my top whole food ingredients to use for their culinary diversity and their nutritional and health benefits. Use them to replace dairy (like heavy cream or butter) in recipes that require a thick and creamy consistency.
For example, the NS fan favorites: Raw Avocado Lime Tart, Dark Chocolate Avocado Mousse, and the Avocado Shallot Spread. Avocados are delicious sources of fiber, containing about 13 grams per avocado, potassium, vitamin E, and monounsaturated fats, which have been shown to keep our hearts healthy and digestive systems happy.
I went a little beet crazy while writing my cookbook. They started out as a not-so-favorite veggie of mine, but they're also one of the most functional whole foods for liver health.
Beets contain antioxidants and support detoxification, so sneak this liver-protective veggie into your meals with the Beetroot Pizza with Sunflower Seed Pate, Beetroot Pink Smoothie Bowl, and the Massaged Beet, Carrot, and Brussels Sprout Salad with Citrus Tahini Dressing all from the #NScookbook.