Meal Prep Made Easy: Carrot + Chickpea Mason Jar Salad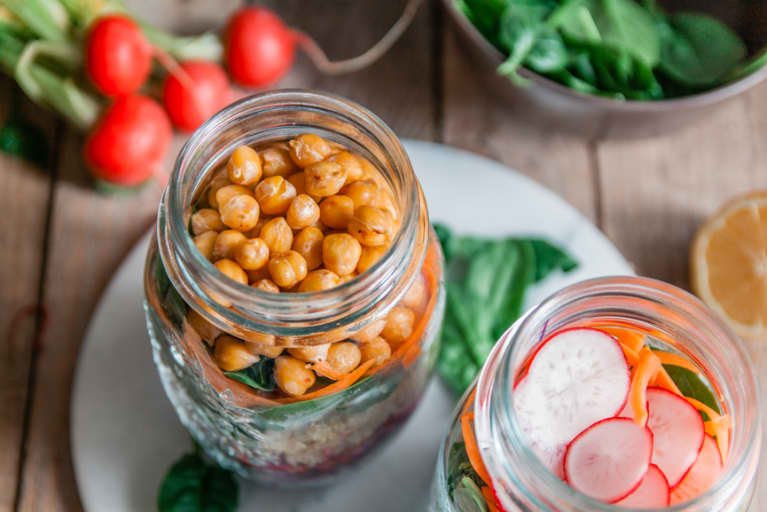 Many of us know how important meal planning is to eating well and have even stumbled upon some great ideas to make it easier, but few of us take the time to do it.
If you're looking for some ideas to make meal prep during the week quicker, easier, and more nourishing, you are going to love today's recipe!
I teach workshops about meal planning along with cooking demonstrations to companies and have found that this recipe, more than any other, stays with people. In other words, they ACTUALLY make it on their own once I leave.
Here's why.
It's easy, versatile, convenient, and tastes delicious. What I love about Mason jar salad recipes like this one is that you can prep a few of them at a time, so you can just grab, go, and shake up your lunch during a busy week.
Easy Carrot + Chickpea Mason Jar Salad
3 tablespoons fresh lemon juice
1 clove garlic, minced
¼ teaspoon sea salt (add more to taste)
⅓ cup extra-virgin olive oil
½ teaspoon honey (optional)
1 pound carrots, shredded
1 can (15-ounce) chickpeas, drained and rinsed
1 package arugula or baby spinach
2 veggie burger patties, toasted
¼ cup pumpkin seeds
Preparation
1. In a small bowl, whisk together lemon juice, salt, oil, and honey. Pour desired amount into the bottom of each quart-size Mason jar (about 2 tablespoons).
2. Prepare each Mason jar salad by adding even amounts of the chickpeas, carrots, and greens.
3. Toast the burger patties in a toaster oven just before serving to enjoy them crispy and warm (rather than soggy) if you're eating them throughout the week for lunches. Add the patties and nuts to the salad jar, cover with a lid, and then shake it up or pour it in a bowl and enjoy!