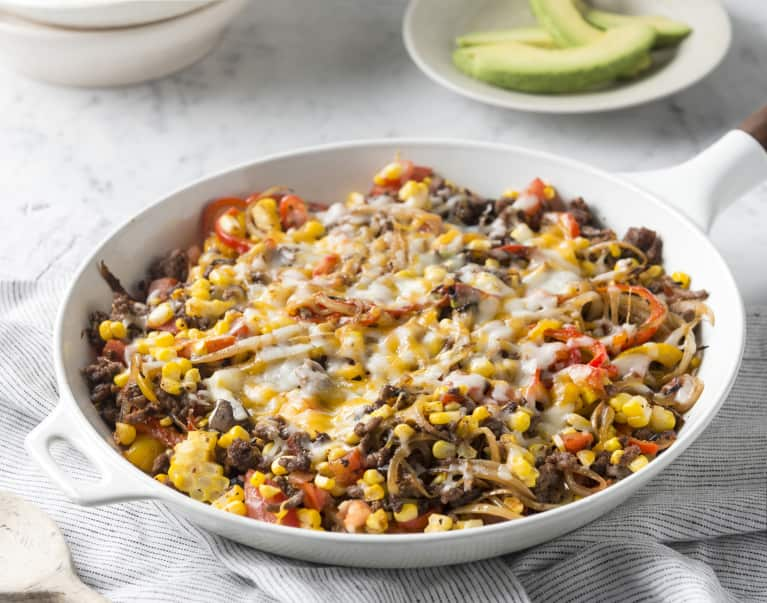 This Mexican-themed meal is sure to become one of your most craved dishes — the melted cheese, savory beef (or vegetarian protein of your choosing), and seasoned bell pepper noodles are irresistible. And with an easy cleanup, what's not to love? Whether you're having a margarita party or looking for a fun, fresh dinner idea, this dish comes together quickly and shows off the classic flavors that make Mexican food so desirable. While any kind of bell pepper will work here, go for varied colors and embrace that fiesta spirit. Experiment using sweet potato and jícama as a base too!
You have my permission to eat this straight out of the skillet!
Serves 4
For the fajita seasoning
¼ teaspoon cayenne pepper
1 teaspoon chili powder
¼ teaspoon garlic powder
½ teaspoon paprika
½ teaspoon smoked paprika
½ teaspoon onion powder
¼ teaspoon ground cumin
¼ teaspoon salt
¼ teaspoon dried oregano
1 large ear of corn, husked
Salt and pepper
½ pound lean ground beef, or protein of your choice
3 large garlic cloves, minced
½ teaspoon dried oregano
1 tablespoon extra-virgin olive oil
1 small yellow onion, sliced
2 large bell peppers (I used yellow and red), cored, spiralized with blade a
2 Roma (plum) tomatoes, seeded and chopped
¾ cup Mexican blend cheese
1 avocado, thinly sliced
1 tablespoon chopped fresh cilantro
Preparation
1. Mix together all the fajita seasoning ingredients in a small bowl.
2. Place the corn in a medium pot and add water to cover and a pinch of salt. Bring to a boil, cook for 2 to 3 minutes until fork-tender, and drain.
3. While the corn cooks, place a 12-inch skillet (cast iron, if you have it) with a lid over medium heat. When water flicked onto the skillet sizzles, add the beef or protein of your choice. Season with salt and black pepper. Add the garlic and oregano and cook for 10 minutes or until the meat is browned, breaking it up with the back of a spoon as it cooks. Remove it from the skillet and set aside.
4. Add the olive oil to the skillet and heat over medium-high heat. When the oil is shimmering, add the onion and bell peppers and cook for 5 minutes or until the vegetables begin to soften.
5. Return the beef to the pan and add the tomatoes and 1 tablespoon of the fajita seasoning. Toss together and cook for 2 to 3 minutes. Using a knife, slice the corn kernels straight off the cob into the skillet. Sprinkle the cheese over the top and cover. Cook for 5 to 7 minutes or until the cheese melts.
6. Uncover the skillet and garnish with the avocado slices and cilantro. Serve immediately.