This Avocado-Kale Pesto Sauce Is Perfect For A Quick Summer Dinner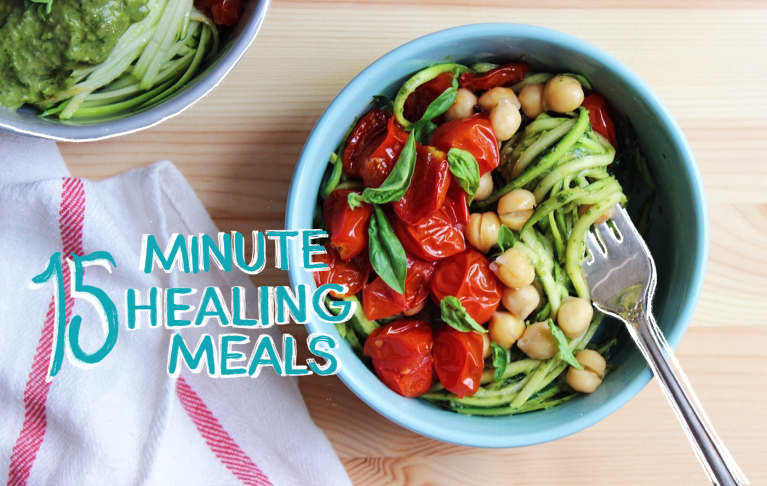 My perfect weeknight meal is packed with vegetables and whole foods, fills me up, and tastes delicious—all while being easy enough to put together quickly.
15-Minute Healing Meals are about feeding yourself well with minimal effort. These recipes are designed to inspire you to cook something wholesome without interfering with everything else you've got going on.
Note: While some meals may take a little longer to cook, we try to make sure that all hands-on time is kept to 15 minutes, to make your mealtimes as relaxing, restorative, and nourishing as possible.
This recipe requires little to no cooking at all, making it a necessary go-to for summer.
If you have peak-season tomatoes, please feel free to skip the roasting step, as great tomatoes don't really need much more than a sprinkle of salt.
The most difficult task is blending your superfood pesto ingredients—avocado, kale, fresh basil, garlic, and salt—into a smooth puree.
Gently toss raw zucchini noodles, chickpeas, and tomatoes with the pesto sauce and you're ready to dig in.
Avocado-Kale Pesto With Zucchini Noodles + Blistered Tomatoes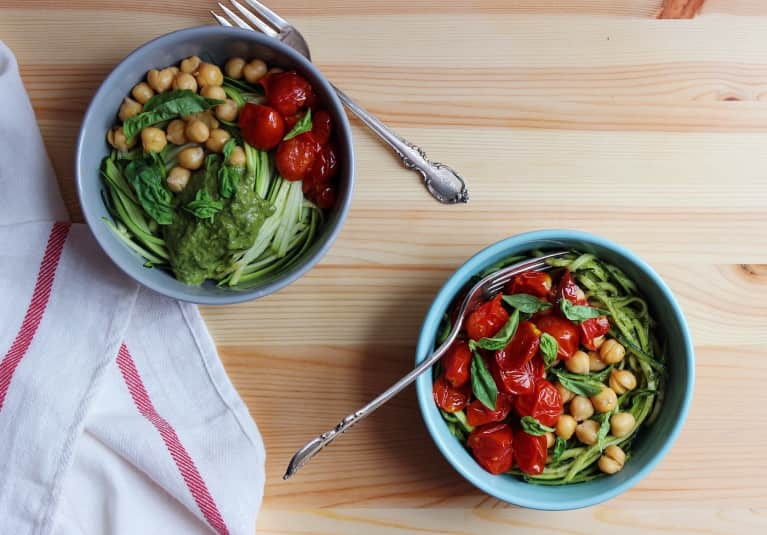 1 pint cherry tomatoes
1 avocado
1 cup packed fresh basil leaves, plus more for garnish
1 large handful kale leaves, torn
1 to 2 cloves garlic
2 to 3 tablespoons water
Olive oil
Salt and pepper
2 medium zucchini
½ cup cooked chickpeas (optional)
Preparation
1. Heat oven to 400°F. Toss cherry tomatoes on a baking sheet with a drizzle of olive oil and season with salt. Spread out on a baking tray and place in the oven. Cook for 15 to 20 minutes, until softened and golden in places.
2. Meanwhile, make the pesto by combining avocado, basil, kale, garlic, 2 tablespoons of water, and a pinch of salt in a food processor or high-speed blender and pureeing until smooth. Add more water in small increments, if needed. Taste for seasoning, adding more salt to taste.
3. Peel zucchini into noodles. Toss with avocado pesto sauce and top with cherry tomatoes, chickpeas, and fresh basil leaves.