Why Coffee, Red Wine & Chocolate Are Part Of Adele's New Eating Plan: A Doctor Explains
Cardiologist
By Joel Kahn, M.D.
Cardiologist
Dr. Kahn is the founder of the Kahn Center for Cardiac Longevity. He is a summa cum laude graduate of the University of Michigan School of Medicine and is a professor of medicine at Wayne State University School of Medicine.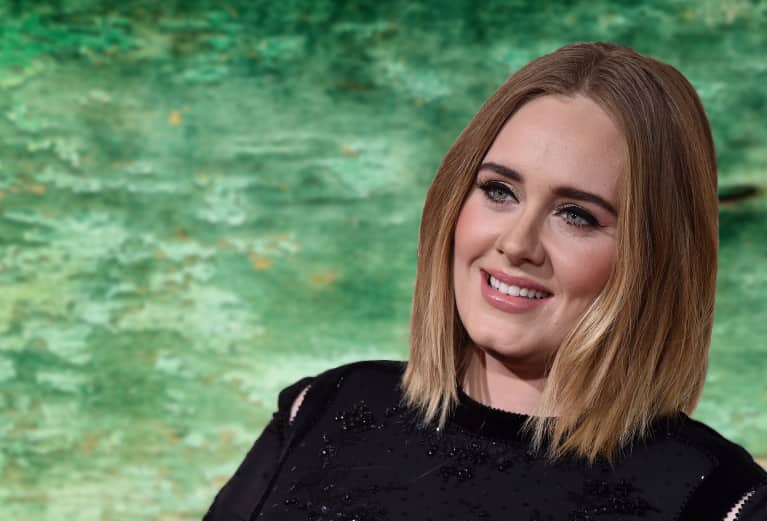 It's rare that advanced scientific pathways involved in human metabolism make the headlines worldwide. But when it involves weight loss and Adele—two things that interest many people—it's worth exploring the science.
The science of sirtuin proteins actually goes back to the 1980s. But it wasn't until Adele performed at the Billboard Music Awards last month with a noticeably slimmed-down figure that the media started to focus on this obscure family of metabolic regulators. According to the reports, Adele's weight loss was a result of the Sirtfood Diet, which claims to activate the "skinny gene," or SIRT1, which plays a role in metabolism and appetite control. To do so, Adele both limited her calories and ate a diet focused on key foods said to boost the sirtuin metabolic regulators.
For example, resveratrol, found in red wines like pinot noir, is one activator of the sirtuin pathways. You've probably heard of its proposed health benefits before, including in cardiovascular health and general aging.
What are the other sirtuin-activating foods, or "sirtfoods"? Here are some examples:
Walnuts
Turmeric
Strawberries
Soy
Arugula
Red wine
Red onion
Red chicory
Parsley
Medjool dates
Loveage (a culinary herb)
Matcha green tea
Kale
Coffee
Cacao
Celery
Capers
Buckwheat
Chili
Extra-virgin olive oil
I learned of the sirtuin family of proteins only a few years ago, in an advanced integrative cardiology course. Fasting and calorie-restricted diets also activate sirtuins, particularly SIRT 1 and 3. This is the scientific background behind the Fast Diet, also known as the 5-2 Diet plan, which calls for dropping calorie intake to 500 to 600 calories a day one to two days a week and is very popular in the United Kingdom.
Whether the sirtfoods actually boost your "skinny gene" or not is speculative. But the program appears to be neither dangerous nor expensive.
For some, the discipline of reducing calories several days a week for months may be challenging. The diet plan Adele followed lowers calories to 1,000 a day the first seven days, then increases intake to 1,500 calories a day, concentrating on 20 key foods. The start of the diet calls for several green juices a day (recipe below!) and one solid meal. Later, during maintenance, it advances to three meals a day. Animal products do not activate the sirtuin pathways, but the plan does offer options with or without animal products.
Does the sirtfood plan work?
Though there isn't much research that specifically looks into this diet, in an unpublished trial of 40 subjects, the average weight loss claimed was 7 pounds in one week, along with an increase in muscle mass and vitality.
So, should you try the sirtfood eating plan? The calorie counting is probably too restrictive for most of us. But I think we can all agree that what is not on the diet is noteworthy. There are no processed foods, added sugars, or refined flours. Whether the list of 20 sirtfoods actually will boost your "skinny gene" or not is speculative. But the program appears to be neither dangerous nor expensive.
As a vegan cardiologist, I find that the list of 20 foods—full of vegetables, fruits, and spices—are by and large a good basis for health (although I limit my intake of oils). Further, I find that the recipes for this plan, which include vegan options for all meals, are quite appealing. And apparently, Adele agrees.
This green juice is the backbone of the first week of the plan and is quite delicious. Here's the recipe:
2 large handfuls kale
1 large handful arugula
A very small handful (5g) flat-leaf parsley
1 small handful (5g) lovage leaves (optional)
2 to 3 large stalks (150g) green celery, including its leaves
½ medium green apple
Juice of ½ lemon
½ level teaspoon matcha green tea
Instructions:
Mix the greens (kale, arugula, parsley, and lovage, if you're using it) together, then juice them. Next, juice the celery and apple. Peel the lemon and put it through the juicer as well. Pour a small amount of the juice into a glass, then add the matcha and stir vigorously with a fork or teaspoon.
Once the matcha is dissolved, add the remainder of the juice.