Sweet & Spicy No-Bake Vegan Brownie Bites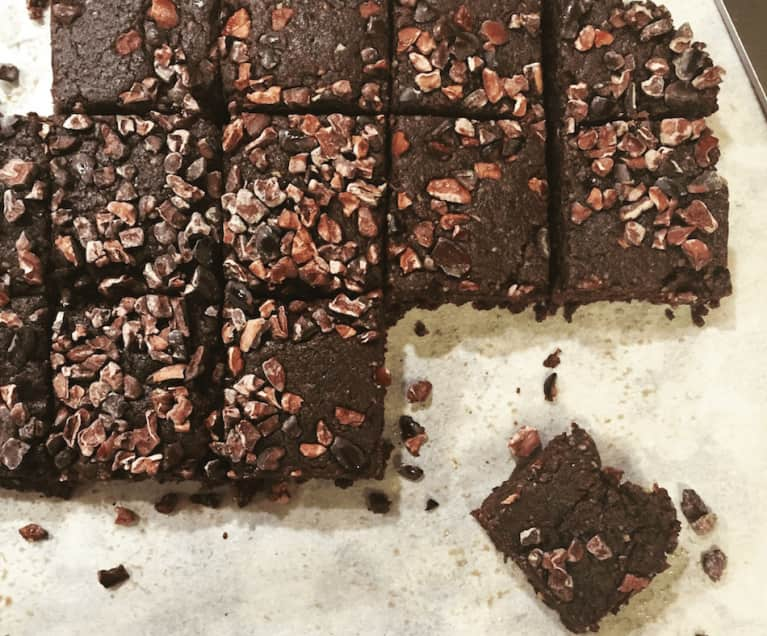 Chewy. Chocolatey. Sweet. Spicy. These no-bake brownies are the perfect after-dinner treat or pick-me-up snack.
They're packed with antioxidant-rich goodness in the form of nuts, cacao, and cinnamon. The subtle spiciness from the cayenne will sneak up on you. You won't notice it right away, but it will linger just a bit on the back of your tongue as you finish savoring these little bites of joy!
Spiced Cacao + Date Brownies
½ cup raw walnuts
½ cup raw almonds
½ teaspoon fine grain sea salt
⅓ cup raw cacao powder
½ teaspoon ground cinnamon
¼ teaspoon cayenne powder
1⅓ cup medjool dates, pitted and coarsely chopped
½ teaspoon vanilla extract
¼ cup cacao nibs
Put the nuts in the food processor and run until finely ground.
Add the remaining dry ingredients and process until evenly combined.
Add the dates and vanilla and run for about 60 to 90 seconds or until the mixture starts sticking together.
Press dough into parchment paper and sprinkle with cacao nibs (optional), then cover with another piece of parchment and roll out dough to flatten with a rolling pin until about 1 inch thick.
Use a pizza cutter or knife to cut dough into rows and then 1-inch squares. Another option is to shape the dough into 1-inch balls. Store in the refrigerator or freezer.