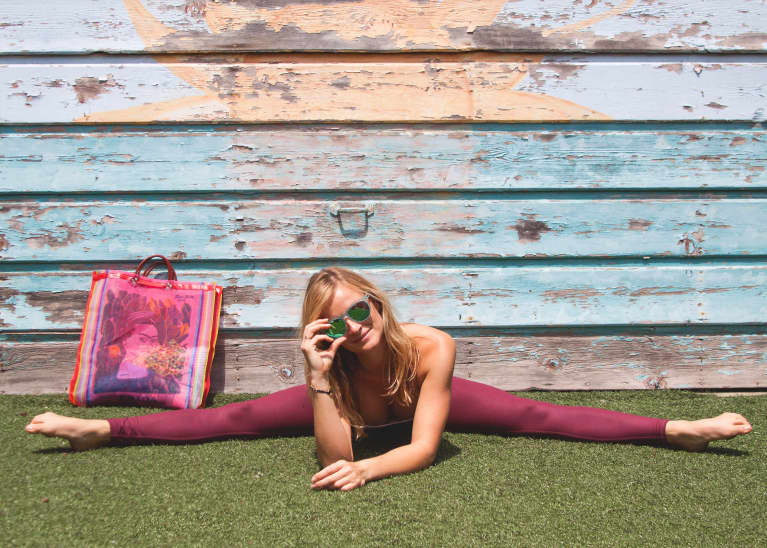 Summer is full of fun, unexpected opportunities to be healthy and active. So, mindbodygreen has teamed up with ALOHA to make sure you're ready for every chance that comes your way. Here, traveling yogi Caley Alyssa shares her essentials for staying healthy on the go, all summer long.
Summertime, and the livin's easy…and summer is the perfect time to focus on making your health a top priority! When I say health I mean everything: your body, mind, and spirit.
Summer comes with an abundance of seasonal specialties to help boost your overall health and well-being. Fresh, local produce is bountiful, beautiful outdoor locations and activities become available to enjoy, and the amazingly motivating energy of the sun gives you that extra kick in the pants you need to "Make it happen!"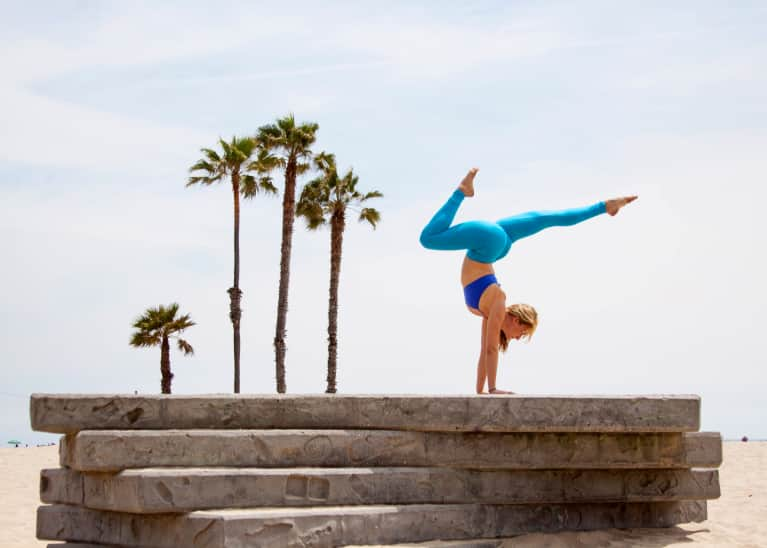 Eating with the seasons also makes me feel healthier, happier, and connected to nature. We're lucky in California to have farmers markets around every corner. Most mornings I make a smoothie packed with local organic greens and one of my favorite vegan protein powders from ALOHA—I always have a tin of chocolate on hand!
During this energetic season, it's important that we make the effort to take advantage of any fun opportunities that might come our way. Spur-of-the-moment adventures feed your soul and are part of your overall health and well-being!
I have a few key items I keep in my bag at all times, just in case an impromptu adventure arises. These five items have all proven themselves more than necessary to me time and time again.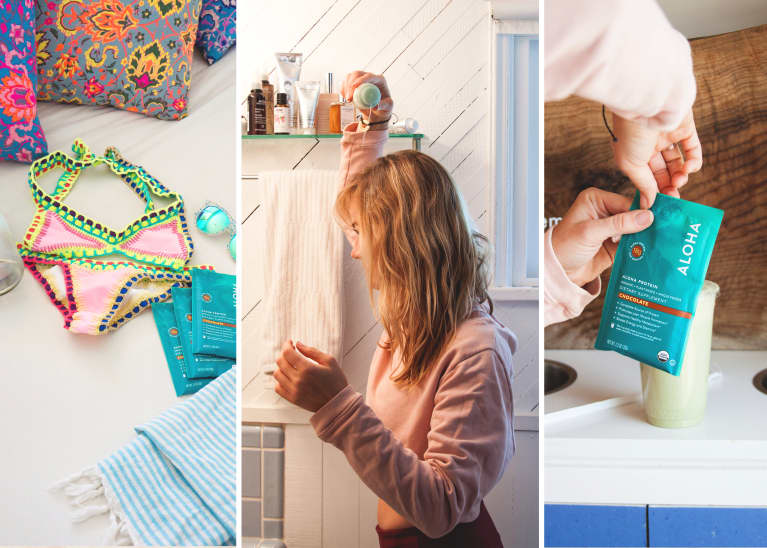 1. Rose water facial spray
This is a must-have for travel. Dehydration is common during travel, and skin is the largest organ of the body. As such, it quickly shows the effects of dehydration. A spray or two of rose water of your face, neck, and shoulders is the most refreshing thing! It wakes you right up, helping you to feel refreshed and energized.
2. ALOHA chocolate protein powder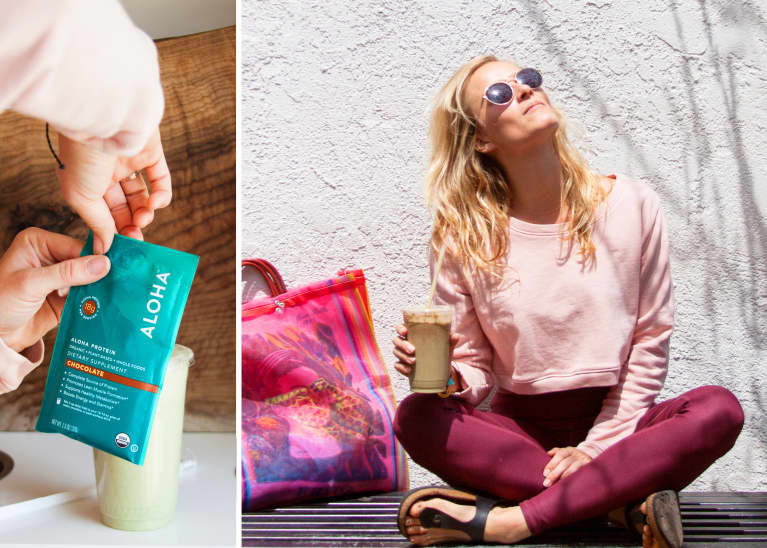 Keeping up with nutrition is vital during travel. In order to stay healthy and make sure I'm getting all of the nutrients and protein I need, I always travel with ALOHA's individual portion-sized protein packs and add them to almond milk or a smoothie. This ensures that I get all of the nutrients I need and don't have to worry about eating junk food if that's my only option.
Game-changer. Sometimes you don't have the time to shower, and your hair can get greasy and limp after a long day (or two!). Dry shampoo helps to keep my hair looking clean and smelling fresh, but it also gives me a decent amount of volume.
A little speaker can pack a big punch! The version I use is waterproof and small enough to take anywhere. Music is a huge part of what I do and what makes me happy. I love to travel with a little speaker so I can add music to any situation I encounter.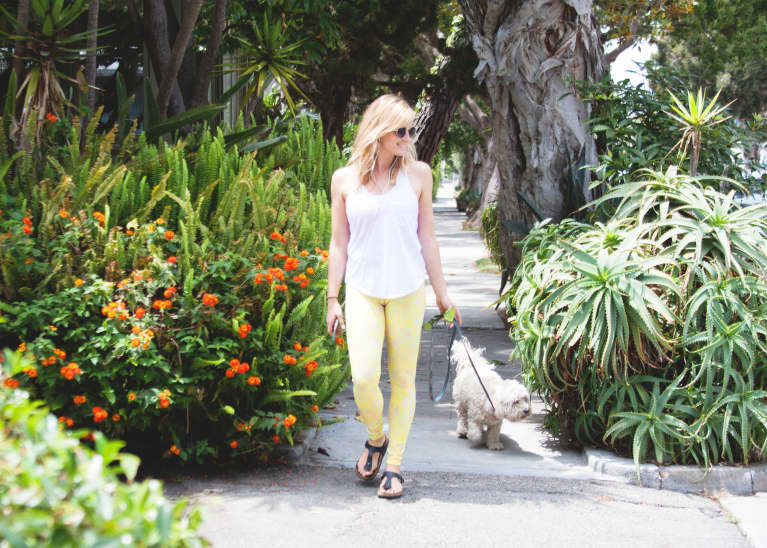 Sometimes, you need alone time. Headphones, especially wireless versions, complement any workout or travel scenario. All earphones that can stay in my ears when I am in a handstand are good by me!
So, now that summer is upon you, how will you spend it? You've now got the tools you need in order to have your own amazing summer of "YES," so get out there and DO IT!
What will I be doing this summer? It's been a longtime dream of mine to get certified to dive, and so this summer I am traveling to Sumatra to make it happen. I just said YES.
My Favorite Stretches for Traveling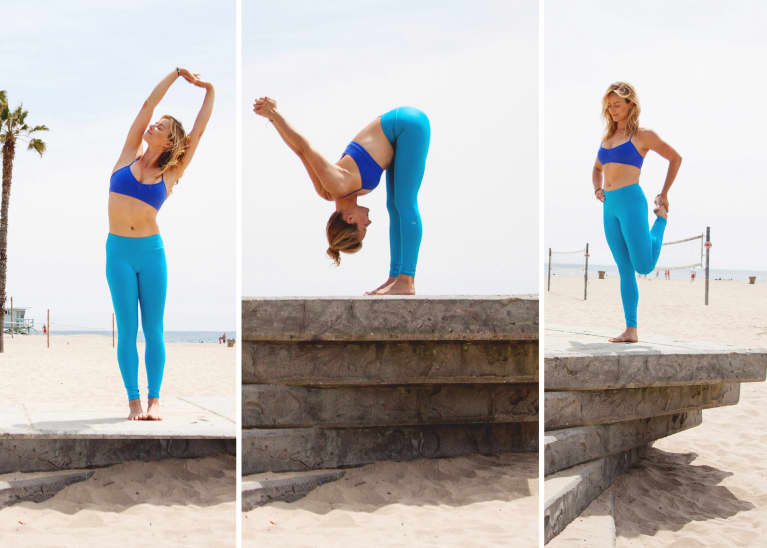 When I'm traveling such long distances I need to stretch! My top three yoga stretches I do while traveling are:
1. Standing hip flexor stretch
Move your weight into one leg and bend your other knee as if you were going to kick your booty with your foot. Reach around with the hand that's on the same side as the bent knee and grab your foot. Lengthen your tailbone to the floor as you gently kick your foot into your hand.
You should feel a delicious stretch in your hip flexor, which tends to get tight when you sit for long periods of time.
2. Shoulder stretch with forward fold
Stand with your feet hip-distance apart, and keep a gentle bend in your knees. Interlace your fingers behind your back, bending your elbows and gently drawing them toward each other.
Slowly start to fold forward, letting your arms lift up and over behind you. This one gets your shoulder, hamstrings, and lower back all at once!
You can do these while seated or while standing!
Interlace your fingers and press your arms straight overhead, palms facing the ceiling. Inhale to lengthen your spine, and as you exhale, lean over to the right, stretching the left side of your torso. Then inhale come back to center, and exhale over to the left, stretching the right side of your torso.