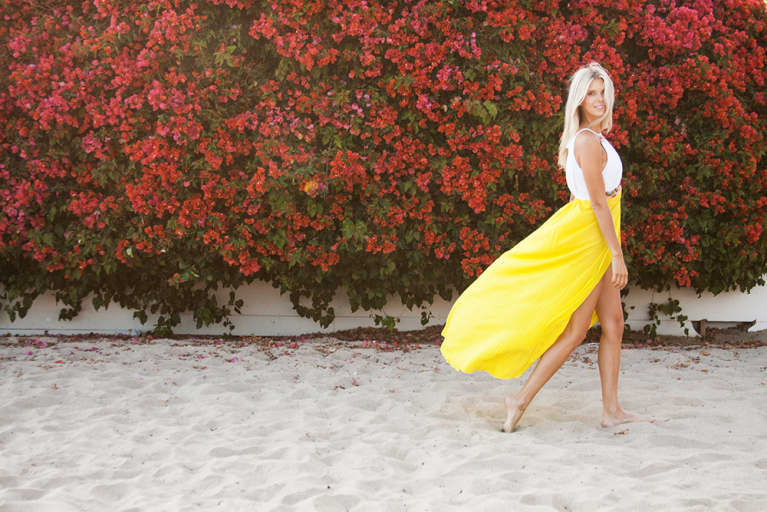 Summer is full of fun, unexpected opportunities to be healthy and active. So, mindbodygreen has teamed up with ALOHA to make sure you're ready for every chance that comes your way. Here, health coach Nikki Sharp shares her essentials for staying healthy on the go, all summer long.
Tired of feeling like you've been hibernating inside and comfort eating all winter? Me too! Summer is officially here, which means it's all about feeling energized, looking sexy, and saying yes to having fun. I personally love the warmer months because it means that I get to wear dresses, play in the sun, and naturally crave healthier foods.
For me, summer is all about taking advantage of being outdoors, spending time with friends, and going with the flow for whatever may come. That's why it's important to always keep some essentials with me at all times.
You've heard about the fashion summer essentials, but what about if you're trying to maintain a healthy lifestyle? I'm sharing my top summer essentials that will help you to eat cleaner, glow from the inside out, and shed any unwanted hibernation pounds.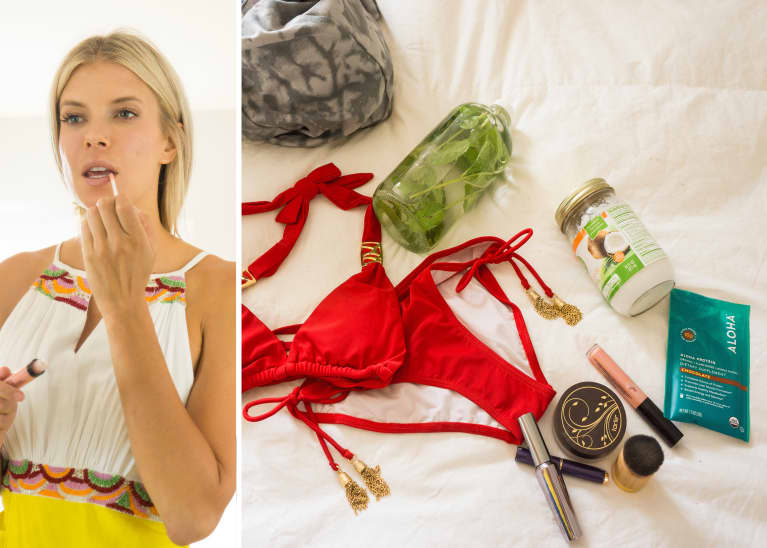 Coconut oil is my go-to item when it comes to all things summer because it has so many uses. I use it as tanning oil, to soothe sunburn (oops!), as a moisturizer at night on my face, as a hair mask, and, of course, mixed into my smoothies for essential healthy fats that our bodies need.
2. ALOHA protein powder packet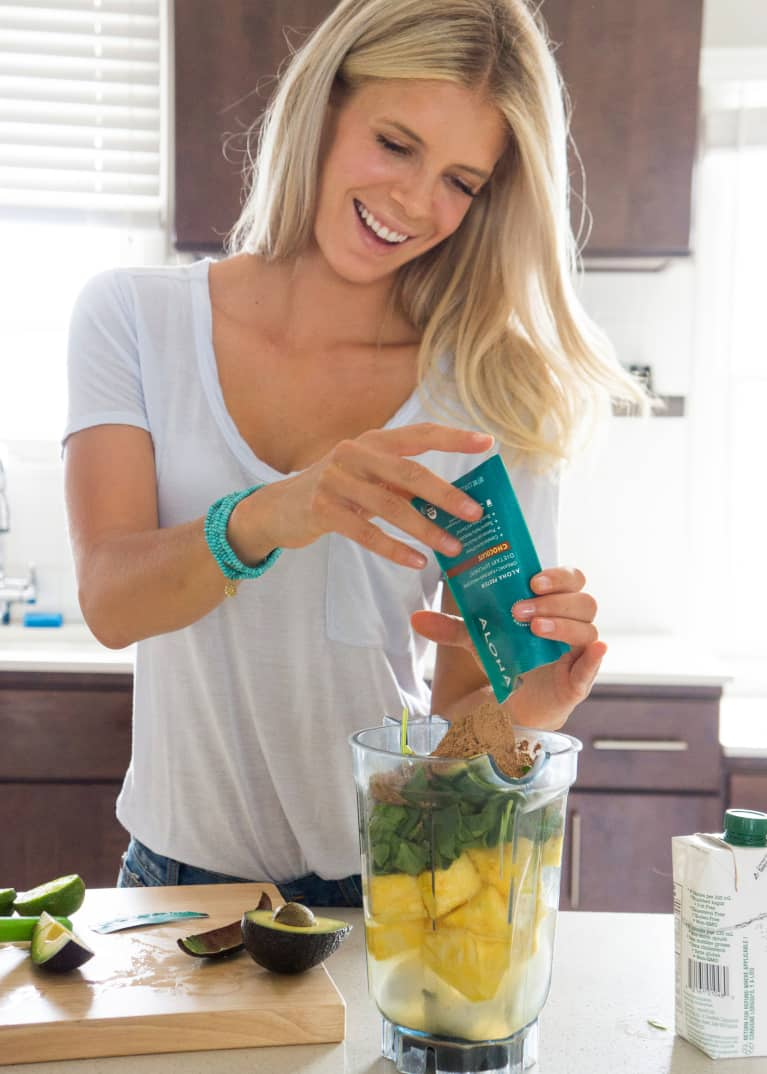 Summer is all about feeling your best, which is why what you eat is super important. Following a plant-based diet and steering clear of anything processed will give you the results you want, which is why I love to supplement my diet with ALOHA protein powder. It's free of chemicals and fake sweeteners; it tastes amazing and comes in super-convenient packets.
I like to include it in my diet by adding one vanilla protein packet to my favorite smoothie, which consists of spinach, coconut water, lime juice, pineapple, and avocado (full recipe below!). I'll also mix it with a green juice after a workout. The protein aids in muscle repair while the green juice reduces inflammation and provides energy.
It's summer—you never know when you'll be invited to that last-minute pool party or to the beach! Living in Los Angeles, I have found that having my favorite suit comes in handy too often because it allows me to be spontaneous, have fun, and go with the flow of summer plans.
4. Concealer, blush, mascara, and lip gloss
These are my go-to makeup items. Summer is all about showing off your natural beauty, so skip the heavy coverage and allow your true self to shine! Having these items means I can go from the beach to a party while still feeling confident and sexy in my own skin.
5. 1-liter bottle of water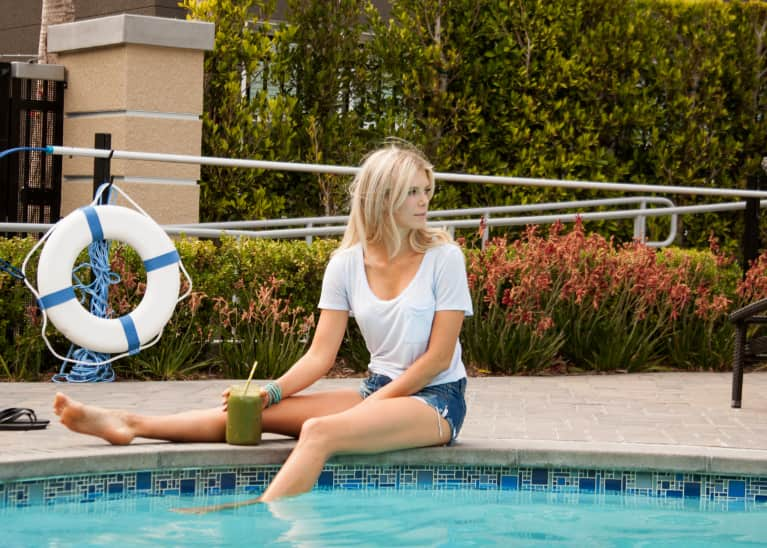 You'll always find a water bottle in my bag, especially during the hotter months. I like to aim for 2 liters every day, so having a bottle with me is key to making sure I am hydrating my skin and maintaining my energy levels. If you don't drink a lot of water, try adding cucumber and sliced strawberries to your bottle. The colors in the water will naturally entice you to drink more.
Above all, remember to keep things simple and have fun! When you feel good from the inside, you're more likely to be up for anything that might come your way, including a date, party, or new work opportunity. Remember to focus on getting active outdoors; eating unprocessed, colorful foods; and drinking lots of water.
I recommend having at least three colors on your plate at each meal, as this will provide the essential vitamins and minerals your body needs. Supplementing your diet with a protein powder is also a great way to feel full. My personal favorite, ALOHA, will leave you feeling great—try it in your next green smoothie. Here's my go-to summer recipe!
Nikki's Tropical Green Smoothie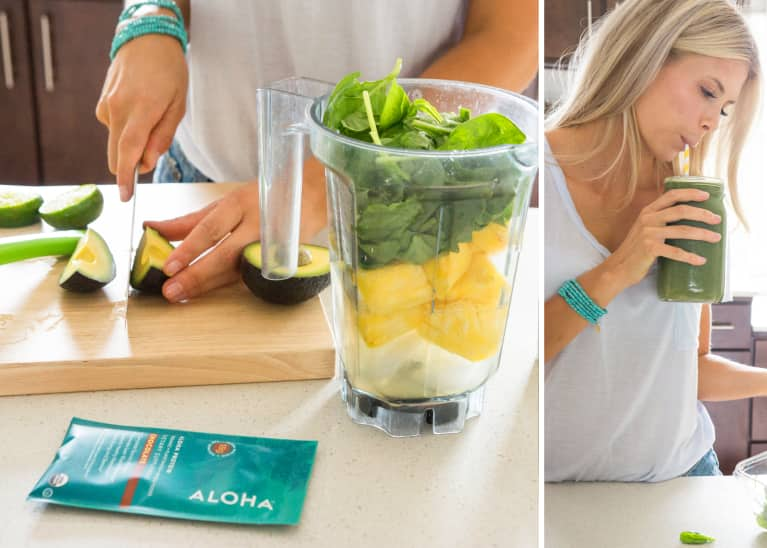 1 packet vanilla ALOHA protein powder
1 large handful spinach or kale
1 cup pineapple
1 cup coconut water
¼ avocado
Juice of 1 lime
Handful of cacao nibs (optional)
Add all ingredients and ice to a blender.
Blend away!
Top with cacao nibs for an extra crunch and nutritional boost.
This smoothie is high in antioxidants, vitamin C, and healthy fats and is completed with the protein your body needs. Try adding a pinch of turmeric and a piece of fresh ginger for an anti-inflammatory twist!
Maintaining a healthy diet throughout summer will help you stay open to new opportunities and cross things off that ever-growing summer bucket list! Want some inspiration? Join me on one of my bucket list items and travel to somewhere you haven't been yet! Bonus if it's a road trip with your friends.