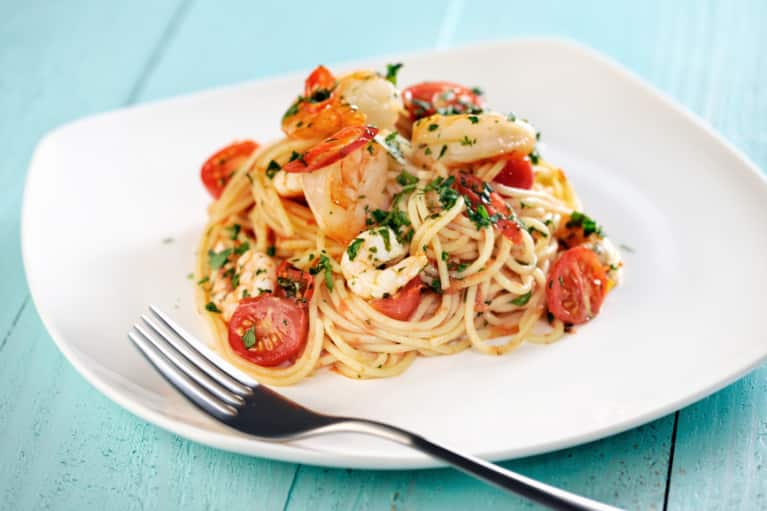 There's a reason the Mediterranean Diet has generated so much buzz: Research shows that people who closely follow a traditional Mediterranean diet may reduce their risk of heart disease, may be less likely to put on weight, and may even live longer. Best of all, even with all these health benefits, there's still plenty of opportunity to eat, drink, and be merry.
While we'd all love to hop a plane and experience the Mediterranean diet in Sicily or on some sunny Greek isle, you can get the same health benefits while sticking closer to home. To go Med, try incorporating more of these five foods into your diet:
Pass on the butter, and reach for olive oil instead. It's often used in a Mediterranean-style diet, and it delivers healthy monounsaturated fats and plant compounds called polyphenols. When shopping for olive oil, fresh is best, so look for extra-virgin, cold-pressed oils and make sure there's a harvest date on the bottle.
"Wait, what?" you ask. "Pasta is filled with carbs!" Well, hold up, buttercup. Pasta has a low glycemic index, which means your blood sugar levels won't spike and crash. Plus, pairing pasta with nutrient-packed veggies, lean protein, and healthy olive oil actually makes for an incredibly nourishing meal. It can even help you stick to healthier eating habits; a study presented at a recent scientific conference showed that people who consumed pasta regularly tended to more closely follow a Mediterranean-style diet.
3. Nuts, seeds, and legumes
Legumes like lentils and chickpeas provide you with fiber and protein. As for nuts and seeds, they've got good-for-you fats and make a quick and healthy snack when you're on the go. Choose raw almonds, pistachios, or walnuts, steering clear of heavily salted or honey-roasted varieties.
Fresh vegetables are stars of the Mediterranean diet. Go for a variety of fresh produce like tomatoes, peppers, spinach, and eggplant to get a range of nutritional benefits. It's so easy to toss these ingredients into your pasta for a perfect Mediterranean-inspired meal.
Not only is fish often lower in fat than other animal proteins, many varieties are also a source of omega-3 fatty acids. Shellfish like mussels, oysters, and shrimp are great options too. Aim to regularly include seafood along with other nutrient-rich foods in your Mediterranean-style diet.
So what might this look like in a typical meal? Start with a green salad lightly dressed with olive oil vinaigrette and topped with crunchy sunflower seeds. Then move on to a nutrient-packed pasta salad dish—perfect for summer like Shrimp Avocado Goat Cheese Pasta Salad. If you really want to make like a Mediterranean, end your meal with a glass of red wine and a little dark chocolate—both can be guilt-free indulgences filled with antioxidants.
For more healthy recipes inspired by the Mediterranean region, visit PassionForPasta.com or #PassionForPasta.