How To Stop Obsessing About Body Weight & Eating, For Good: An RD Explains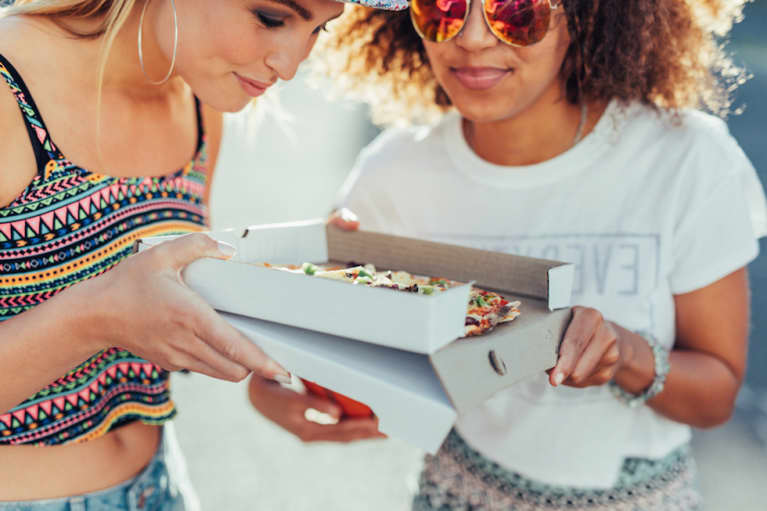 Last updated on December 12, 2019
As a certified eating disorder registered dietitian, I hear so many heartbreaking stories at my treatment center—women and men who've lost decades of their lives while at war with themselves and their bodies. Being "on a diet" is their norm, and they're convinced the next one will finally bring them contentedness.
Living your life obsessed with weight and food is exhausting. It's isolating. It's painful. Think about how much more joy and in-the-moment experience we'd have in life were we not putting so much energy into planning meals, restricting, bingeing, beating ourselves up, and exercising from a place of anxiety.
Developing a healthy relationship to food and your body is a complex process, and it doesn't occur overnight. But here are the four main elements I've found most people need in order to start healing:
Self-compassion isn't about believing you're perfect or loving every inch of your body. It's about treating yourself as the imperfect human being that you are. It's about acknowledging that mistakes, flaws, and sometimes having a second (or third) serving of ice cream are inevitable parts of being human.
It's being a friend and coach to yourself, being empathic, understanding, patient, tolerant, and compassionate—while still having expectations and valuing growth. This is a long process and requires you to take time deepening your connection to yourself.
2. Meaning or a sense of purpose
When we feel lost and uncertain about why we're on this earth, we fall back upon what Disney, fairy tales and rom-coms have taught us: that we're supposed to be thin, beautiful, desirable, and in a relationship. We look to our bodies to find purpose and self-confidence, and try to attain the unrealistic ideal the media puts forth.
Finding or creating purpose shifts the pressure away from our bodies as the determinant of our self-worth. Suddenly, those extra pounds or cellulite lose their power over our mood. So if you're food- and weight-obsessed, it could be a sign that you're seeking meaning.
3. Connection with others
Disconnection, along with genetics and the role of genetics and biochemistry, is at the root of addiction and depression. It's a human need to belong, and so we often mistakenly believe if we're thinner or more attractive we're more likely to be accepted. Many of us grow up criticized by our parents or bullied by our peers, so it's natural to desire this connection.
When we can be vulnerable and form strong, authentic connections, we feel seen and accepted as we are—imperfections and all. In therapy, this is what we refer to as a corrective emotional experience—where we experientially learn that the worldview by which we were living previously (for example, "I must be thin to be loved") shifts. As we integrate that knowledge, we move forward knowing our lovability and worth has nothing to do with our weight or what foods we eat.
4. Acceptance of your "happy, sustainable weight."
This can be the toughest one to accept, as your "happy, sustainable weight" is likely different from your friends', and is almost certainly different from images on Instagram. Where does your body land when you're practicing a sustainable lifestyle—a lifestyle that feels flexible and manageable, not anxiety-ridden and punishing?
How does your body look when you're exercising for health, endorphins, and fun—not because fear tells you you'll gain weight if you don't? Or when you're eating because you're hungry and stopping because you're full, not because you're trying to stay within your macros or watching the clock? Or when you choose the salad one day because you're craving salad, and the mac and cheese another day because you're craving mac and cheese? This is your sustainable weight.
When you can change your expectations for how you believe your body should be, you'll no longer live with constant anxiety and shame (and hunger). Coming to this place of acceptance around your body's happy, sustainable weight doesn't come easily, and it has to be actively practiced—but trust me, it's so worth it.
Related reads: