Spring is definitely here—let's celebrate it, bowl style. These whole-food-based bowls are brimming with colorful spring produce that will make you want to find the nearest farmer's market and get cooking.
Superfood Buddha Bowl With Mint Pesto
Bright spring colors: check. Lots of cool and crunchy texture: check. A fresh minty dressing: check.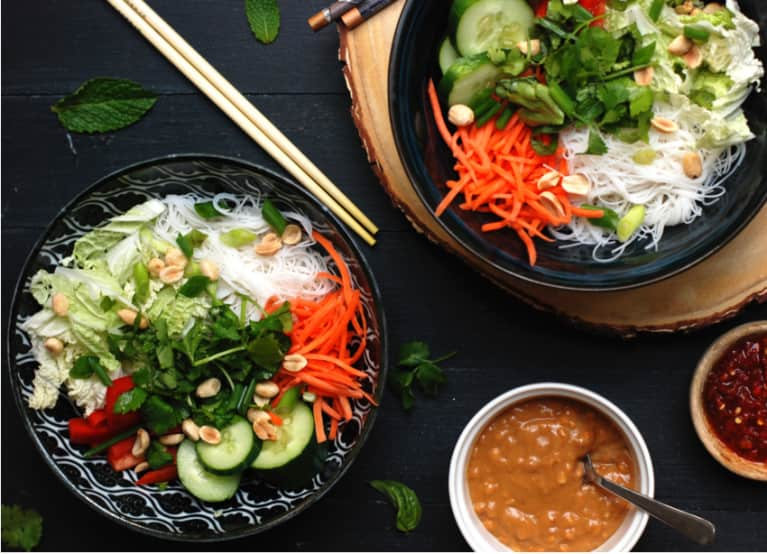 Deconstructed spring roll bowls are light but filling with lots of bold flavors.
Asparagus is the star of this bowl, but don't forget about the savory mushrooms and crunchy croutons that make this a super-satisfying meal.
Quinoa Bowl With Quick-Pickled Vegetables + Hummus
Add some quick and zesty pickles to your spring bowl, and you won't be disappointed.
Spring Awakening Strawberry Smoothie
If your blender's been hibernating all winter, now's the time to dust it off and whip up a strawberry smoothie bowl.
This salad is a full-on celebration of the spring pea and might just be our new go-to picnic dish.
Wild Rice Bowl With Ramps, Asparagus + Snap Peas
Ramps are like a garlicky spring onion and are a welcome sign of spring. Naturally, they go well with asparagus and snap peas, for an extra green bowl.
Chia Seed Yogurt With Roasted Rhubarb
Rhubarb looks especially enticing as a roasted topping to this coconut chia pudding.