Celebrate Spring With A Strawberry-Rhubarb Crumble
Holistic Nutritionist
By Jesse Lane Lee
Holistic Nutritionist
Jesse Lane Lee, BSc, CNP is a cheerful Holistic Nutritionist, motivating speaker, cookbook author, and founder of JesseLaneWellness.com.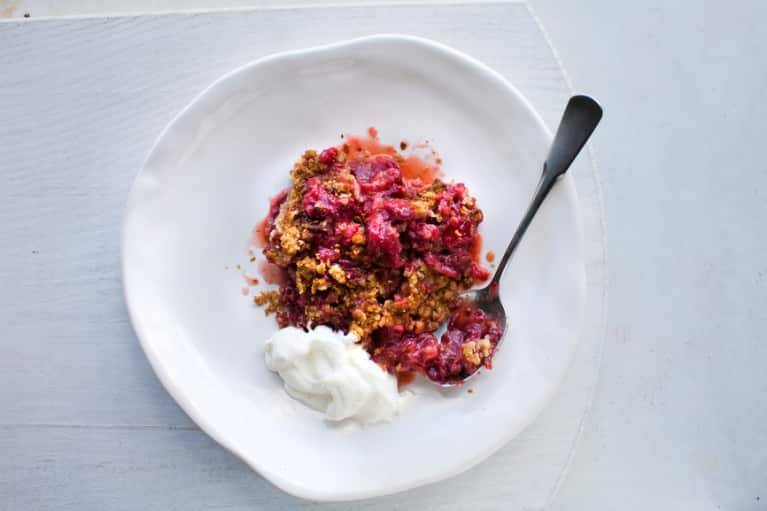 Rhubarb is one of my favorite spring vegetables—yep, it is technically a veggie! I love the tart sourness it brings to desserts. Now that spring is finally here, you'll start to see rhubarb poking out of the ground.
Make sure you stay away from the leaves, which are toxic due to high levels of oxalic acid, but enjoy the stems, which are bursting with health benefits.
Rhubarb is fantastic for your digestive tract because it has a ton of dietary fiber, which eases bloating and constipation. It's also a great choice for people who experience spring allergies because it's full of immune-boosting vitamin C. Most people don't know that rhubarb is a good source of bone-strengthening calcium, making it perfect for those following a dairy-free or vegan diet.
The crumble recipe I'm sharing with you today is actually from my cookbook, Healthy Dairy Free Desserts. I've chosen to pair rhubarb with strawberries because it's such a classic combination, but if strawberries aren't in season where you live, frozen strawberries will work really well.
This crumble is really versatile, so you can play around with the fruits you use. Rhubarb also tastes great with apples, apricots, any berries, nectarines, peaches, and plums.
Strawberry Rhubarb Crumble
Serves 4
Strawberry Rhubarb Filling Ingredients
¼ cup almond flour
2 tablespoons ground chia seeds
1/2 lemon, zested and juiced
2 tablespoons maple syrup
2 cups strawberries, diced
2 cups rhubarb, diced
Crumble Topping Ingredients
1/4 cup coconut oil, softened
1/4 cup maple syrup
½ teaspoon vanilla
1/2 cup almond flour
1 teaspoon cinnamon
1 cup oats
Preparation
1. Preheat oven to 350°F, grease four 1-cup ramekins with coconut oil, and place them on a baking sheet.
2. Mix almond flour, ground chia seeds, lemon zest, lemon juice, and maple syrup in a bowl. Add strawberries and rhubarb and stir until evenly coated.
3. Mix all the crumble-topping ingredients together a separate bowl and set aside.
4. Place the strawberry rhubarb filling into the ramekins and top with the crumble.
5. Bake for 30 minutes until the strawberries have softened and the juices have released.
6. Remove from the oven and serve with coconut whipped cream, a la mode, or as is.