What To Eat Before And After A Workout: A Personal Trainer Explains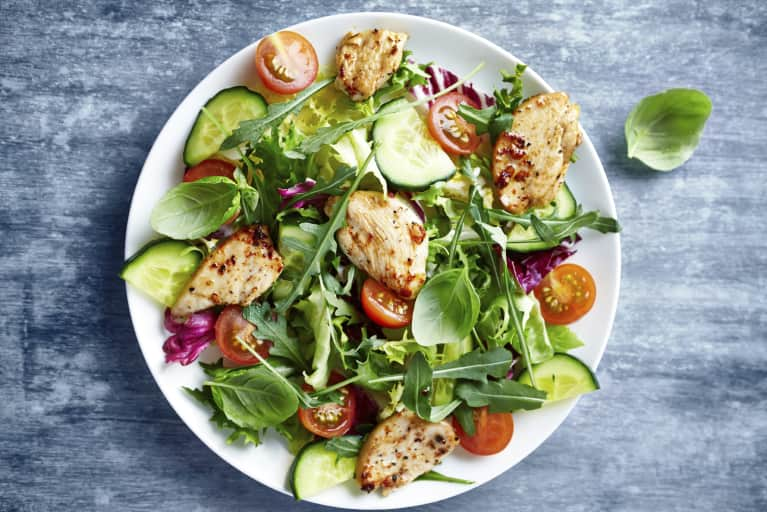 To celebrate Mindful Movement Week here at mindbodygreen, we're sharing the many ways that fitness enthusiasts practice mind-body exercise.
Todd McCullough (TMAC) is the founder of TMAC FITNESS and located in Santa Monica, Ca. TMAC FITNESS's mission is to assist in creating a culture that is conscious of the body and the world in which we live. For more workouts from Todd, please check out his video course, 20 Minutes To Strong, Healthy & Fit: A 7-Day Personal Training Program. And for even more info on all things fitness, check out our awesome video courses.
My food philosophy is pretty simple. If I can plant it, pick it or catch it, then I can eat it. If not, then I stay away. This is the same approach that I take when it comes to pre and post-workout snacks. It's a big step forward from my teenage days of crushing Ultimate Orange! When I fuel up before a workout, I usually go for a combination of sugar and fat. The sugar gives me energy before the workout, and the fat fuels me through the workout. I don't always have access to both a sugar and a fat all the time, so I sometimes have to settle for just one.
Here are some natural foods that will prep you for your workouts and help you recover afterwards.
1. Handful of Raw Almonds and Blueberries
2. Spoonful of Peanut Butter with a bit of raw honey
3. ¼ Spoonful of Coconut Oil (an old athlete secret)
For post-workout meals, you need to focus on a combo of protein, fat, carbs and sugar. I suggest getting your carbs from veggies and having a small serving of sweet potatoes if your goal is to lose weight. Remember: Don't overthink any of this, keep it simple. Just eat real whole food!
1. Veggie Egg Scramble + Fruit (my go-to breakfast after a workout)
Pick 3 of your favorite Veggies (onion, mushroom, spinach, etc.)
2-4 Eggs
Small Bowl of Fruit- Watermelon is great post workout snack. Growing up in the hot south, I assure there is nothing more quenching after a long, hot football practice than some good ole watermelon!
2. A Huge Salad (my go-to lunch after a workout)
Dark Leafy Greens- use spinach, kale, romaine or arugula, and add in some chopped herbs like basil, parsley or cilantro
Lean Protein- choose between chicken, turkey or fish. I use canned tuna, salmon, or even sardines are fine on occasion
Vegetables- use an unlimited amount of beets, carrots, onion, broccoli, cauliflower, radish or celery
Fruit- use only 1-2 servings of strawberries, blueberries, apple, pear slices, cucumbers or tomatoes
Fats- choose 1-2 of the following: ¼ - ½ avocado, 6-8 raw almonds or walnuts, or sprinkling some raw sunflower seeds
Dressing- 1 tablespoon olive oil + a touch of vinegar (red wine vinegar, apple cider vinegar or coconut vinegar are great options) and a squeeze of lemon or lime
3. Dinner (if I exercise after the work day)
Protein- chicken, fish, beef or wild game
Veggies- 2 servings
Fat- 1 serving
I make an effort to eat within 30-45 minutes after a workout. If that's hard to make happen, I pack fruit and raw almonds with me. Also, I make a conscious effort to drink a lot of water post-workout to assure that I don't overeat. Dehydration is often mistaken as hunger. I should just hand out my business card at the smoothie stations at gyms and say call me in a month when you realize your hour cardio class followed by your banana, blueberry, mango, strawberry smoothie has actually made you gain five pounds! This $12 "healthy" smoothie sends your insulin levels on a roller-coaster ride, causing your body to store fat. You do need sugar post workout, but limit the smoothie to one or two servings.
Now with my 20-Minute Workout Videos my clients have the time to get their workout in AND cook a well-balanced meal at home.
Related articles:
10 Top NYC Trainers On Their Favorite Pre-Workout Snacks