Kim Vandenberg On The Olympics, Meditation, And #Wellth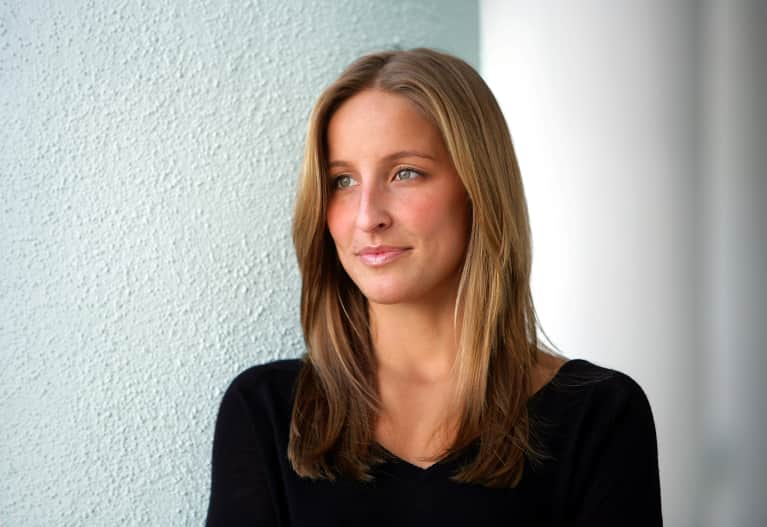 Our editors have independently chosen the products listed on this page. If you purchase something mentioned in this article, we may
earn a small commission
.
I've spent the past year thinking a lot about "wellth"—the idea that success is found in a lifestyle devoted to mental, physical, and emotional health. (I even wrote a book about it.) In this new series, we're celebrating visionaries who embody what it means to be wellthy.
Kim Vandenberg was a member of the bronze-medal-winning U.S. team in the women's 4-by-200-meter freestyle relay at the 2008 Summer Olympics. She's also won several medals at other events around the world like the 2011 Pan American Games in Guadalajara. Now at 32, she's training for the Olympic trials coming up at the end of June. As part of her training, she meditates, practices yoga, and swims five hours a day, six days a week. She's a good friend of mbg and we'll be cheering her on during the trials!
KV: Blueberries hit the spot. Pineapple is a close second.
What's your favorite healthy place to eat?
My kitchen. I've been making a big effort to cook more at home; it's definitely the healthiest place to eat! Thankfully, I have a couple of food-savvy friends who have inspired me to explore my culinary skills.
What's your favorite way to escape to get some nature?
I love hiking upstate or heading to the beaches of Montauk, New York.
What's your favorite way to break a sweat?
Dancing is pretty hilarious, and it could be a good workout! Also Vinyasa yoga.
What's your favorite holistic treatment?
Massage, yoga, and meditation.
How do you de-stress/practice self-care?
I have been exploring different forms of meditation the past few years. I've practiced metta meditation, Transcendental meditation, breathwork classes, and sound baths, when a sound therapist has crystal bowls and other instruments, creating a Zen environment during meditations; all help me de-stress (especially living in New York). I also love long Epsom salt baths and reading.
If you could go back in time and give advice to yourself when you were competing in the Olympics, what would it be?
Definitely to stop stressing out! The work was done and I was more than ready, so just enjoy the moment. The Olympics were stressful for obvious reasons but also for personal reasons, so I was on edge and worrying a lot about everything; I wish I'd had the perspective then to embrace that chaos. It was complete chaos in my mind during that time.
What does wellth mean to you?
Peace of mind and cultivating gratitude.
Any advice for someone who's looking to build a life that they love and follow their passion?
Pay attention to what you find yourself attracted to, to what makes you feel most alive, and if it scares you, that's a good thing. I would recommend writing your dreams/goals/visions down and to daydream. There are no rules.