Caroline Burckle On Breaking A Sweat, Cupping, And #Wellth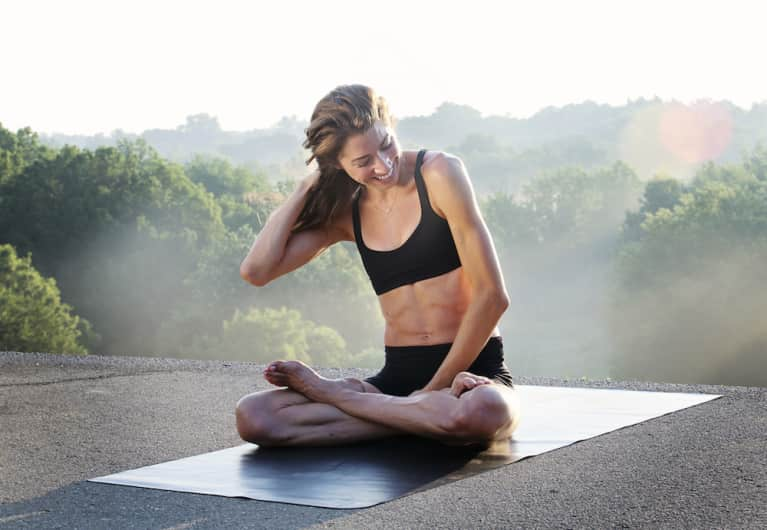 Our editors have independently chosen the products listed on this page. If you purchase something mentioned in this article, we may
earn a small commission
.
I've spent the past year thinking a lot about "wellth" — the idea that success is found in a lifestyle devoted to mental, physical, and emotional health. (I even wrote a book about it.) In this new series, we're celebrating visionaries who embody what it means to be wellthy.
Caroline Burckle is an Olympic bronze medalist and one of the most kind and supportive people we know in the mbg community. After finally meeting her in person at our 2015 revitalize event we fell in love with her even more! She's now working with fellow Olympic medal winner Rebecca Soni to help young athletes activate their minds with RISE.
Favorite healthy place to eat?
What's your favorite way or place to escape to get some nature?
A secluded, quiet beach area—ocean water = therapy.
What's your favorite way to break a sweat?
HIIT weight circuit followed by hot power yoga.
Favorite holistic treatment?
Cupping and deep-tissue massage with coconut oil.
How do you de-stress or practice self-care?
If you could go back in time and give advice to yourself when you were competing at the Olympics, what would it be?
You deserve to be here ... TRUST yourself, Burckle!
What does wellth mean to you?
The power of CHOICE. You have the CHOICE to make health a priority. Period.
Any advice for someone who's looking to build a life that they love and follow their passion?
Comparison is to clone. Compare yourself and you become the same as everyone else. Carve your own path. Stay in your own lane. Put your blinders on and jump out of your norm. Choose the challenge.