Leandra "The Man Repeller" Medine On Working Out And #Wellth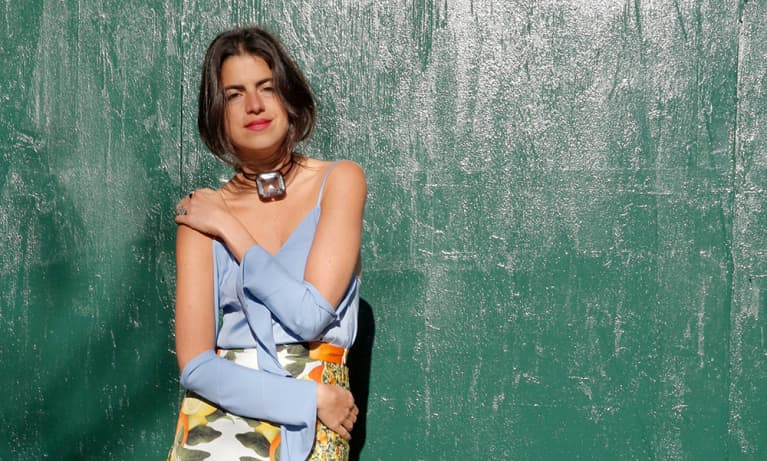 Our editors have independently chosen the products listed on this page. If you purchase something mentioned in this article, we may
earn a small commission
.
I've spent the past year thinking a lot about "wellth" — the idea that success is found in a lifestyle devoted to mental, physical, and emotional health. (I even wrote a book about it.) In this new series, we're celebrating visionaries who embody what it means to be wellthy.
When it comes to fashion, Leandra "The Man Repeller" Medine has one of the most unique and influential voices in the industry, turning her Man Repeller blog into a huge digital destination for all things fashion. She's also a meditator!
mbg: Favorite way to break a sweat?
Favorite healthy place to eat?
Do you have any favorite holistic treatments?
Acupuncture. It's an incredible stress reliever and makes me feel a lot less like a wimp for withstanding so many needles without so much as flinching.
Transcendental meditation, acupuncture, exercise, and most importantly, remembering that I have to respect my body and boundaries. Sometimes all it takes to de-stress is a single day off. Or lunch outside of the office with your favorite book. A pedicure midday, etc. ...
What's your favorite way to get some nature?
Summers are extremely easy on my stress levels because I am in Southampton on weekends.
What does wellth mean to you?
Any advice for someone who's looking to build a life that they love and follow their passion?
What advice do you need beyond: if you do what your heart and your mind and your body wants you do, you will be a happier and better person for it.