Beauty Phenom Michelle Phan On Her Self-Care Routine And #Wellth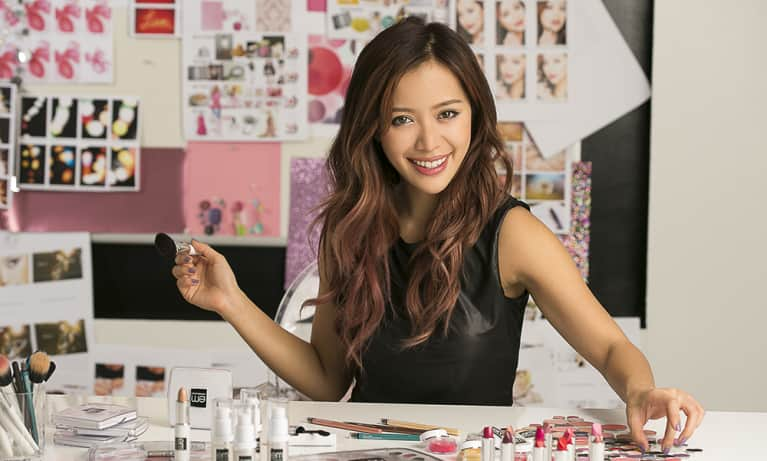 Our editors have independently chosen the products listed on this page. If you purchase something mentioned in this article, we may
earn a small commission
.
I've spent the past year thinking a lot about "wellth" — the idea that success is found in a lifestyle devoted to mental, physical, and emotional health. (I even wrote a book about it.) In this new series, we're celebrating visionaries who embody what it means to be wellthy.
Michelle Phan is not only the queen of YouTube, but she's also pioneering the beauty category with her amazing start-up, Ipsy.
mbg: Favorite way to break a sweat?
MP: Exercise is unfortunately one of the activities that falls victim to my crazy schedule.
You are an inspiration to so many female entrepreneurs with Ipsy and your incredible book, "Make Up." How did you remain optimistic through the roller coaster of being an entrepreneur/author/YouTube star?
My mother, teachers, nurses, children, Princess Diana, Bruce Lee, Banksy, and Bob Marley are some of my biggest sources of inspiration. My subscribers and my community also inspire me. They are the reason I do what I do every day.
Was there a moment when you thought about giving up? What kept you going?
At one point I was burning out — this was in 2012 — and it's because I was doing too much. I think the most instrumental thing that can keep that flame inside you from going out is to have that strong sense of purpose and passion.
If you don't have that, it's going to be really hard to stay determined and disciplined, to continue uploading content and just to be in the public eye. It takes a lot of energy; people don't realize how much energy it takes. Most importantly: have a network of friends who also do what you do — having that community, that family is so important because it is a very lonely job.
I've been drawing for as long as I can remember. Drawing transports me to another world and allows me to express myself when I can't any other way. A little music, some paper, and my favorite pens or watercolors steady my mind and erase any negative energy from earlier in the day. The trick is to set aside time to really work on your creative pursuits. Don't feel forced to draw; just let whatever's in your mind flow on onto the canvas.
Also, when my days are filled with chaos, I enjoy a meditation session before getting ready for bed. Along with focused meditations, I pull out my singing bowl and let the sounds relax my body and calm my overall being. Because the bustle of big cities can cloud our minds, I find a little meditation goes a long way in grounding me for the next day.
What's your favorite way to get some nature?
Not only does nature always lift my mood, it helps me gain a sense of gratitude and appreciation. Once I spend even a few minutes overlooking the ocean on a warm night or hiking among the trees, I immediately forget all those little things that brought me down earlier in the day, like leaving home without my phone charger or spilling coffee on my favorite shirt.
When everything goes quiet and I have time to meditate and observe the world, suddenly my perspective changes. Being awestruck by a colorful sunset or catching sight of a meteor shower is an incredibly humbling experience.
What does wellth mean to you?
When I first started, people didn't really make makeup tutorials. Beauty bloggers were just doing it for fun. No one thought about this as an actual career.
My biggest dream was to help my mom retire early because she immigrated to America when she was young and all she has ever done was work to support me and my brother, as she was a single mom. I didn't have any intentions of making money. There is a lesson to focus on being happy and not on money. At the end of the day, happiness will bring you real wealth that you can never buy.
Any advice for someone who's looking to follow their passion?
Start small and see how far it can take you in your spare time. Test out the waters before you jump in. Have a vision for your business and an authentic message. People want to be part of a larger story. It's not just about the profits but also about your message. When you have a message people want to be part of, the rest will come.