How To Eat Vegan On Just $5 A Day
We know that eating a plant-based diet (or just a diet with more plants) is great for your body, but we wanted to see if it was affordable, too. Holistic health coach Annie Markowitz set out on a mission to find out exactly how much it costs to eat vegan.
She was able to find a way to do it on the cheap with some simple (and delicious) recipes.
Contrary to popular belief, eating healthy, plant-based foods doesn't have to be costly.
It's actually quite inexpensive if you know the pro tips and tricks! Here are a few guidelines I follow to make sure I'm eating healthy foods that will nourish me and fill me up and won't break the bank.
The bulk foods section of the grocery store is your friend! Buy beans, grains, flours, dried fruit, and nuts in this section to save a boatload of cash.
2. Stock up on in-season produce and freeze for later.
Leafy greens, berries, peaches, and pears are some of my favorite items to snag when they are on sale and freeze to use in smoothies year-round. I also like to freeze broccoli and bell peppers to use in stir-fries.
When buying produce, stay away from the prewashed, precut, and prepackaged items. If someone else had to do extra work, it's going to cost you!
Here are three easy recipes for under $2 each: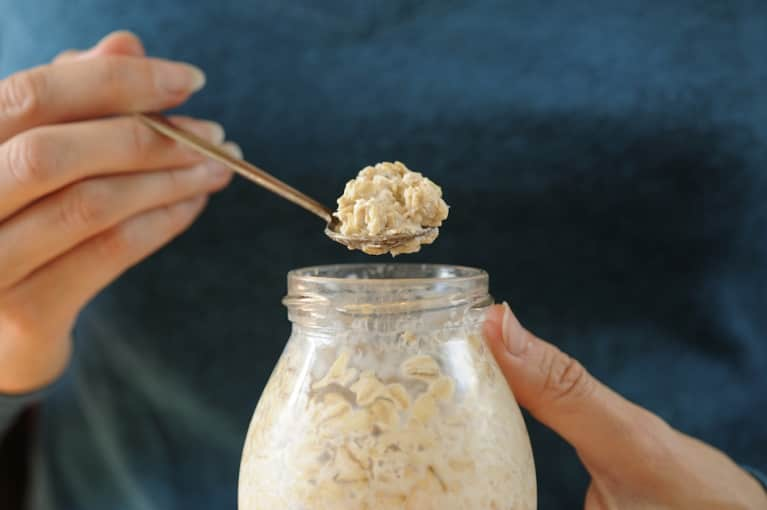 Cost: about $1.56 per serving
Serves 1
Ingredients
½ cup quick oats
¾ cup almond milk
½ teaspoon cinnamon
6-8 drops liquid stevia
¼ cup walnuts
¼ cup shredded coconut
Seasonal fresh fruit (optional)
Preparation
1. Combine oats, almond milk, cinnamon, and liquid stevia in an airtight container, and stir to combine.
2. Place in refrigerator overnight.
3. In the morning, top with walnuts, coconut, and fresh fruit (if desired).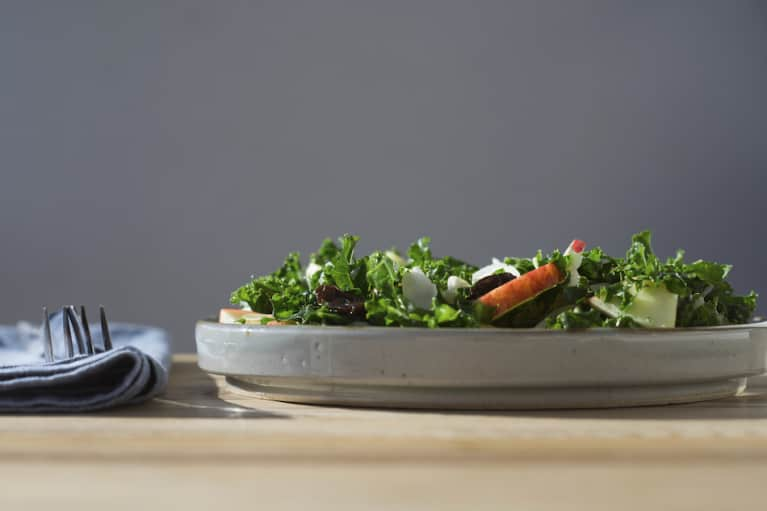 Cost: about $1.79 per serving
Serves 2
Ingredients
1 bunch kale, chopped
1 cucumber, chopped
½ cup walnuts
½ cup raisins
2 tablespoons Dijon mustard
1 tablespoon red wine vinegar
2 tablespoons water
Preparation
1. Place chopped kale in large salad bowl and massage it with your hands until it becomes a brighter green color (about 3 minutes). Add in chopped cucumber.
2. In a separate bowl, combine dressing ingredients. Mix thoroughly, pour over kale and cucumber, and toss.
3. Top with walnuts and raisins, and serve.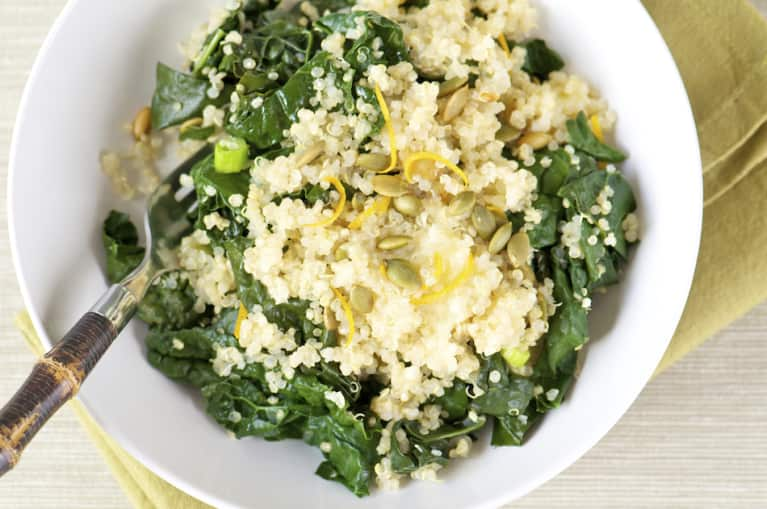 Cost: about $1.42 per serving
Serves 2
Ingredients
1 cup uncooked quinoa
2 cups water
¾ cup unsweetened almond milk
1 tablespoon Bragg's liquid aminos (or soy sauce)
6 tablespoons nutritional yeast
2 teaspoon Dijon mustard
½ teaspoon garlic powder
½ teaspoon onion powder
Fresh greens (optional)
Prepration
1. Rinse quinoa and add to stockpot with 2 cups of water.
2. Bring to a boil, reduce to simmer, and cook for 15 minutes.
3. In a mixing bowl, combine remaining ingredients to make the cheesy sauce, and whisk until thoroughly combined.
4. When quinoa is finished cooking, remove from heat, add cheesy sauce, and stir. Top with salt and pepper.