What I Eat In A Day: Acupuncturist Paige Bourassa
Licensed Acupuncturist
By Paige Bourassa, DACM, L.Ac., RHN
Licensed Acupuncturist
Dr. Paige Bourassa is nationally board certified in acupuncture. She studied psychology at the University of Colorado, holds a doctorate in acupuncture and Chinese medicine (DACM) and a master's degree in Traditional Oriental Medicine (MSTOM) from Pacific College of Oriental Medicine.
As an acupuncturist/herbologist/holistic nutritionite every day is a juggling act between assessing patients needs, coordinating schedules, herbs, vitamins, blood typing, running a one-woman business, and then — of course — actually doing acupuncture healing.
Trying to fit workouts and taking care of my wheelchair puppy leaves very little time for grocery shopping and slow-cooked home meals. Thank goodness for NYC restaurants that bring healthy and healing foods to me wherever I'm hungry. Here's a day in my food life, hold onto your hats ...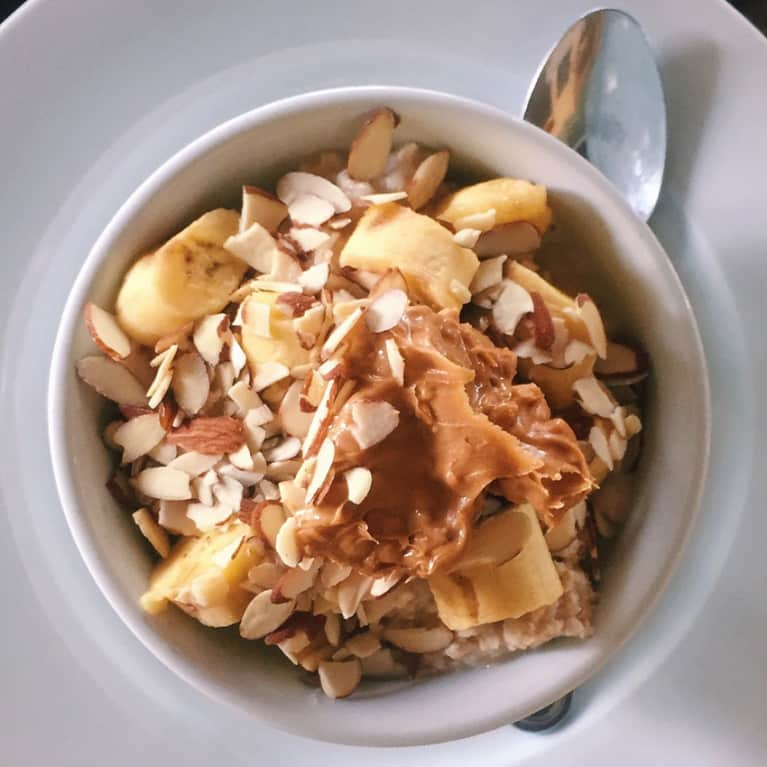 This is the only meal of the day I know I have 100% control over, so I make it perfect. I'm usually eating after a workout so I need protein, fat and some carbs quickly and I want them delicious.
"Protein Oats" are something my uncle taught me in the back woods of Canada, I add a scoop of my favorite protein powder (which is a vegetarian protein powder packed with vitamins, minerals, and omega-3 fatty acids) to some steel-cut oats. Stir, top with a bunch of almonds, organic peanut butter, bananas, and a drizzle of agave and I'm filled up with protein and ready to start the day!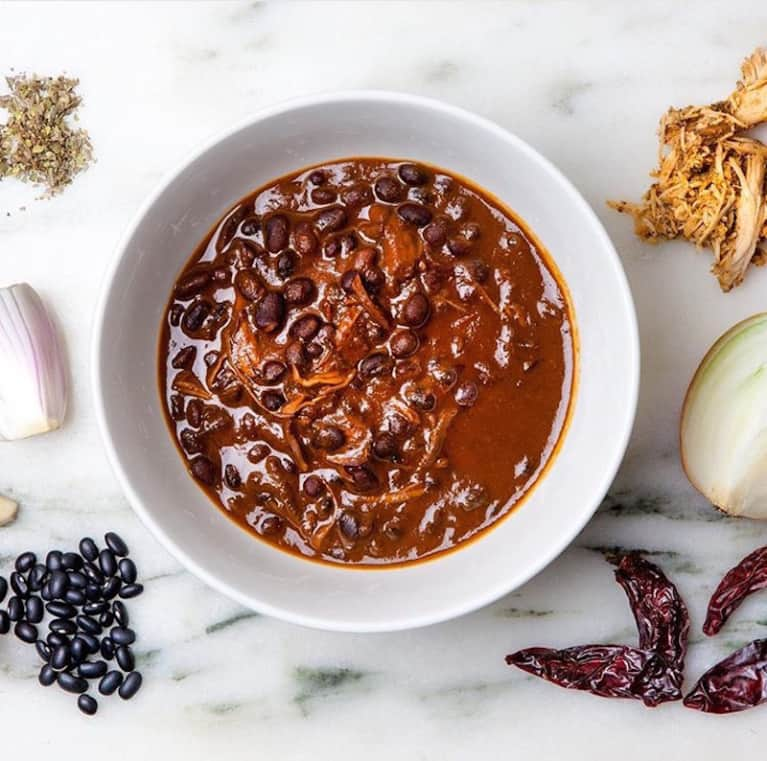 By lunch I'm famished and usually in the swing of seeing patients, so I need something amazing to come to my door quickly. For this I have a couple of go-to's, but my favorite for the winter is Indie Fresh soups and bone broths.
They're amazing kidney nourishers and boost Qi. My favorite soup is their turkey and black bean chili which has 24 grams of protein and keeps me full without feeling heavy #winning.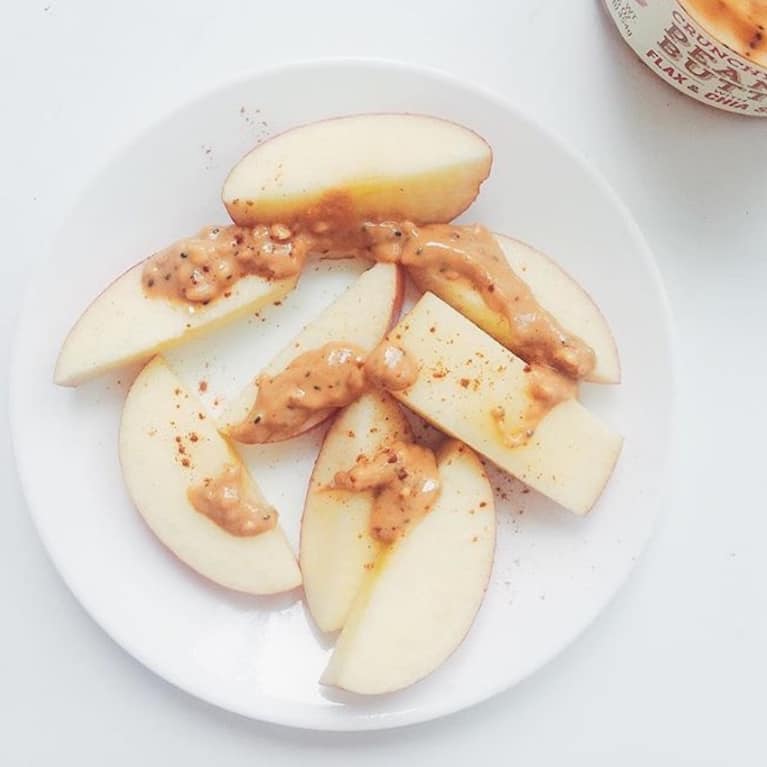 Although this is a beautiful and serene pic of apples and PB, my midday snack usually looks more like chomping a bite of apple then scooping a finger full of PB into my mouth while sending emails and trying to remember to pull my finger out before I bite it.
It's happened before, it'll happen again, I'm not judging myself for that one!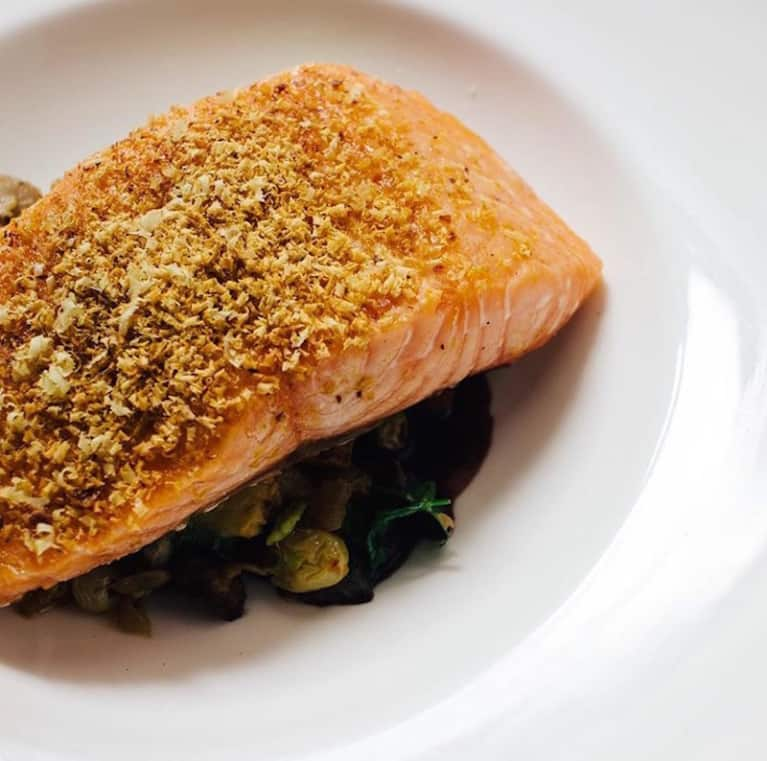 I like to end my day with a light protein and veg combo that leaves my tummy happy and won't keep me up with insane dreams (if you eat too heavy or too late, often you'll have those insane ex-boyfriend chasing you on a dragon's back while you're naked in class type of dreams ... you know what I'm talking about).
My go-to workweek dinner is at Little Beet Table on Park Avenue because they use local ingredients, are gluten-free, and they slow cook their salmon to preserve the nutrients, which also makes it beyond delicious.
That's a day in the fast lane of eating while trying to maintain balance. I like to tell my patients that like no two people are alike, no two diets should be either.
I've had the most success in my own life by eating according to season, freshness, my activity level, and then I try to stick to my blood type foods as well.
It's an ongoing conversation I have in my practice, and adding a little Chinese medicine food knowledge goes a long way when you're sick or lacking energy (hint: ginger for everyone)!
Photos courtesy of the author