Campbell's Soup Will Be The First Major U.S. Food Company To Label GMOs
mbg Sustainability Editor
By Emma Loewe
mbg Sustainability Editor
Emma Loewe is the Sustainability Editor at mindbodygreen and the author of "The Spirit Almanac: A Modern Guide To Ancient Self Care."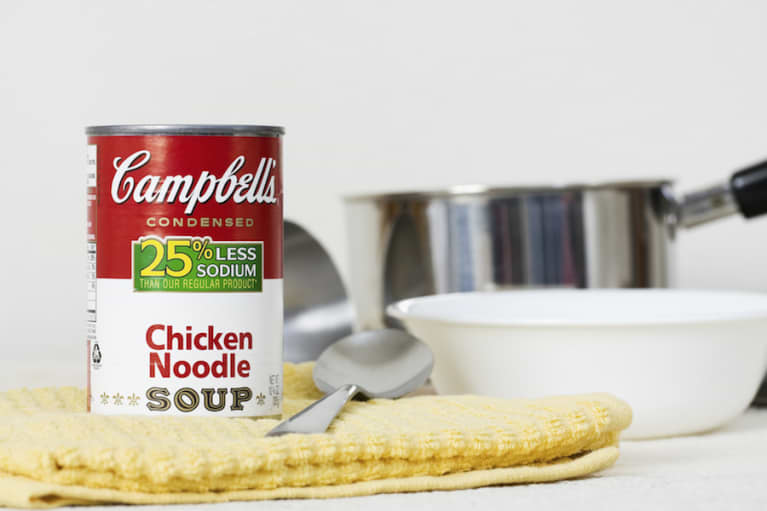 January 10, 2016 — 19:31 PM
Last year, Campbell announced that it was removing artificial ingredients from its products, simplifying its recipes and working to source more organic produce. This week, the brand took that pledge one step further.
Campbell will be the first major company to label genetically modified ingredients in its food.
This decision comes at a time in which GMOs are being hotly contested — the U.S. is one of the only developed countries in the world that does not mandate the labeling of GM food. An estimated 75% of processed food on American shelves contains ingredients that have been genetically modified, though 90% of Americans think that these GM ingredients should be labelled.
As of now, Vermont is the only state that has taken a harsh stance on GMOs — they will have to be labelled in state grocery stores starting this July.
Although there's no convincing science that proves genetically modified crops pose a threat to human health, Campbell has decided to take a stand on the polarizing issue to keep up with consumer preferences.
Around three-quarters of its products — which include Prego tomato sauce, V8 juices, Pepperidge Farm cookies and the namesake soups — contain ingredients from crops that are often modified, including corn, canola, soybeans and sugar beet.
"Our purpose calls for us to acknowledge that consumers appreciate what goes into our food, and why — so they can feel good about the choices they make," Campbell's CEO Denise Morrison wrote in a company release.
The change is expected to go into effect in the next 12 to 18 months. Morrison also wrote that the company will continue to lobby for a mandatory GM labeling law nationwide until then.
Everyone has the right to know what they are putting into their bodies, and this move towards more transparency is a step in the right direction. We'll drink (slurp?) some tomato soup to that.