By Chloe's Vegan Pumpkin Soup You'll Be Making All Winter
Chloe Coscarelli is the vegan everyone loves to love. Her enthusiasm for good food has earned her a legion of fans from both her win on the TV show Cupcake Wars and her popular New York City restaurant, by CHLOE.
Chloe was lovely enough to share her recipe for pumpkin soup with us. Simple plant-based ingredients with big flavor make this a dish we'll be making over and over.
Pumpkin Soup With Crispy Brussels Sprout Leaves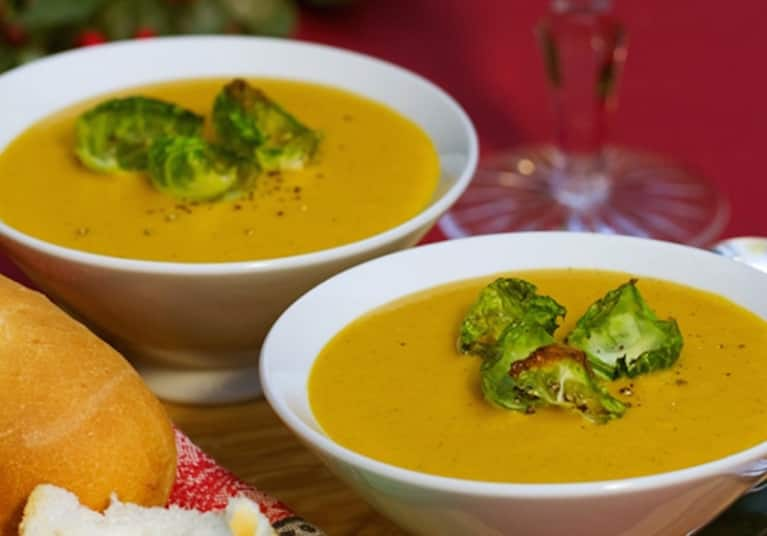 This soup uses canned pumpkin, which means you can make it year round! If you have leftover Crispy Brussels Sprout Leaves, serve them in a dish on the table for snacking. Also, if you're making this soup for kids, leave out the cayenne pepper or reduce the amount used.
Serves 4
Ingredients for soup
2 tablespoons olive oil
1 onion, roughly chopped
1 apple, unpeeled, cored, and sliced
1 clove garlic, minced
2 teaspoons sea salt
½ teaspoon cayenne pepper
3 cups vegetable broth
1 (15-ounce) can pumpkin puree
¾ cup canned coconut milk
2 tablespoons brown sugar
Ingredients for Crispy Brussels Sprout Leaves
4 ounces Brussels sprouts, trimmed and leaves separated
1 to 2 teaspoons olive oil
Sea salt
Freshly ground black pepper
Preparation
1. To make the soup: In a large pot, heat olive oil over medium-high heat and sauté onion and apple until soft, about 10 to 15 minutes. Add garlic, salt, and cayenne, and let cook 1 minute more until fragrant.
2. Add broth and pumpkin, and bring to a boil. Remove from heat, and in batches, transfer soup to a blender and puree until smooth. Return to the pot, stir in the coconut milk and brown sugar, reheat, and season to taste.
3. For the Brussels sprout leaves: Preheat the oven to 375°F. Spread Brussels sprout leaves on a large rimmed baking sheet and toss with olive oil. Season with salt and pepper.
4. Bake for about 10 to 12 minutes until lightly browned and crisp.
To serve, divide soup into bowls and top with a spoonful of Crispy Brussels Sprout Leaves.