How My Cancer Diagnosis Changed My Diet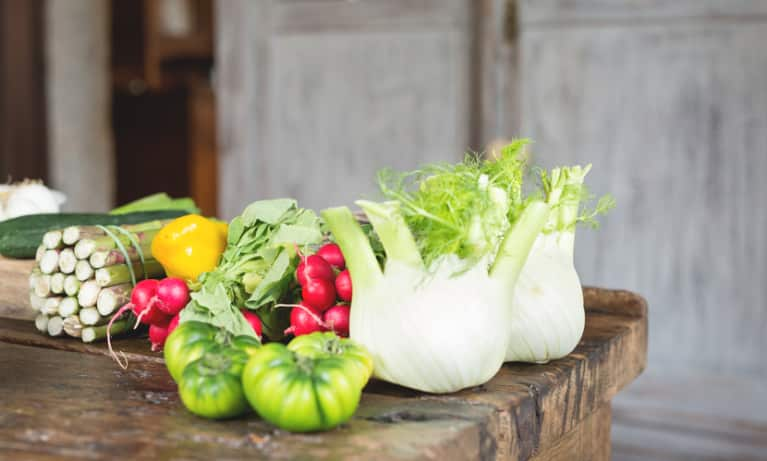 Our editors have independently chosen the products listed on this page. If you purchase something mentioned in this article, we may
earn a small commission
.
When Elina Fuhrman was diagnosed with breast cancer, she was shocked. She was a healthy journalist and mother, with no family history; she thought for sure they had made a mistake. When faced with her treatment options, she decided to do some research of her own. Read more about her journey in this excerpt from her book, Soupelina's Soup Cleanse.
When I showed up at the office of Dr. Kristi Funk, the not-yet-famous breast surgeon, she took one look at my MRI and asked whether something stressful happened in my life five years prior.
She then gently suggested I see her friend, a renowned herbalist and acupuncturist Dr. Mao Shing Ni for answers.
Dr. Funk and Dr. Mao were the perfect East-meets-West medical team to help guide me to my optimum health.
Dr. Mao introduced me to Chinese medicine; Dr. Funk cited scientific research but also hinted that I look into Ayurveda and connected me with other like-minded physicians, such as my oncologist, Dr. Philomena McAndrew; OB-GYN and clinical Ayurvedic specialist Dr. Susanne Gilberg-Lenz; and my integrative GP, Dr. Jennifer Sudarsky.
I became a voracious student of all things health and wellness, integrating ancient healing traditions to transform a cancer diagnosis into vibrant living. Interestingly enough, food was at the cornerstone of it all.
Soups became a form of self-love and comfort as I changed the way I ate, gave up all meat and dairy, and turned to plant-based foods. I like the way that sounds, more than the V-word.
Yes, I'm talking about becoming a vegan.
I've been fortunate to travel the world and enjoy culinary creations from (plus cook alongside) the most-celebrated chefs in Paris, Bangkok, and Capetown, and I had a hard time settling for steamed veggies and rice. There's got to be a way to bring the world to my dinner table and certainly into a healing bowl of soup, I thought. And that's exactly what I did.
I found that a healthy and happy life can be lived through good soup. I hope to inspire you to tie on your favorite apron and unleash your soup-per powers. To get you started, here's a recipe for a fennel soup that is great for cleansing and keeps you satisfied.
Fennel is so underrated in the United States. Come to think of it, so are leeks. And I'm not even talking about celery root, also known as celeriac. All three are the stars of this soup — a cleansing tour de force: an antioxidant potion that is light, savory, and packed with disease-fighting powers.
I truly believe it is a much healthier substitute to a daily multivitamin. It's that good!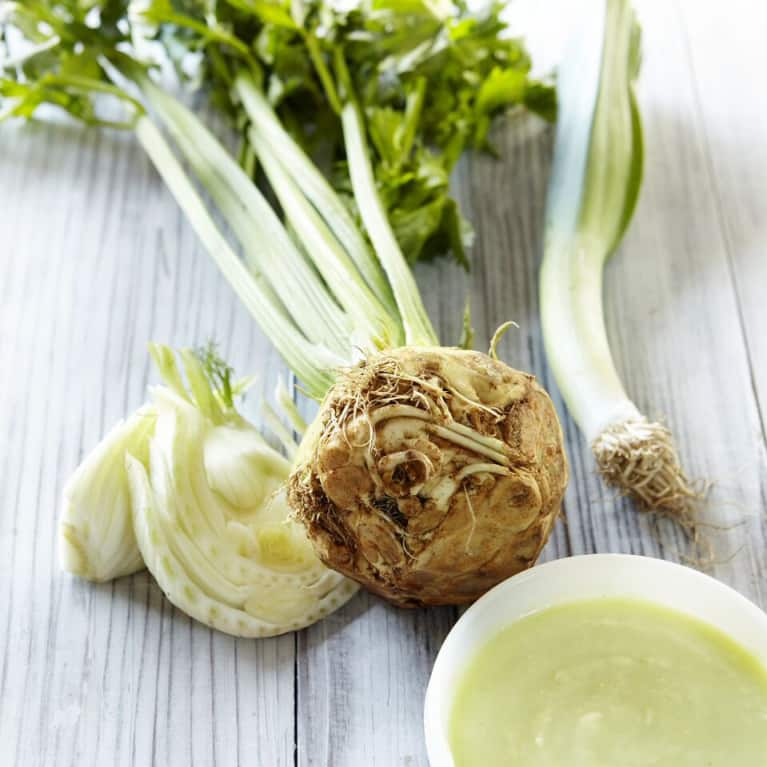 1 tablespoon coconut oil
1 bunch spring onions, cut
2 garlic cloves, bruised
Himalayan pink salt
2 leeks, cut into 2-inch chunks and then lengthwise
1 medium-size fennel bulb, quartered
1 medium-size celeriac, peeled and cubed
5 cups boiling filtered water
Preparation
1. Heat the coconut oil in a pot over medium-high heat and sauté the spring onions with the garlic and a pinch of Himalayan pink salt until the greens turn bright green, about 2 minutes.
2. Add the leeks and sauté until tender, another 2 to 3 minutes. Add the fennel and sauté until tender, 3 minutes. Stir in the celeriac, add more salt, mix all the veggies in the pot, and sauté for another few minutes.
3. Add the boiling filtered water, or enough to cover the veggies by about 2 inches. Simmer over medium-low to low heat for 1 to 1½ hours, until all the veggies are very soft.
4. Transfer everything to a Vitamix and blend until smooth.