Ever since American food scientists discovered monosodium glutamate (MSG), an artificial flavor enhancer that creates the savory taste of umami, home cooks have learned to cut corners with convenience foods like bouillon cubes and dehydrated soup instead of using traditional homemade broths. Traditional healing foods like fermented vegetables and broths have all but disappeared from most American households over the past couple of generations.
Not so coincidentally, our collective state of health has taken a nosedive. Osteoarthritis, prematurely aged skin, digestive issues, and even depression can be traced to diet and poor nutrition.
Bone broth was the superfood that never made it on the list of superfoods — until recently. We're starting to come around, and it excites the hell out of me to be a part of the current bone broth renaissance.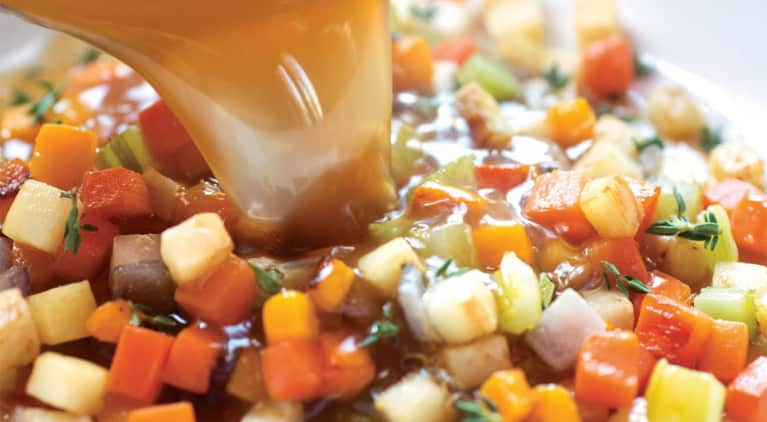 ROASTED CHICKEN BROTH
Makes about 6 quarts
I go for the lightness of my Golden Chicken Broth in spring and summer, but this roasted version is my sipper of choice for fall and winter. Roasting bones gives broth more depth of flavor and a rich, caramelized taste. It stands up well to the heartier root vegetables, greens, and heavier meats you cook with when it's chilly out.
Ingredients
10 pounds chicken necks and backs (if available, substitute chicken feet for 1 to 2 pounds)
3 large onions, peeled and coarsely chopped
2 large carrots, scrubbed and coarsely chopped
6 celery stalks, coarsely chopped
1 tablespoon black peppercorns
5 bay leaves
1 (28-ounce) can whole peeled tomatoes
1 bunch flat-leaf parsley
Fine sea salt
Preparation
1. Preheat the oven to 375°F.
2. Arrange the bones in a single layer on rimmed baking sheets (if using chicken feet, set those aside). Roast the bones until well browned, about 1 hour, flipping after 30 minutes.
3. Put the roasted bones and feet, if using, in a 16-quart pot. Add cold water to cover by 2 to 3 inches. Bring to a boil over high heat, about 1 hour, skimming off the foamy impurities every 15 to 20 minutes.
4. As soon as the liquid boils, reduce the heat to low and pull the pot to one side so it is partially off the burner. Simmer for 1 hour 30 minutes, skimming once or twice.
5. Add the onions, carrots, celery, peppercorns, bay leaves, tomatoes, and parsley and push them down into the liquid. Continue to simmer for 3 to 5 hours, skimming as needed and occasionally checking to make sure the bones are still fully submerged.
6. Use a spider skimmer to remove the solids and save to make a remy (see page 73) or discard. Strain the broth through a fine-mesh strainer. Season with salt to taste and let it cool.
7. Transfer the cooled broth to storage containers (leaving any sediment in the bottom of the pot) and refrigerate overnight. When the broth is chilled, spoon off any solidified fat. Store the broth for up to 5 days in the refrigerator or freeze for up to 6 months.