8 Protein-Packed Vegan Breakfasts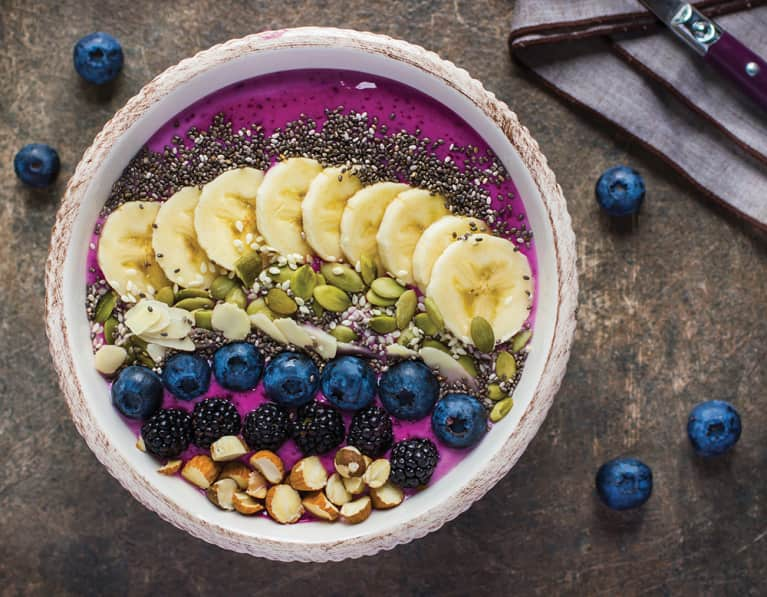 Our editors have independently chosen the products listed on this page. If you purchase something mentioned in this article, we may
earn a small commission
.
Below are a few of my favorite high-volume and high-protein recipes. The smoothie bowls and chia seed pudding recipes are perfect for making ahead of time to grab and go!
Just quickly cut up fruit and sprinkle on some toppings, and you're good to go.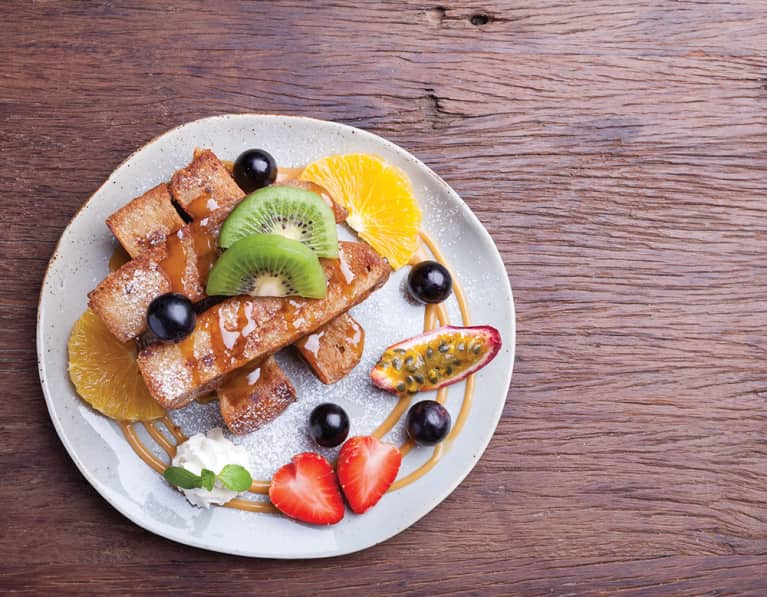 1 ripe banana
1 cup unsweetened almond milk
½ teaspoon cinnamon
¼ teaspoon vanilla
8 slices of vegan whole grain bread
1 cup grapes
4 strawberries, sliced
1 passion fruit, sliced
1 orange, sliced
1 kiwi, sliced
8 tablespoons maple syrup
Preparation
1. In a small bowl, use a fork to mash the banana. Add the almond milk, cinnamon, and vanilla, and mix together well.
2. Heat a pan over medium heat. Spray with cooking spray. Dip one slice at a time in the banana–almond milk mixture, making sure to wet both sides.
3. Place bread on the hot pan. Cook on each side for 4 minutes or until golden brown. Serve 2 pieces per person. Lightly drizzle with maple syrup and top with fresh fruit.
2. Sunshine Cinnamon Nut Quinoa
1 cup unsweetened almond milk
1 cup water
1 cup quinoa, (note: rinse quinoa)
2 cups fresh blueberries
½ teaspoon ground cinnamon
⅓ cup sliver almonds, toasted
4 teaspoons agave nectar
Preparation
1. Combine milk, water, and quinoa in a medium saucepan. Bring to a boil over high heat. Reduce heat to medium-low; cover and simmer for 15 minutes or until most of the liquid is absorbed. Turn off heat; let stand covered for 5 minutes.
2. While the quinoa cooks, roast the almonds in a 350°F toaster oven for 4 to 6 minutes or in a dry skillet over medium heat for about 2 to 3 minutes. Stir in cinnamon.
3. Transfer to four bowls and top with almonds and blueberries. Drizzle 1 teaspoon agave nectar over each serving. You can add more almond milk, if desired.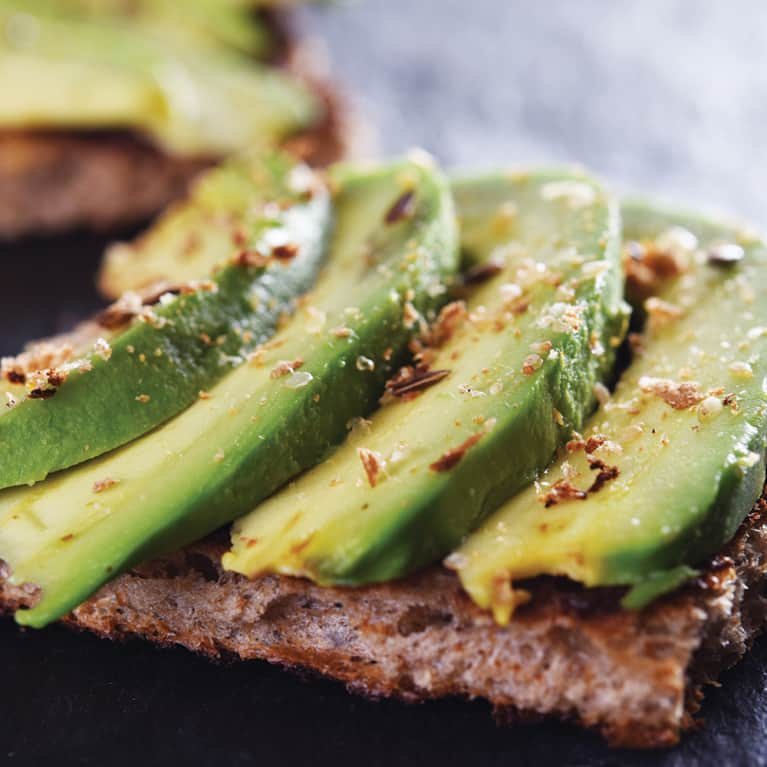 2 slices vegan whole grain bread
2 tablespoons hummus
3 slices avocado
Himalayan pink salt and pepper to taste
Preparation
Toast bred to desired doneness. Spread each slice with 1 tablespoon hummus. Top with avocado slices. Sprinkle with salt and pepper, to taste.
4. Chocolate Blueberry Muffins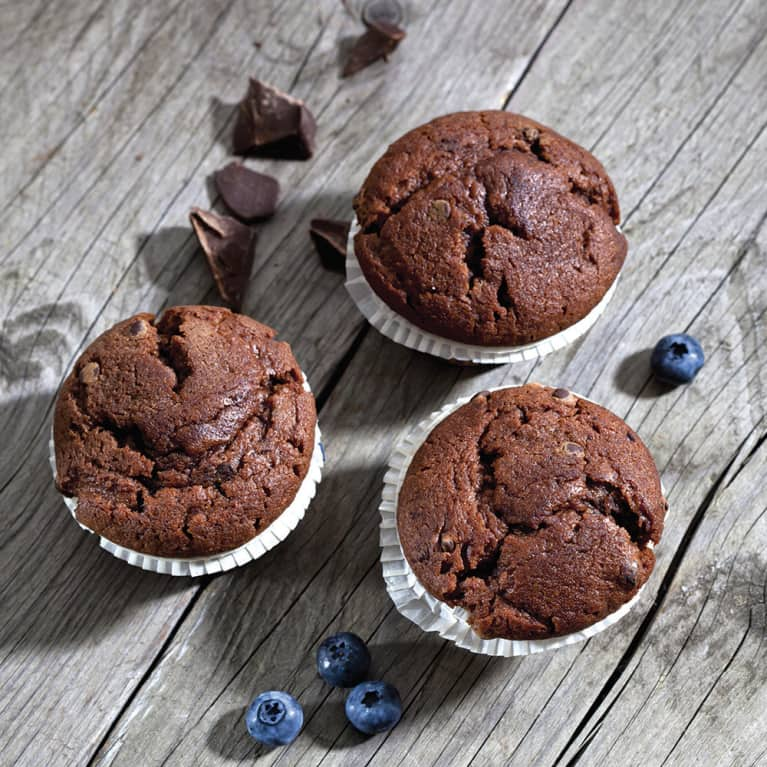 1½ cups flour
4 teaspoons raw sugar
2 teaspoons baking powder
½ teaspoon salt
1¼ cups unsweetened coconut milk
1½ teaspoons egg replacer
½ cup unsweetened cocoa powder
¼ cup applesauce
½ cup frozen blueberries
Preparation
1. Preheat oven to 400°F. Spray a 12-cup muffin tin with nonstick cooking spray.
2. In a large bowl, mix all of the dry ingredients. In a small bowl, mix applesauce and coconut milk. Add the wet ingredients into the dry ingredients and stir to combine. Add the berries as you mix.
3. Using a ¼ cup measure, scoop the batter into the muffin tins (about ⅔ of the way full). Bake for 20-25 minutes or until toothpick inserted in the center comes out clean.
4. Cool for 5 minutes in the tin, then remove and let cool on a rack.
5. Dragon Fruit Booster Bowl
1 cup chopped frozen mango
1 cup chopped frozen pineapple
3½ oz. (1 packet) frozen pitaya (dragon fruit) purée
1 cup baby spinach
½ kiwi, peeled
½ cup unsweetened almond milk
30g (about 2 scoops) unsweetened or vanilla pea protein powder
½ banana, sliced
14 blueberries
10 blackberries
2 teaspoons chia seeds
2 tablespoons pumpkin seeds
2 tablespoons almonds
Preparation
1. Place all the smoothie ingredients (not the toppings) in the blender and blend until smooth.
2. Pour into a serving bowl and top with fresh fruit, nuts, and seeds, as desired. Serve immediately.
6. Bananas for Berries Bowl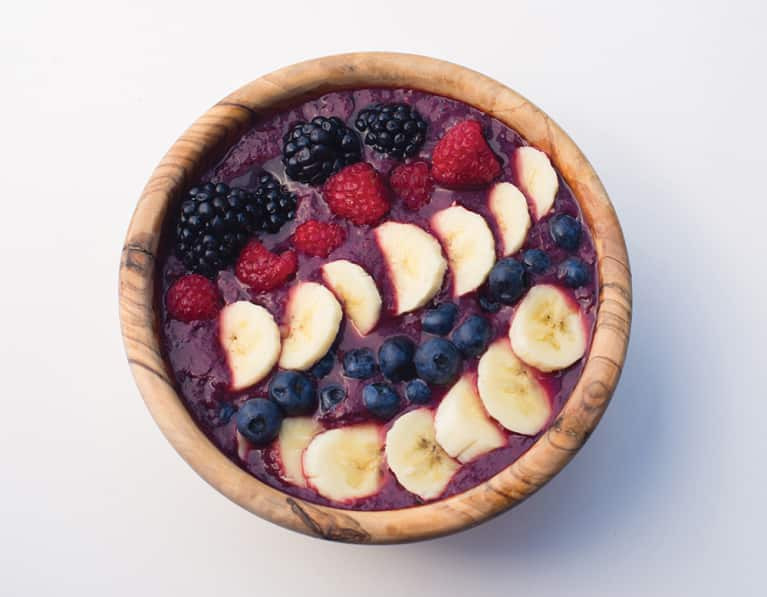 1 large frozen banana, peeled
¾ cup frozen raspberries
½ cup blueberries
1 teaspoon açai berry powder
30g (about 2 scoops) vanilla pea protein powder
1 cup water
1 teaspoon chia seeds
1 large banana, sliced
¼ cup raspberries
½ cup blueberries
¼ cup blackberries
Preparation
1. Place all ingredients except chia seeds in a blender and purée until smooth. Stir in the chia seeds.
2. Allow the mixture to sit for about 5 minutes. This will allow the chia seeds to absorb some of the water and make the smoothie thicker.
3. Blend one more time, then pour mixture into two bowls. Top with fruit garnish and serve.
7. Good Morning Chia Seed Pudding
3 cups unsweetened almond milk
½ cup chia seeds
1 tablespoon pure maple syrup, to taste
1 cup blueberries
¾ cup chopped mango
Preparation
1. In a large bowl, whisk together the almond milk, chia seeds, and maple syrup. Let sit for 5 to 10 minutes. Whisk again.
2. Cover and place in the fridge for 2½ to 3 hours. You can also let it chill overnight. Stir mixture occasionally.
3. Remove from fridge and stir. Mix in blueberries and chopped mango. Portion into bowls and add additional blueberries on top.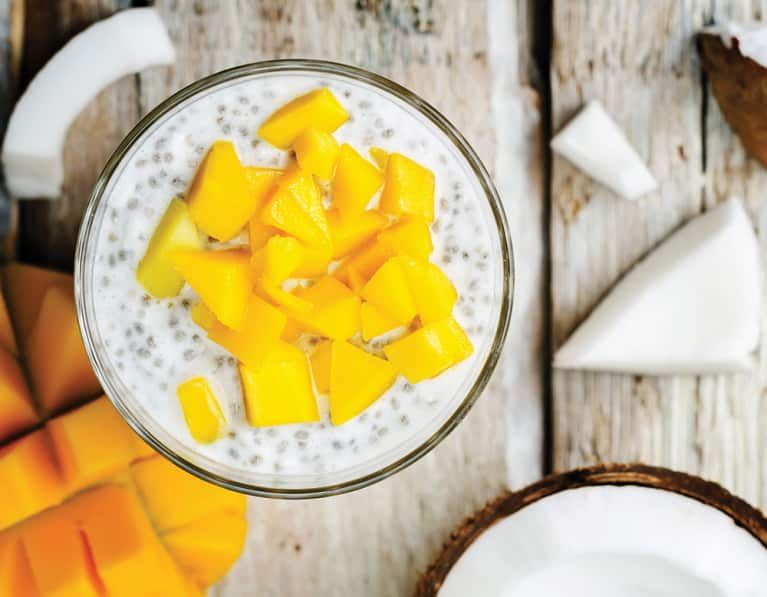 ¼ cup chia seeds
1 cup unsweetened coconut milk
½ tablespoon agave nectar
¼ cup diced mango