Simple & Comforting Dinner: Sweet Potato Cottage Pie
I usually call this "Quick Cottage Pie," because I make it without the usual carrot and celery soffrito. This is a take on my grandmother's ragout, which she made by cutting an onion into quarters and frying it in a little olive oil with 2 cloves of crushed garlic.
Once the onions were translucent, she added the ground beef and cooked it until browned. Then she would add a good squeeze of tomato paste, bay leaves, and a whole glass of wine, and leave it to simmer.
This ragout is wonderful on pasta and equally, with the onions chopped more finely, it makes the perfect no-hassle base for a tasty midweek cottage pie.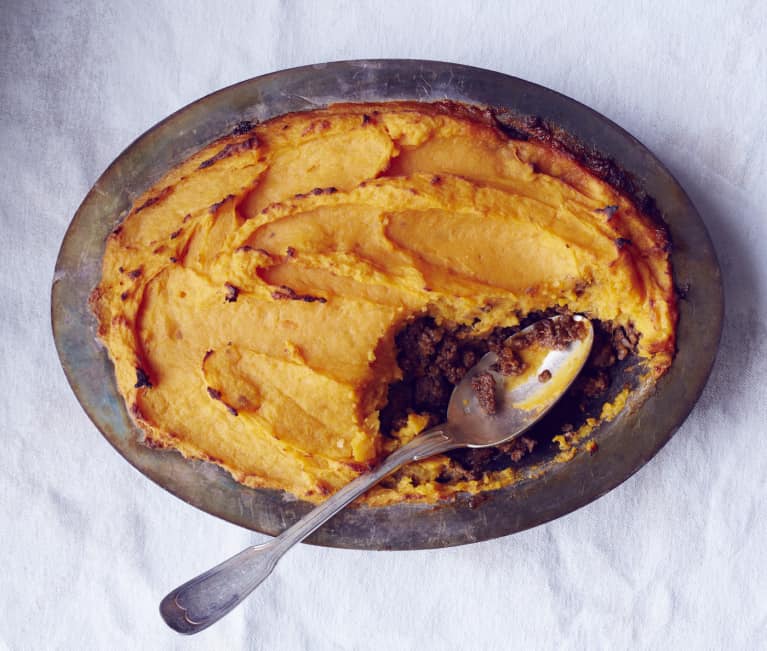 1 tablespoon olive oil
1 onion, finely chopped
1 garlic clove, crushed
1 lb., 2 oz. ground beef
2 tablespoons double-concentrated tomato paste
small pinch ground cinnamon
small pinch grated nutmeg
2 bay leaves
½ cup red wine
9 oz. potatoes
1 lb., 10½ oz. sweet potatoes
2 tablespoons butter
½ cup milk, warmed
grated nutmeg (optional)
1 handful finely grated Parmesan cheese
sea salt and freshly ground black pepper
Preparation
1. Preheat the oven to 350°F. Heat the olive oil in a large, heavy-based saucepan and fry the onion over medium heat for 4 to 5 minutes, until soft and translucent. Add the garlic and fry for another minute.
2. Add the ground beef and fry for about 5 minutes, or until well browned. Add the tomato paste, cinnamon, nutmeg, bay leaves, and wine, and simmer over low heat for 10 to 15 minutes.
3. Meanwhile, peel the potatoes and sweet potatoes, cutting them into 1½-inch cubes. Cook them in salted boiling water for about 10 to 12 minutes, or until tender. Drain the potatoes and return them to the pan. Add the butter, then while beginning to mash, gradually add the warm milk (you may not need all of it), the nutmeg (if using), and the Parmesan cheese. Season to taste.
4. Pour the ground beef mixture into an ovenproof dish and cover with the mashed potato. Cook in the oven for 30 to 40 minutes until golden brown and bubbling. Leave to stand for 5 minutes before serving.
Excerpted from At Home with Umami by Laura Santtini, Ryland Peters & Small, $24.95; www.rylandpeters.com.