Up Your Salad Game With This Genius Topping
mbg Contributor
By Leah Vanderveldt
mbg Contributor
Leah Vanderveldt is an author living in Brooklyn, New York. She received her bachelor's in communications and media from Fordham University, and is certified in culinary nutrition from the Natural Gourmet Institute. She is the author of two cookbooks: The New Nourishing and The New Porridge.
It's fall! Which means it's time for Brussels sprouts, hearty greens, and squash. This time of year, I love warm roasted vegetable salads brought together with a great sauce and something for crunch.
New York healthy eating restaurant chain Dig Inn was nice enough to share part of their new fall menu with me, and let me tell you, I'm pretty excited about it.
One of the standouts was this easy yet impressive topping for any salad: savory granola. Crunchy oats and walnuts are laced with rosemary, olive oil, salt, and just a touch of honey. Get the recipe below.
Savory Rosemary Walnut Granola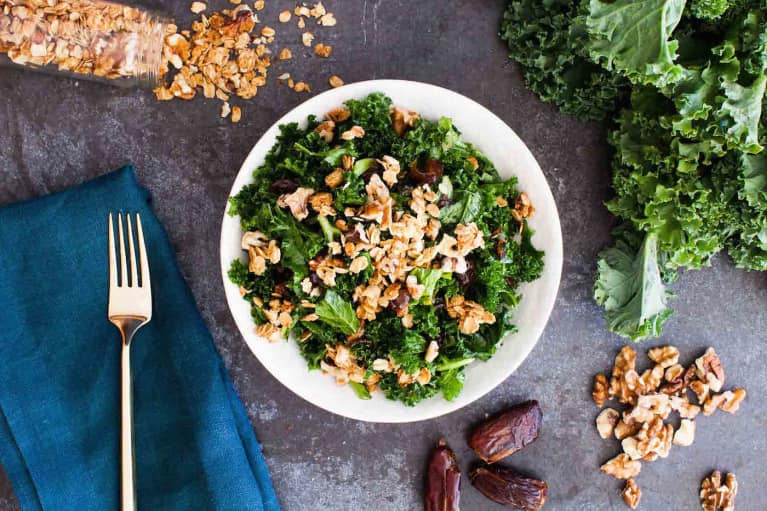 ¼ cup olive oil
½ cup honey
1 tablespoon rosemary needles
1 quart gluten-free rolled oats
½ teaspoon salt
¼ cup walnut pieces (optional)
Preparation
1. Preheat oven to 300°F. Place the olive oil, honey, and rosemary needles in a blender and puree on high until well-blended.
2. Place the rest of the ingredients in a large bowl. Add the oil-honey mixture, oats, and salt. Toss well to coat.
3. Place on a well-oiled baking sheet and cook in 300°F oven for 20 to 30 minutes or until nicely toasted and fragrant.
4. Allow to cool completely. Store in an airtight container.
Photo and recipe courtesy of Dig Inn