15-Minute Vegetable-Packed Chili To Cure The Monday Blues
mbg Contributor
By Leah Vanderveldt
mbg Contributor
Leah Vanderveldt is an author living in Brooklyn, New York. She received her bachelor's in communications and media from Fordham University, and is certified in culinary nutrition from the Natural Gourmet Institute. She is the author of two cookbooks: The New Nourishing and The New Porridge.
My perfect weeknight meal is packed with vegetables and whole foods, fills me up, and tastes delicious. And ideally it doesn't cut into my precious couch/bad-TV/sweatpants time.
15-Minute Dinners are all about feeding yourself well with minimal effort.
I filled this chili with all the quick-cooking vegetables I had on hand (zucchini, bell pepper, and carrot). Veggie chili is also great with sweet potato or butternut squash. These take a little longer to cook, but if you have some already roasted, definitely toss it in.
Chili spices mix well with vegetables, making this a flavorful, healthy, and satisfying dish — ideal for a weeknight dinner.
Vegetable-Packed Vegan Chili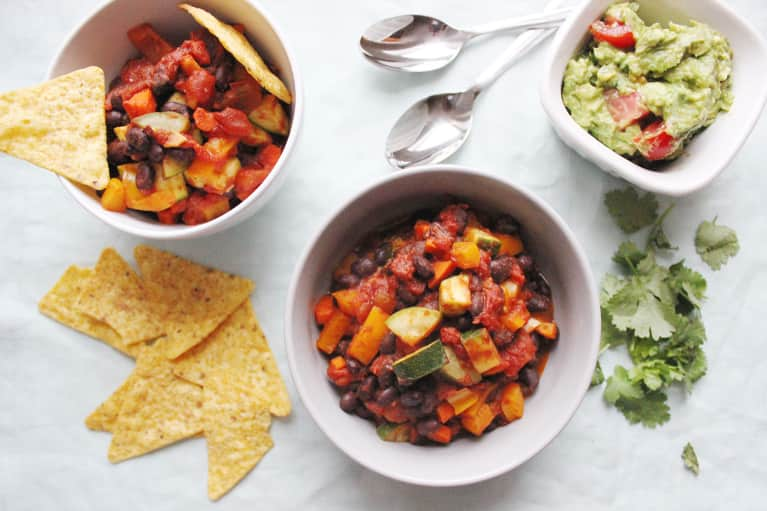 Olive oil or oil of your choice
2 garlic cloves
1 medium bell pepper (orange, yellow, or red)
1 teaspoon cumin
1 teaspoon smoked paprika
½ teaspoon chipotle powder
¼ teaspoon cinnamon
1 14-oz. can chopped tomatoes
1 medium carrot
1 small zucchini
½ teaspoon salt, or more to taste
1 cup vegetable broth or water
1 14-oz. can of black beans, drained and rinsed
Guacamole
Cilantro
Corn chips
Hot sauce
Preparation
1. Finely chop garlic. Chop bell pepper, carrot, and zucchini into a small dice. (This is key, as smaller pieces of vegetables will cook quicker.)
2. Coat the bottom of a large pot with oil and heat over medium-high heat. Add bell pepper and garlic and stir. Cook for 1 minute. Add spices and cook, stirring, for 30 seconds.
3. Add tomatoes, carrot, zucchini, and salt and cook, stirring, for 2 minutes. Stir in vegetable broth and black beans and lower heat to medium.
4. Cook for 10 minutes, stirring occasionally. Use this time to smash up some guacamole and arrange your favorite toppings.
If you have the spare time, let the chili sit a few more minutes to let the flavors mingle before serving.
Photo courtesy of the author