15-Minute Meal: Summer Pea Soup
This light and refreshing soup is the perfect thing to make when you want to eat healthy, but still want something flavorful and satisfying. Bright summer peas and basil marry perfectly in this summery soup.
This recipe takes just 15 minutes and is made from mostly freezer and pantry ingredients, so you can have this in your cooking repertoire for those days when eating healthy seems like a stretch. Whether you serve it hot or cold, this dish is sure to become a fast favorite.
Summer Pea Soup (Vegan + Gluten-Free)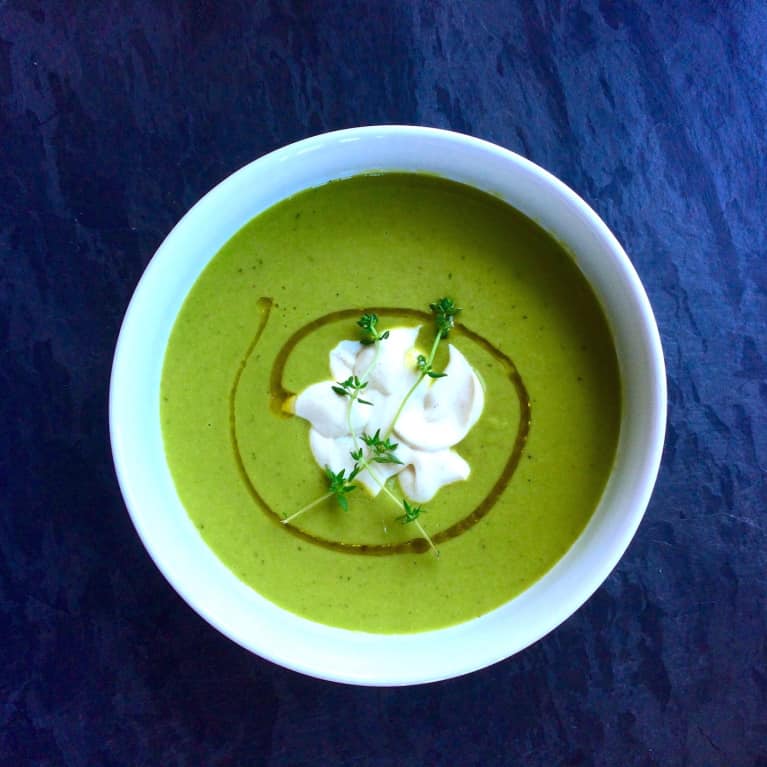 Serves 4 (generously)
Ingredients
2 tablespoons extra virgin olive oil, plus more to serve
2 garlic cloves, peeled and chopped
2 scallions, chopped
4 cups shelled peas (fresh or frozen works great!)
1 ½ -2 ½ cups water or vegetable stock
1 small handful basil
Vegenaise, or your favorite tofu or cashew cream, to serve (optional)
Preparation
1. In a sauté pan, heat the olive oil over medium heat. Add the garlic and scallions, and sauté for 3-4 minutes until slightly softened and caramelized.
2. Add the peas, and cook for 4-6 minutes until tender but not overcooked.
3. Transfer the pea mixture to a high-speed blender, and add 1 ½ cups water or vegetable stock. Blitz to combine, adding more liquid as needed to reach your desired consistency. Add the basil, and blend until totally smooth. Season to taste with salt and pepper.
4. To serve, divide the soup between bowls and garnish with a dollop of your favorite vegan cream, a drizzle of olive oil and fresh herbs. Enjoy!
Note: You can also chill this soup and serve it cold for a refreshing and cooling meal.
Photo courtesy of the author