Recipe: Fudgy Brownies With Raspberries (Vegan + Gluten-Free)
These are possibly the healthiest brownies ever. They're oil-free, gluten-free, dairy-free and refined-sugar free. And don't be freaked out by the lentils in this recipe — you won't even notice them!
The only things that sweeten these rich, gooey brownies are dates and apple sauce, making them full of fiber to keep your digestive track functioning properly.
This kind of chocolate fix will also help improve your mood and reduce stress levels. What are you waiting for? Go start baking!
Black Lentil Brownies + Raspberry Sprinkles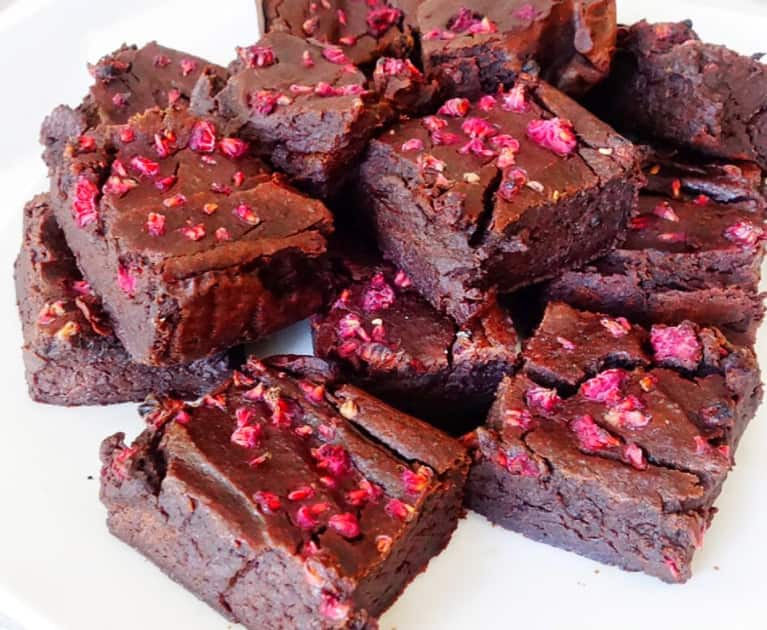 3 cups black lentils, cooked (or 2 15 ounce cans, drained and rinsed)
4 tablespoon cashew butter
11⁄2 cups dates
1⁄3 - 1⁄2 cup cacao powder (depending on how rich you want them)
1⁄2 cup apple sauce
1⁄2 teaspoon baking soda
For added sweetness, use more dates or 1 tablespoon honey or maple syrup (optional)
1/2 cup frozen raspberries
Preparation
1. Preheat oven to 350 degrees. If your dates are more firm, start soaking them in room temperate/warmer water now.
2. Pulse the lentils in a food processor until they are broken up and somewhat mixed together. Add cashew butter, apple sauce, cacao and baking soda and blend. Be sure to scrap the sides to make sure everything gets mixed together.
3. Add in the dates and blend again. Pour mixture in 9x9-inch pan. Crush raspberries slightly and sprinkle on top (optional)
4. Bake in oven for 45 minutes (Be sure to fork check it — f it's a little gooey that's okay). Let cool on the counter, then cover and put in the fridge for 2-3 hours or overnight before slicing and serving. Keep brownies in the fridge in an air tight container for up to 3 days.
Photo courtesy of the author