10 Of The Healthiest Foods To Eat When You're Pregnant
Our editors have independently chosen the products listed on this page. If you purchase something mentioned in this article, we may
earn a small commission
.
If you're pregnant, you're probably all too familiar with what foods to avoid — shellfish, unpasteurized cheese, and deli meats that may carry listeria, etc.
While it's certainty important to steer clear of ingredients that may be harmful to our developing babies, it seems that far less emphasis has gone to focusing on foods containing plentiful nutrients that make sense to incorporate into our diets during pregnancy.
The following is a sneak peak of some of the foods discussed in my new book, What to Eat When You're Pregnant, along with a description of why they may be particularly helpful to eat during this time, and how you can easily incorporate them into your diet.
1. Lentils
Early on in pregnancy, folate is key since it's involved in many biological processes that occur during this time, making adequate intake so important. Fortunately, lentils are packed with it. In fact, a cup of cooked lentils contains more than half of your daily folate requirement (about 360 mcg; you need 600 per day). In addition, lentils are a good source of iron and contain fiber, phosphorus, protein, vitamin B6, potassium, zinc, and copper, among other nutrients. They're wonderful in soup, salad, or as a side dish.
2. Spinach
Another excellent source of folate. A cup of boiled spinach contains almost half your daily folate needs. Spinach is also rich in potassium, iron, vitamin A, phosphorus, and magnesium. An easy way to get your spinach is raw in a salad or cooked as a side dish.
3. Sweet potato
High in carbohydrates, potassium, iron, magnesium, phosphorus, and vitamins A, C, and K, sweet potatoes are a great source of nutrients during pregnancy. Because they contain plenty of carbohydrates and vitamin B6, sweet potatoes may be especially beneficial if you're experiencing nausea and vomiting. (And if you've got energy, try making these delicious sweet potato fries.)
4. Walnuts
Another excellent source of nutrients for your baby's growing brain. An ounce of raw walnuts (about 14 walnut halves) has more than the daily dose of essential omega-3 fats. They're also loaded with fiber, iron, and good-for-you polyunsaturated fatty acids. Just like all nuts, walnuts are high in calories, so remember to snack mindfully on this brain food. Walnuts can easily be incorporated into a trail mix, added to a salad, or simply eaten on their own.
5. Raspberries
High in fiber, vitamins C and K, and manganese, raw raspberries can not only help with constipation but also may provide some elasticity to your stretching skin due to their vitamin C content. A cup of fresh raspberries contains fiber, carbohydrates, iron, vitamin C, and has moderate amounts of vitamin K, folate, niacin, zinc, and potassium. Enjoy them on their own or as part of a fruit smoothie.
6. Chocolate
Dark chocolate contains several important nutrients, such as iron, magnesium, phosphorus, potassium, zinc, niacin, and monounsaturated fatty acids. Recent research shows that a modest intake of high-cacao chocolate (30 g of at least 70% cacao chocolate) can help reduce blood pressure and improve insulin sensitivity during pregnancy without affecting weight gain.
Even though it may be beneficial, chocolate is high in calories and fat and contains caffeine, so be sure to indulge in moderation. Try to keep your intake at or under 1 ounce of chocolate per day and aim for dark chocolate with 70 to 85% cacao solids.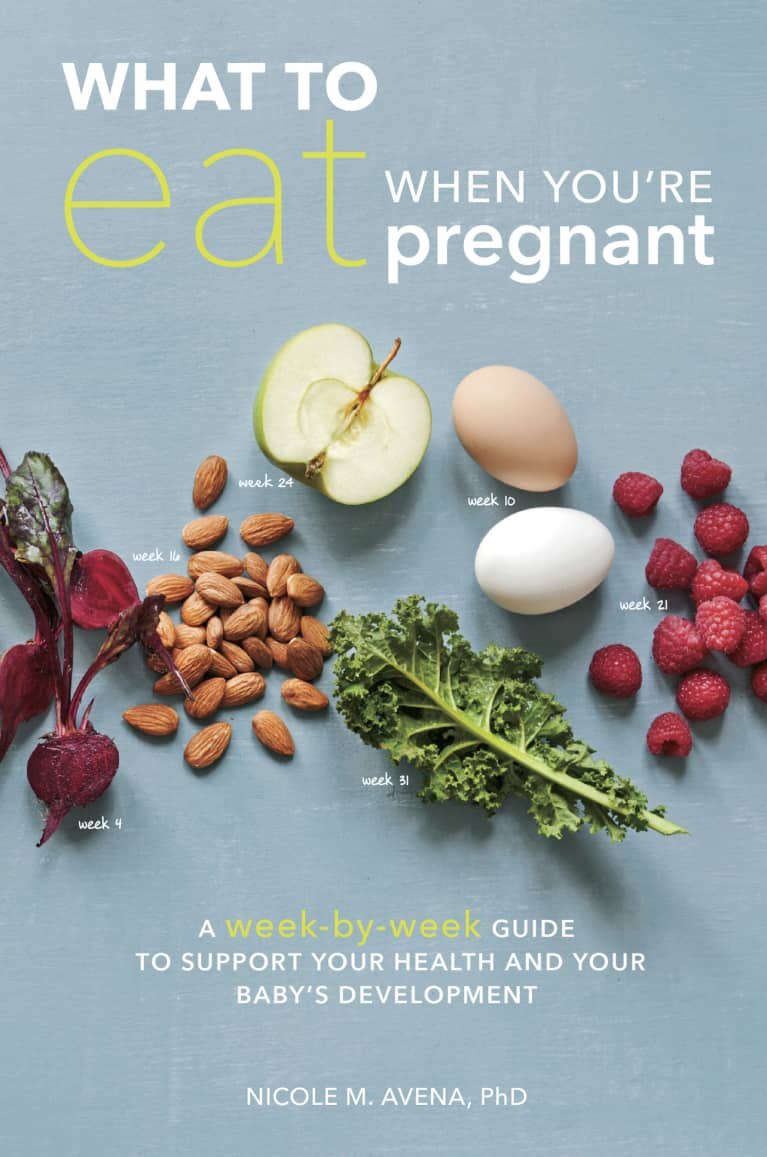 7. Wild salmon
Rich in healthy mono- and polyunsaturated fatty acids, as well as protein, vitamin B12, niacin, potassium, phosphorus, and zinc, wild salmon is an excellent source of nutrients for your baby during development.
Omega-3 fatty acids, in which wild salmon is particularly rich (farmed salmon also contains omega-3s, though less than the wild varieties), are crucial for healthy brain development, which occurs throughout pregnancy.
8. Kale
Even a small serving of kale is loaded with nutrients. Kale contains fiber, calcium, iron, potassium, vitamin C, folate, vitamin A, vitamin K, and moderate amounts of vitamins E and B6, niacin, zinc, phosphorus, and magnesium — a true nutritional powerhouse! Kale is great as the base of a salad, as part of a stir-fry, or in a smoothie. (Looking for a great kale salad recipe? Start here.)
9. Chicken
Chicken is a great source of protein, iron, and B vitamins. Remember to choose lean chicken and always remove the skin, as it contains cholesterol and is high in animal fat as well as calories.
10. Avocado
Rich in the "good" fats (mono- and polyunsaturated fatty acids) and numerous vitamins and minerals, avocado is an outstanding choice at this time. One avocado contains healthy fat, carbs, folate, iron, potassium, vitamin C, vitamin A, vitamin E, vitamin K, and moderate amounts of many other vitamins and minerals. Add to a salad or sandwich or enjoy guacamole with some tortilla chips.