Roasted Beet Salad With Beet Greens, Oranges & Pistachios
January 14, 2015 — 10:30 AM
Roasted Beet Salad With Beet Greens, Oranges, & Pistachios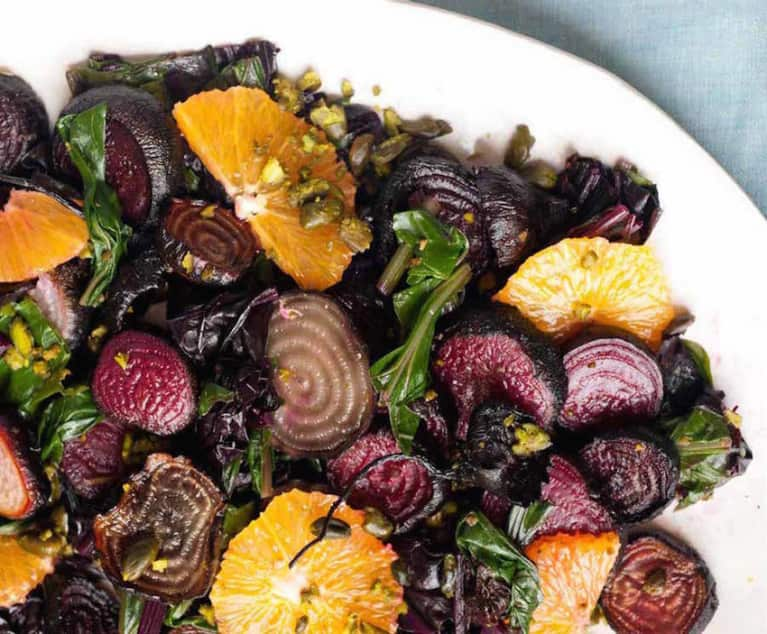 There's no better vehicle than a salad for packing a range of flavors, textures, proteins, good fats, and a variety of vegetables into one meal. Roasting really brings out the best in just about all vegetables, intensifying their flavor and releas¬ing their natural sweetness to create a caramelized exterior. Instead of the standard approach of roasting beets whole and then peeling for a salad, I slice and roast them skin-on at a low temperature. A really cool thing happens texturally—they shrivel up a bit and the outsides become slightly dehydrated, giving a nice contrast to the still sweet and juicy inside. It's like biting into a beet-flavored gummy bear.
Beet greens, the leafy tops that you usually cut off and discard, are blanched and chopped to form the base of the salad. They taste similar to Swiss chard and are a nutritional force in their own right. If you can, use a mix of different colored beets: combine red and golden, or see if your local market has the candy-striped or white varieties. This is a beauty of a dish, bright in flavor and color.
Serves 4
Ingredients
5 medium beets with greens, well-scrubbed, trimmed and cut into 1⁄2-inch-thick slices, greens reserved
4 tablespoons extra virgin olive oil
2 oranges
1⁄4 cup pistachios, chopped or cracked with bottom of a pot
salt + pepper
Preparation
1. Preheat the oven to 300°F. Line a baking sheet with foil.
2. In a bowl, toss the sliced beets with 2 tablespoons of the olive oil and season with salt and pepper. Arrange the beets in a single layer on the baking sheet. Bake for 30 minutes. Flip each slice and bake until the beets have shrunk in size a bit and the skins look dehydrated, another 30 minutes. (It's really up to your preference in texture, so give one a taste. If you want chewier beets, bake them a little longer.)
3. While the beets are baking, bring a pot of salted water to boil. Remove the center rib from the beet greens. Thoroughly wash the greens, then add them to the boiling water and blanch until tender, about 2 minutes. Drain into a colander and run cold water over them to stop the cooking. Squeeze the greens into a ball in your hand, wringing out as much liquid as possible. Put the ball on a cutting board and slice it like the grid of a tic-tac-toe board. Add the greens to a large bowl.
4. Working over the bowl of greens, grate the zest of one of the oranges. Juice half of the zested orange into the bowl. Using a sharp paring knife, cut all the peel, pith, and outer membranes from the second orange, and slice it crosswise into thin rounds.
5. While the beets are still warm, add them to the bowl of greens. Add the orange slices, the remaining 2 tablespoons olive oil, and the pistachios and toss to combine. Add salt and pepper to taste.
Excerpted from A Good Food Day by Marco Canora. Published by Random House in 2015. Photo courtesy of the author.