Honey Roasted Roots With Tahini Yogurt
November 10, 2014 — 5:06 AM
Honey Roasted Roots With Tahini Yogurt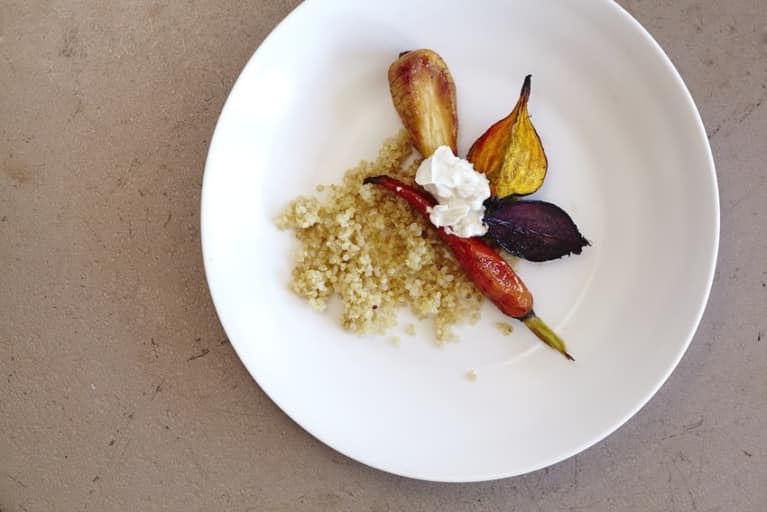 about 1 lbs mixed root vegetables (we use carrots, the parsnips and a mix of yellow and red beets), sliced in half on a diagonal (you want rustic, organic pieces that are almost bite-sized but still feel whole)
1 heaping tablespoon of honey
2 tablespoons olive oil
2 cups of Perfect Fluffy Quinoa
salt + pepper
3 heaping tablespoons of thick, strained yogurt (we prefer Greek for this)
1 tablespoon tahini
1 small garlic clove
1 tablespoon olive oil
squeeze of lemon
salt + pepper to taste
Preparation
1. Pre-heat oven to 425ºF.
2. Line a baking sheet with parchment and or foil. Add the roots, honey, olive oil and salt and pepper. Using your hands, massage the oil and honey into the roots until evenly combined. Arrange the roots in a single layer and bake for about 15 minutes. Grab the baking sheet with an oven mitt and give it a shake to re-distribute the roots. Cook for another 10 minutes or so until the roots are soft and slightly browned. Remove from oven.
3. Meanwhile, make the tahini yogurt. Combine all ingredients in a blender and pulse until smooth. Season with salt and pepper to taste.
4. Arrange 1 cup of quinoa in each bowl (or container). Divide the roots evenly among the bowls. Top each bowl with a generous dollop of the tahini yogurt.
Photography by V.K. Rees
Recipes + Styling by Christina Liva