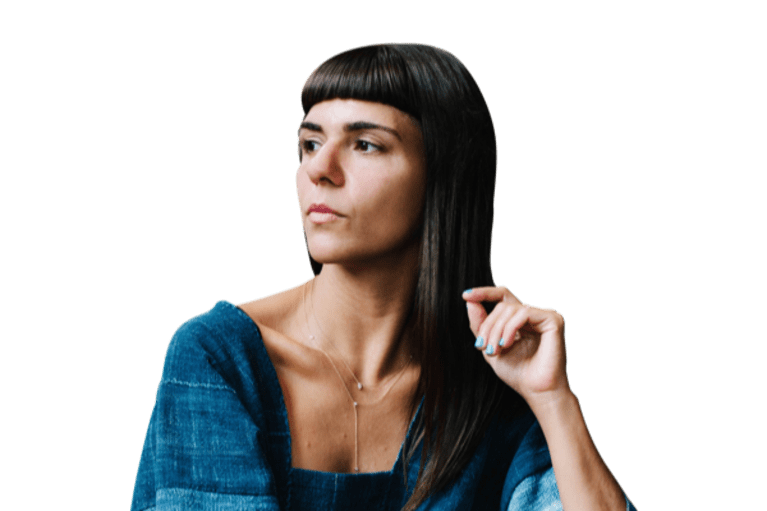 Biet Simkin
Founder of Center of the Cyclone
Biet Simkin is the founder of Center of the Cyclone, an immersive experience that weaves meditation, self-inquiry, art, music, and fashion, offering an explosive experience. Biet's feeling was that the world of intellect, fashion, and art needed spirituality, and the world of spirituality was often missing the mark and needed some vanity and fire. Combining these two worlds, Biet has created events with Lululemon, SoulCycle, Summit Series, Vice, Sundance Film Festival, the Path, the Collective, Babel, Serene Social, mindbodygreen, Wanderlust Festival, and more.

Currently, she's the resident meditation leader at Neuehouse. Meditation with Biet is different in that it is more emotional; her work takes you through the emotional, intellectual, instinctive, and moving centers to get to a place of equanimity and joy. Through private one-on-ones, corporate groups, parties, speaking engagements, and pop-ups in museums and art galleries, Biet is bringing this big work into the world and helping raise consciousness from the outside in. Her work is also unique as it is bringing the sound of her music into the meditation experiences and giving music a new venue. Her newest album, The Lunar, debuted in September 2015.
Practices and Articles
Q&A
What is your wellness philosophy?
I make new ones up every day. A philosophy that has no room for reinterpretation is a stone philosophy. To be a real man or woman, we must be interacting with now.
What brought you into wellness?
Well, being on a planet, not knowing how I got here exactly, knowing I will die one day. Watching most of my family die around me, a brilliant mind with many holes, contact with bliss, knowledge of bliss, seeking of more of said bliss.
What does You. We. All. mean to you?
It means, it takes a village.
What renews you?
Breath, sex, more breath, laughter.
Practices