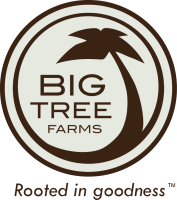 Big Tree Farms
Big Tree Farms is truly Rooted in GoodnessTM. From the beginning, Big Tree Farms set out to undo the damage from commercial farming in Indonesia by helping farmers get back to their roots, promoting sustainable, organic farming and then providing a fair trade outlet for their crops. The result is an extended community of over 14,000 family farmers working together to produce the highest quality, nutritionally pure coconut and cacao products.
The same focus on quality, sustainability and innovation is applied to the finished products. Big Tree Farms is the global pioneer of unrefined, high-nutrient Organic Coconut Sugar and the only one sourced directly with both fair trade and low glycemic certifications. This innovation continued in their launch of Coco Hydro®, the first real coconut water powder. Recognizing the negative environmental impact of shipping heavy beverages around the world, Big Tree Farms dehydrates fresh coconut water and captures the 3% of nutrients and electrolytes. Coco Hydro is refreshing coconut water in a portable, sustainable powder – just add the water. And finally Big Tree Farms' TRU RATM cacao & chocolate products are uniquely cold-processed to protect the incredible phytonutrients and antioxidants found in cacao.
All made in the world's largest bamboo structure on Bali.
Connect With Big Tree Farms
Brought To You By Big Tree Farms