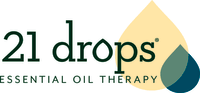 21 drops
21 drops® has captured the healing power of plants, creating a therapeutic experience with easy-to-use, portable essential oil blends. Each of our blends is made with 100% natural, sustainably-sourced essential oils from across the earth.
Our founder, Cary Caster, is a Botanist, Licensed Massage Therapist and Certified Clinical Aromatherapist who raised her three children on essential oils. Cary is on a mission to bring essential oils to the masses by taking the guesswork out of aromatherapy.

By carefully combining the correct essential oils at the perfect concentration, each of our blends works synergistically to uniquely treat a particular concern or aspiration, allowing you to be your best self every day.

Connect With 21 drops
Brought To You By 21 drops