"I am all about beauty from the inside out."
Bobbi Brown
Professional makeup artist and founder of Bobbi Brown Cosmetics
A powerful daily ritual for glowing skin and strong hair & nails*
So why would I be raving over this supplement? Simply, because it works.
With a base of grass-fed, pasture-raised hydrolyzed bovine collagen, it is easily absorbed by the body and enhances our skin cells' production of collagen and elastin.*
mindbodygreen's blend includes biotin, L-glutamine (aka building block for protein), natural moisturizer hyaluronic acid, and vitamin C, a vital part of collagen synthesis—your body can't adequately produce collagen without it. This comprehensive and holistic formula is supported by vitamin E to help stabilize vitamin C in the body, in addition to being a potent antioxidant, along with botanicals turmeric and sulforaphane glucosinolate, to assist in fighting free radicals.*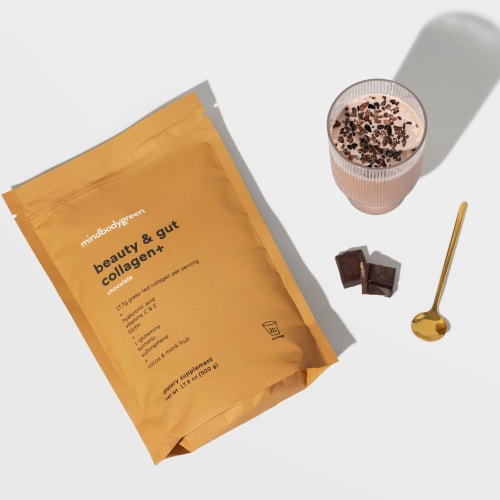 Benefits of subscribing to beauty & gut collagen+:
Free shipping in the US
Cancel subscriptions, anytime
30-day money back guarantee
Our beauty and gut collagen+ formula
Bobbi Brown's beauty iced hot chocolate recipe
All of these benefits are only made better by that rich chocolate taste I mentioned earlier — and it's all thanks to real, organic cocoa and monk fruit. (You won't find any added sugars or fake flavors here.) I reach for this everyday around 4PM when I'm hungry, tired, and craving something sweet. I like to turn it into a delicious iced hot chocolate.
I add one cup milk (oat, almond or even full-fat coconut milk) to my Nespresso milk frother along with a scoop of the chocolate flavor.
Pour over ice and enjoy! (If I'm in the mood for something really chocolatey, I'll even add a little cacao.)
In just a few minutes I have a creamy iced hot chocolate. It's a healthy afternoon snack that doesn't make you crash.
If you're not an iced hot cocoa person, try it in a smoothie. There's also an unflavored version for when you're not in the mood for chocolate.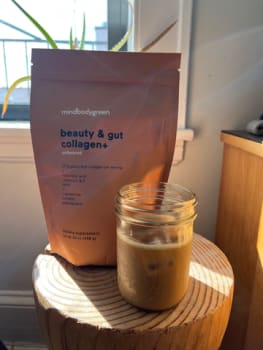 Testimonials
What customers are saying about beauty and gut collagen+
Wow. My skin is prone to dryness and since being pregnant, has been amplified. I've almost finished my first jar of mbg collagen and have noticed a big difference in the health of my skin!*
Ashley P.


Verified Customer
It's great because it's so easy to incorporate into my day and routine. I have loved making my morning smoothie with the mbg's collagen, and even made healthy fiber waffles with it too! I have noticed the biggest difference in my skin--the texture has improved dramatically and it feels super hydrated and plump. I have also noticed my hair feeling softer (even my husband noticed) and my nails are stronger. I love this product!*
Penelope


Verified Customer
I loved taking mindbodygreen's unflavored collagen! It's tasteless and blends with zero clots into my smoothies and teas. I was also psyched to see that this collagen is so high quality-- it's important to me to know that what I'm putting into my body has been thoroughly tested for contaminants and heavy metals. Bring on another year of dewy, heal thy, youthful skin? Yes, please.*
I have used this product for almost two months. I definitely feel like I am seeing a difference in my nails and skin. I feel really good and I don't know what else to say except it is also encouraging me to make delicious smoothies daily....so that I can put the collagen into it. I have also sprinkled it on my popcorn and well as in my eggs. It has no taste but when heated, if you put too much, it will chunk a bit...so be mindful of that. Definitely the best way to use is in smoothies....really love this and will continue to use. My skin looks better than ever and my nails appear to be growing in suddenly stronger.*
Collagen supplements are all the rage in the beauty space: I've tried a few here and there. It's one of those things I know I should add to my routine. After trying this, I found the one that will actually make me stick to a habit. I learned I can add it to my morning coffee, which has been a game-changer. After regular use, my nails started feeling stronger and my skin healthier. I'm also trying to grow my hair out even longer, so I'll be eager to see how this will help my hair health-long term.*