How I Kept Up My Eco-Friendly Lifestyle — Even After I Had A Baby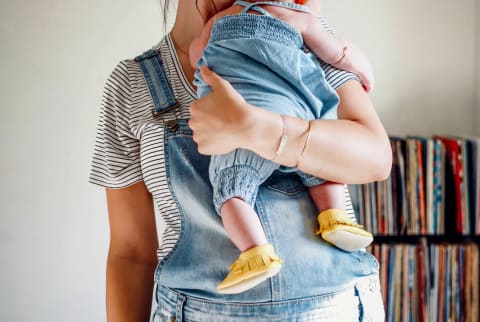 Photo by Treasures & Travels
September 3, 2018
It all started when I turned on the eco-documentary The Clean Bin Project back in June 2013. Up until that point, I wasn't particularly environmentally aware, but that movie was a huge wake-up call for me. As I watched the devastating effects plastic had on everything around us—our environment, our food, our water, and even the air we breathe—I began to see the true impact I was having on our environment, and I knew I needed to make a change.
That's when I signed up for my first Plastic-Free July and gave up single-use plastics for one month. That month turned into two months, and then a year. Once I gave up plastic, other benefits popped up—I ate healthier food since I was avoiding the plastic-wrapped processed stuff, and I managed to save more than $5,000 during the first year. Now, I've stopped putting out a trash bin entirely. I live according to the principles of refusing, reusing, reducing, sharing, repairing, buying secondhand, and composting and recycling as a last resort, blogging about it on my zero-waste website The Rogue Ginger.
My main motivation has always been responsibility—I don't believe the next generation should have to be responsible for my choices when I have the ability to make better ones. And now that I'm a mom to a 15-month-old, my motivation runs deeper than ever.
How I keep up with my zero-waste lifestyle as a new mom.
Becoming a mom actually didn't change much about my zero-waste routine. By the time my son came around, my husband and I had established a solid foundation of low-waste habits, and we just had to introduce a few new ones for our bubbly little boy. Here are a few of my favorites for any waste-conscious parent:
1. I joined a toy library.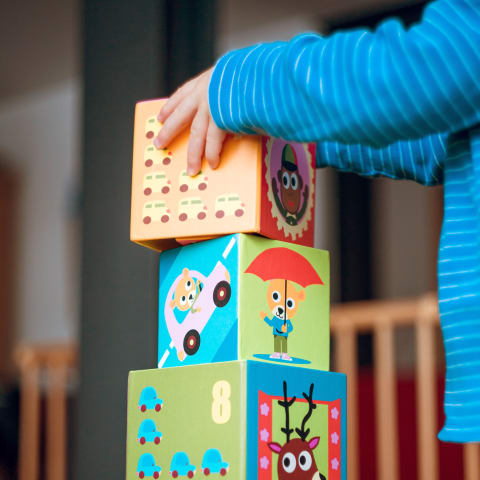 Babies come with an influx of toys—and anyone with kids will understand how quickly these toys can become boring. Before our son came along, we told our family and friends that we would be joining a toy library: For a small membership fee, we can choose from thousands of rental toys for a variety of ages. Not only does this help reduce waste, it also teaches children to look after what they are borrowing. When people do want to gift us with a toy, I just ask them to opt for a secondhand one.
2. I opt for cloth diapers.
About 20 billion disposable diapers, or nappies, as I like to call them, are added to U.S. landfills alone each year, and they can cost a small fortune. Cloth nappies look just like disposable ones, but they're washable and reusable and come in a range of fun prints. Most cities will have diaper services in which soiled diapers are collected and returned clean—a helpful present for new parents. There are also diaper compost businesses that run on a subscription model, collecting compostable diapers and wet wipes from your home. But we typically don't spend any more than 10 to 15 minutes a day preparing our diapers and wipes for the washing machine. (This includes hanging them out on a clothesline to air dry.)
3. I make my own baby food.
We skipped pre-made baby food sold in squeezable plastic pouches in favor of homemade meals. While some of these plastic pouches can be recycled, they often can only be recycled once, and then it's the end of their life. Avoiding them also means you'll pass on those additives, preservatives, and sneaky sugars that can be found in many baby food formulas these days. Plus, going this route is way cheaper since your baby is eating what you eat—my son loves eating roasted broccoli, sweet potato, and asparagus. Anything he doesn't finish goes into our compost bin.
4. I buy secondhand everything.
We chose to get everything we needed for our son secondhand: It was either passed on by family and friends, bought through places like Facebook Marketplace, eBay, Gumtree (the Australian equivalent of Craigslist), or dedicated baby Facebook groups in our area. Babies grow so quickly that they can be in and out of clothes within weeks. Buying secondhand helps reduce resources and waste, and it makes financial sense, too. I still look for safety first. I'm not afraid to ask a lot of questions, test out the items, and do my research.

Erin Rhoads
Erin Rhoads has been writing about her zero-waste journey since 2013. Her blog, The Rogue Ginger, quickly became one of Australia's most popular eco-lifestyle websites, and Erin is now a prominent commentator on zero-waste living. She is on a mission to engage with individuals to redefine what is waste and how to create less of it in her booked-out talks and workshops around the country. Erin is the author of Waste Not: How to Make a Difference by Throwing Away Less (Hardie Grant), was a consultant on Australia's popular TV show War on Waste and is a regular contributor for ABC Radio. She has been featured on BBC World, The Project, Sunrise, Morning Show, Marie Claire, Australian Women's Weekly, the Age, the Guardian, Peppermint magazine, and many more.