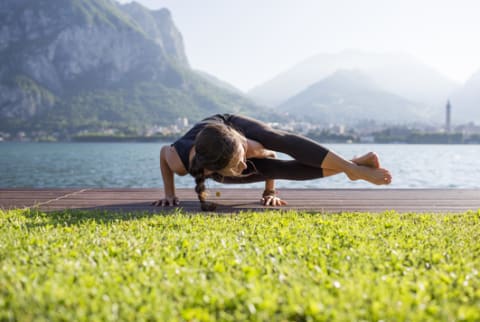 July 22, 2016
In London, where I live, the weather isn't always the best. However, during the short summer months, I try to teach and practice yoga outside as much as I possibly can—and it's not just for the vitamin D, either.
For me, there is no better way to feel connected to and relaxed by nature than by taking your yoga session outside. One of the best things about this ancient practice is it can literally be done anywhere. So why limit yourself when it comes to getting your yoga on? Nature can enhance your practice and provide certain benefits that a studio simply can't.
Here are six reasons you should take your practice outside:
1. Scenery
Research has shown that viewing nature is beneficial for encouraging feelings of relaxation and boosting focus.
These are two things that go hand in hand with a positive yoga practice. If you feel like your regular routine is beginning to stagnate, then getting outside and into a natural environment can be extremely beneficial. Furthermore, looking at beautiful things will cause the central nervous system to release endorphins, which trigger positive feelings throughout the body.
2. Sunshine
Having an ample amount of sunshine in your life is key to happiness, this is thanks in part to all of that wonderful vitamin D that you will soak up when you are exposed to the sun. Vitamin D aids serotonin production, which stabilizes your mood. As well as being great for happiness, vitamin D also helps to keep your bones healthy, as it enables your body to better absorb calcium and phosphorous from dietary sources.
3. Fresh air
Fresh air is great for your body and will help to offset the negative effects of pollution. Being outside in the fresh air is also useful for boosting your immune system and is preferable to being cooped up inside in proximity to other people.
4. Confidence boost
If you are used to practicing yoga within the confines of the studio walls then taking your mat outside can be a great way to boost your confidence.
Doing anything that is generally outside of your comfort zone can seem scary, and practicing yoga in a public place might not be something that you immediately want to do. However, once you have tried it for the first time, you will quickly wonder what was stopping you! You will be inspired by yoga like it was the first time you tried it.
5. A clear mind
Being in the presence of nature can do wonders for your mental state and doing yoga in nature further increases these benefits. The combination of greenery and this form of exercise is amazing for soothing the soul as well as clearing the negativity out of your mind. When your mind is clear you are better equipped to fight depression, combat stress, and fuel your own happiness.
6. Fresh energy
If you find that you struggle with your energy levels, an outside yoga session could be exactly what you need to invigorate yourself. The outside world is the natural environment that our bodies and minds feel most connected to. Therefore, when we are outside, our brains switch on and we begin to feel more alert. This fact, coupled with the extensive energizing benefits of yoga, will ensure that you retain your focus for the rest of your day.

Julie Montagu
Julie Montagu is one of London's top yoga and nutrition teachers. As Cosmopolitan put it, "Among London's taut-buttocked set, the name Julie Montagu is talked about with the sort of reverence reserved for the Dalai Lama. (Her Sunday class in SW3 gets so packed that she often teaches standing on a radiator. True Story.)"
Julie is the star of Bravo TV's "Ladies of London" and the brains behind her new membership wellness site www.truly-julie.com. Married with four children, Julie's workshops on self love, letting go and happiness have been sell out successes. Head to www.juliemontagu.com for more information.