Whole Foods Market Just Announced Huge Price Cuts + New Prime Deals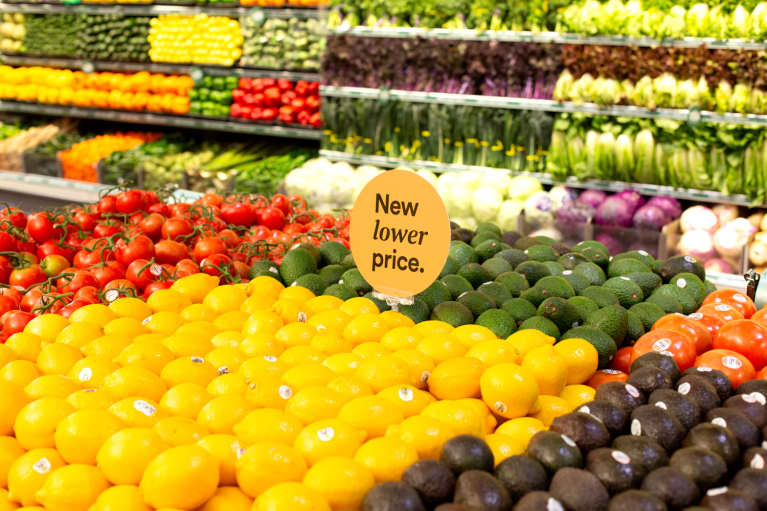 Get excited: Whole Foods Market is slashing prices starting this Wednesday—and nope, the discounts aren't just for Amazon Prime members (who already receive 10 percent off discounted products, along with other periodic perks). This marks the first big round of price cuts for all shoppers since November 2017, and we couldn't be more pumped.
So, what can you save on? The price drops will encompass hundreds of items, with a focus on fresh, peak-of-season fruits and vegetables such as greens, tomatoes, tropical fruits, and more—with prices being reduced an average of 20 percent, according to a Whole Foods Market news release. Some specific items you can expect to save on in the near future: large yellow mangoes ($1 each), mixed-medley cherry tomatoes ($3.49 per 12-oz. container), and organic bunched rainbow chard ($1.99 each). Sounds like it's time to make some smoothies!
"Whole Foods Market continues to maintain the high quality standards that we've championed for nearly 40 years, and, with Amazon, we will lower more prices in the future," said John Mackey, Whole Foods Market co-founder and CEO, in a company statement.
In addition to these savings, Whole Foods will also be rolling out more than 300 deals for Amazon Prime members over the next few months (you can keep tabs on sales and deals here). What's in store for April? Here's a look at some sweet deals that will rotate on a weekly basis this month:
Organic asparagus: $2.99/lb. ($2 savings)
Organic strawberries: $2.99/lb. ($2 savings)
Sumo citrus: $2.49/lb. ($1.50 savings)
No-antibiotics-ever whole chicken: $1.79/lb. (40 percent savings)
Animal welfare-rated pork loin chops: $4.99/lb. ($2 savings)
Fresh, wild-caught halibut fillet: $16.99/lb. (35% savings)
35 percent off all Justin's brand products
$20 off Vega One Organic Shakes
40 percent off all Kite Hill plant-based products
35 percent off all Epic brand products
20 percent off prepared sandwiches and wraps
To learn more about the history of Whole Foods Market and what CEO John Mackey thinks about the future of food trends and plant-based diets, check out his interview with mbg founder & co-CEO Jason Wachob on the mbg podcast.