The One Tweak That Will Optimize Your Vegan Diet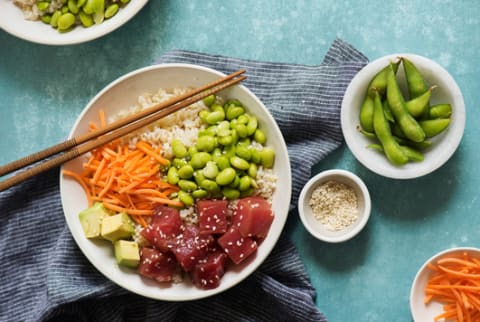 July 7, 2016
Two former vegans, Amy Cramer and Lisa McComsey, explain why they've tweaked their diet in favor of more omega-3s.
Everyone knows the vegan diet is boring, restrictive, and unhealthy ("how do you get your protein?")—and that vegans are pale, Birkenstock-clad treehuggers who sport "Meat is Murder" bumper stickers and proselytize at cocktail parties.
So it was a bit of a shock when we fell in love with veganism. We even wrote a how-to-go-vegan guide and cookbook (The Vegan Cheat Sheet) to share our passion for the plant-based lifestyle. All those preconceived notions about being vegan? Baloney!
We felt fit, healthy, strong, and satiated. And did we mention we had curves?
Several years into our vegan bliss, we had a fall from grace: We were seduced by seafood. Having gone vegan for health reasons, we couldn't ignore that we were missing one important nutrient: the high-quality, essential omega-3 fatty acids you can get only from fish.
It was our dirty little secret for a while. One day, Amy was caught red-handed eating a 2½-pound lobster, and her "friends" (aka the vegan police) tried to post her sin on social media. Lisa was fingered sneaking calamari off the appetizer platter.
Now that we've come out of the closet, we believe a seagan (seafood + vegan) diet is the gold standard of eating. You get a rich variety of nutrients from fruits, veggies, nuts, seeds, beans, and grains—with the added boost of omega-3s from fish. Plus, for those who resist going "whole-hog" vegan, this is a more approachable diet with plenty of options when dining out or at home.
The American Heart Association recommends two to three servings of seafood a week. Stick with sustainably caught varieties that are low in contaminants, such as Pacific wild-caught salmon, North American haddock, Arctic char, domestic crab, and small fish like sardines and anchovies. Look for the "certified sustainable seafood" label when shopping, or ask your fishmonger what's fresh and local.
Frozen, canned, and pouched seafood are excellent choices, too, and are super convenient for last-minute meal prep. Just follow the same guidelines for sustainability and try to find BPA-free cans.
Important note: Pescatarians are vegetarians who eat fish but—unlike seagans—they also consume dairy and often eggs, which we don't consider healthful choices.
Take the seagan plunge! Amy's decadent recipes will shock and delight your friends and family.
Appetizer: Simple Crab + Spinach Calzones
Serves 4 for dinner or 8 for appetizers
1 (12-ounce) box silken extra-firm tofu, drained
1 pound fresh baby spinach, steamed to wilt, and squeezed to remove all excess water (or frozen, defrosted, and squeezed)
1 tablespoon sweet sherry
1 teaspoon salt
10 ounces flaked crabmeat, fresh or canned (picked and drained)
6 to 8 (8-inch) whole-wheat tortillas
1. Preheat the oven to 400°F. If you don't have a nonstick baking sheet, line a baking sheet with parchment paper and set aside.
2. Pulse the tofu, spinach, sherry, and salt in a food processor or with an immersion blender until just blended, or mash together with a fork. Fold in the flaked crabmeat.
3. Lay the tortillas on a flat surface. Spoon ⅓ to ½ cup of the crab mixture into the center of each tortilla. Fold the bottom half of the tortilla up to the center of the mixture. Fold each side into the center. Fold the bottom up to the top to form a square.
4. Place each packet on the prepared baking sheet. Bake for 15 minutes or until the tortillas begin to crisp.
5. These don't need sauce; however, for a treat, make a dipping sauce by mixing cashew cream (equal parts cashews and water pureed in the blender) and Sriracha or lemon juice.
Soup: Shrimp Bisque
1½ cups raw cashews
1½ cups water
1 cup chopped onion
1 cup chopped carrot
½ cup chopped celery
2 cups fish or vegetable stock
1½ pounds medium raw domestic shrimp, peeled and deveined (or substitute lobster or crab)
½ teaspoon salt
¼ teaspoon cayenne pepper
⅔ cup sweet sherry
1. In a blender or food processor, purée the cashews and water until smooth and creamy.
2. In a heavy dry pan, sauté the onion, carrot, and celery over medium heat until the carrot is tender. If the ingredients begin to stick, add water, 2 tablespoons at a time.
3. Add the stock, shrimp, salt, and pepper to the pan, and heat until the shrimp are pink and cooked through. Pour the entire mixture into a blender or food processor and purée with the cashew cream until smooth. Pour the mixture back in the pan, add the sherry, and heat through. Make sure to subtly pour extra into your own bowl. It's so good, there will be no leftovers.
Dinner: Halibut à la Vodka
⅓ cup raw cashews
⅓ cup plus 2 tablespoons water
1½ cups fat-free marinara or other pasta sauce
2 to 4 tablespoons vodka (more makes it "spicier")
1 tablespoon nutritional yeast
4 Pacific halibut steaks, about 4 ounces each
1. In a small blender or food processor, purée the cashews and ⅓ cup of water until smooth.
2. In a large frying pan, over low heat, combine the cashew cream, marinara sauce, vodka, remaining 2 tablespoons water, and nutritional yeast.
3. Add the halibut steaks to the pan in a single layer, skin-side down, and spoon the sauce over the fish. Cover and cook until the fish is done, around 8 minutes.
4. Serve with whole-wheat pasta or over a bed of raw spinach (the heat from the sauce and fish should wilt the spinach).
Dessert: Mocha-Coconut Almond Fudge Ice Cream by Hand (No Machine)
1 (13.5-ounce) can coconut milk
⅓ cup strong black coffee
¼ cup pure maple syrup
¼ cup unsweetened cocoa powder
¾ teaspoon vanilla extract
½ cup chopped almonds or chopped chocolate chips
¾ cup coarse kosher or sea salt for processing
1. In a medium bowl, mix all the ingredients except the sea salt until blended. Chill the ice-cream mixture overnight in the refrigerator in a small covered bowl.
2. Remove the ice-cream mixture from the refrigerator, beat it with a handheld mixer for 10 minutes, then cover it tightly. Fill a large bowl halfway with ice. Add the sea salt. Nest the covered ice-cream bowl inside the salt-ice bowl so the ice-cream bowl is surrounded by ice.
3. Place the bowls in the freezer for 45 minutes. Remove the cover of the ice-cream bowl and beat the ice cream with a hand mixer for 5 minutes. Return the bowls to the freezer and freeze for several hours or longer.
4. Test every hour until you're happy with the texture.
Quick Option
If you need it now, this version is firm and icy in texture:
1. Fill a gallon-size zip-top bag halfway with ice. Add ½ cup of kosher salt. Place the ice cream in a zip-top bag inside of the ice bag. Seal the ice bag well. To avoid leaking, double-bag the ice bag.
2. Shake and rotate the bag continuously for 10 minutes. Carefully remove the inner bag and check the ice cream for firmness.
3. If firmer ice cream is desired, return it to the ice bag, add more ice, and shake and rotate for another 5 minutes. Enjoy.
Amy Cramer
Along with Lisa McComsey, Amy co-authored The Vegan Cheat Sheet, published by Penguin Books in 2013. A graduate of Cornell University, Amy has taught private vegan classes throughout Ohio, and in New York City and Westchester County, New York, and has been a guest lecturer at Bronx Community College.
She also offers one-on-one vegan coaching to those who need more guidance and handholding. A rising vegan culinary celebrity, Amy is frequently cited in food and health blogs and has been touted in the local press. She lives with her husband and three children—Cai, Liv, and Cam—in Boulder, Colorado.
Lisa McComsey is an award-winning copywriter, Lisa has worked on staff and as a freelance copywriter for publications like Vogue, People, Life, Real Simple, Vanity Fair, Bon Appétit, GQ, House & Garden, Brides, The New York Times, Every Day with Rachael Ray, and Dr. Oz The Good Life. She spent three years as copy director of Allure magazine and is a two-time recipient of the Time Inc. President's Award for Outstanding Achievement.

Lisa cultivated a love for rice and beans while living in Costa Rica and Baja, Mexico during a three-year volunteer stint as an English teacher—giving her a taste of what was to come when she decided to go vegan in 2009.