This Popular New Kitchen Appliance Might Be The Secret To Making Vegetables Taste Delicious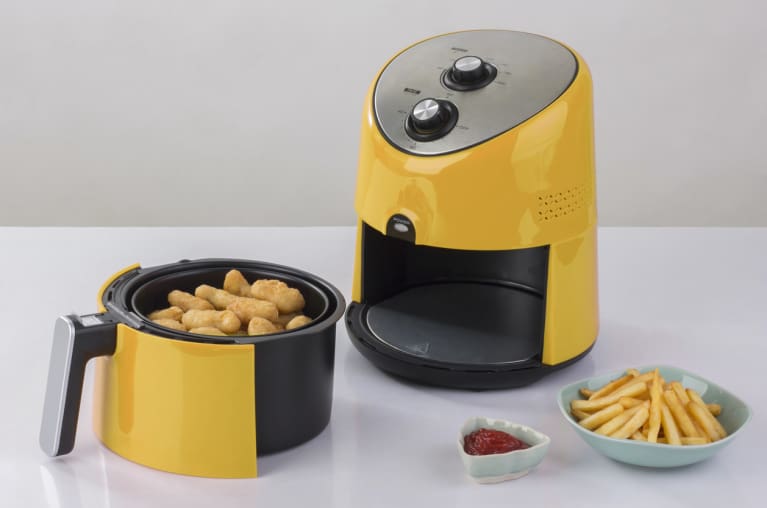 Gina Homolka has garnered a base of millions of fans on her blog, Instagram, and Facebook page by making comforting, easy family meals super healthy. With her new book, the New York Times best-seller Skinnytaste One and Done, she has a trick up her sleeve: an air fryer. While the book also offers techniques for cooking with an Instant Pot®, a sheet pan, a Dutch oven, a skillet, and a slow cooker, the air fryer is indisputably the most novel of the appliances utilized. Air fryers have burst onto the scene lately, and fans swear by them as a way to make vegetables taste delicious—super quick.
Considering adding the appliance to your home? We chatted with Homolka about all things air fryer—and snagged a recipe from her new book to boot.
mbg: OK, so what actually IS air frying? Like, what's going on inside that machine?
GH: An air fryer is basically an amped-up countertop convection oven. Its compact shape helps food cook fast and evenly. The top of the unit holds the heating mechanism and fan; the hot air gets pushed down and circulates around the food placed in a fryer-style basket, which makes the food crisp, much like deep frying without the oil.
mbg: Why would a person want to buy an air fryer?
GH: Air fryers are for everyone, whether you're looking to make your favorite fried foods healthier, whip up some crisp charred vegetables in half the time it takes in the oven, make the juiciest salmon, or air fry delicious wings without worrying about oil splattering everywhere; once you start using it, you'll discover more reasons to love it! Since an air fryer is basically an oven, you can cook any food you would typically make in an oven. Reheating leftovers is also a great use for this appliance; it's quick, and food comes out crisp without making it rubbery as a microwave would.
mbg: What types of recipes can you make with an air fryer that you can't make with other appliances or tools? How can you use an air fryer to eat more vegetables?
GH: I think most people start out trying french fries and sweet potato fries, which come out great, but if you're like me and like your veggies charred, like string beans and Brussels sprouts, the air fryer is great! Stuffed portobellos, breaded eggplant, roasted potatoes: They all come out great!
mbg: What is an air fryer NOT good for?
GH: For those who may not have the counter space or may not want to purchase another appliance, this may not be for you. All the air fryer recipes in my cookbook also list oven directions, with that in mind.
mbg: You've tested tons of appliances as a cookbook author and blogger. What are the three "weird" ones that are most worth the money?
GH: Weird appliances have now become the norm. When the Instant Pot first came out, people were scared of it. They remember stories of their mom's pressure cooker exploding in their kitchens. The spiralizer is another gadget that was unusual at first, and now you can buy spiralized vegetables in every supermarket. I think the air fryer is the next appliance that will be in everyone's kitchen one day.
mbg: Does air frying use any oil? If so, are there good kinds to use?
GH: Yes, you want to lightly spritz your food with oil from a mister. I typically use extra-virgin olive oil, but you can use any oil you like to cook with.
mbg: What are some tips and tricks to get a perfect result in your air fryer every time?
GH: Preheat your air fryer, just like you would an oven for two to three minutes. Never crowd the air fryer basket; you always want your food in an even layer. Turn your food halfway through cooking so it's browned on both sides. Open the air fryer as often as you like to check for doneness.
Want to get your air fry on? Try this easy recipe from Homoka's new book, Skinnytaste One and Done.
Breaded Cauliflower Nuggets
28 bite-size (about 1½ inches) cauliflower florets (1 pound total)
3 large eggs, beaten
½ teaspoon kosher salt
Freshly ground black pepper
½ cup plus 2 tablespoons Italian-seasoned whole wheat breadcrumbs (use gluten-free if necessary)
3 tablespoons seasoned panko breadcrumbs
2 tablespoons freshly grated Parmesan cheese, preferably pastured
Olive oil spray (I like my Misto or Bertolli)
Lemon wedges, for serving (optional)
Preheat air fryer to 375°F.
Place the cauliflower in a microwave-safe bowl. Microwave on high for 2 minutes, until crisp-tender.
In a shallow bowl, combine the eggs, salt, and pepper to taste. In a separate shallow bowl, combine the breadcrumbs, panko, and Parmesan.
Dredge the cauliflower florets first in the egg, then in the breadcrumb mixture, shaking off any excess. Put them on a work surface and spray all over with oil.
Add just enough cauliflower to the air fryer basket to make a single layer without overcrowding the basket, and cook for 8 minutes, turning halfway, until golden. Repeat with more batches of the remaining cauliflower. Serve hot, with lemon wedges, if desired.
No air fryer? No problem!
To make this in the oven, bake at 425°F for 20 to 25 minutes, turning halfway, until golden brown and tender when pierced with a fork.
Based on excerpts from Skinnytaste One and Done by Gina Homolka, with the permission of Clarkson Potter, a division of Penguin Random House. Copyright © 2018.