I Co-Slept With My Son Until He Was 2. Here's What I Wish Everyone Knew
Registered Yoga Teacher and Personal Trainer
By Kristin McGee
Registered Yoga Teacher and Personal Trainer
Kristin McGee is a celebrity yoga + pilates instructor and ACE certified personal trainer. She has been featured in over 100 yoga and pilates videos and graduated from NYU's Tisch School of the Arts.
I had no idea what type of parent I would be until I had my first child, Timothy. You can try to plan out how you will act or react ahead of time, but take it from me: Once that baby arrives, it's all about gut instinct.
My pregnancy and childbirth were on the easier side. I went into labor at 2 a.m. and gave birth to Timothy at 8:53 a.m. It was love at first sight: I held him in my arms, and my heart felt like it was going to explode. We came home from the hospital three days later, and I had a very hard time not spending every single second with my newborn son.
I was lucky that nursing wasn't too difficult, and I soon discovered I was definitely an attachment-style parent: I listened to my baby's needs, and they came first. After my mom left to go back to Idaho (she spent the first two weeks with us), it didn't take long for overwhelm to set in. I was suddenly exhausted, lonely, and a little sad.
What helped, though, was having Timothy in bed with me and letting him breastfeed through the night—it meant less crying time for him, and it made waking up at night so much easier. Timothy was never a good sleeper, either; so if I did try to put him in his crib, he was up almost every hour. When he was beside me, we both slept much better.
I quickly learned that motherhood means a lot of time in survival mode.
I couldn't do the cry-it-out method: I think I tried once at around 6 months, and it nearly broke my heart after 10 minutes of hearing my son cry. I caved every time and reverted to what worked best for us. I also traveled often for work, leading various yoga retreats, filming videos, and working on HSN in Tampa. Timothy always came with me on every trip, and it was easiest to co-sleep whenever we were in a new environment.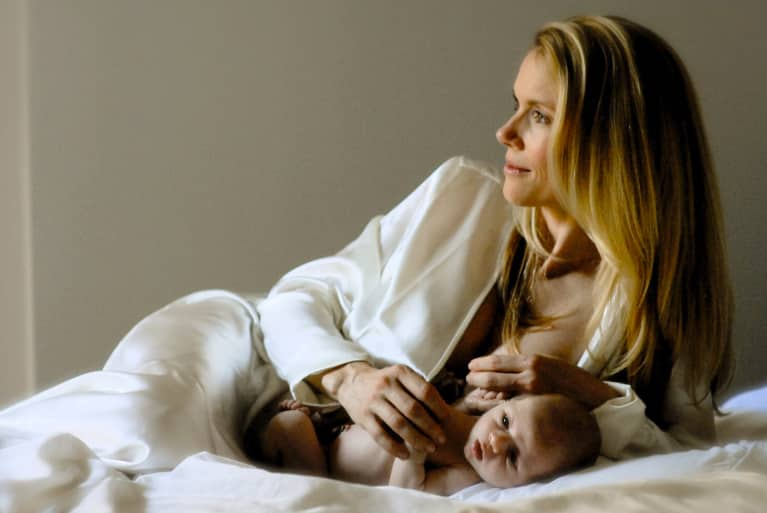 I quickly learned that motherhood means spending a lot of time in survival mode, and I learned that the best thing for me was giving in to co-sleeping. My family members often gave me a hard time for it, as did my husband and even our baby sitter. But I kept doing what felt most comfortable to me as a mother. Once Timothy stopped nursing at around 2 ½ years, his grandparents bought him a Thomas the Tank Engine bed, and it was the first time he ever really started sleeping through the night and on his own.
I still tuck him in every night, and to this day I'll fall asleep with him. Sometimes, a few times a night, he will wake up and call out for me and I go in and we snuggle in his tiny train bed. I wouldn't trade it for the world!
I'm not saying co-sleeping is for everyone, but for me, it was the right solution. Thanks to my decision to co-sleep, Timothy and I share a special bond. He has learned a lot of his own self-soothing skills, but it's also nice to know that I give him a place to feel safe and comforted, and he never has to deal with nighttime separation anxiety. We also rarely have any bedtime hassles: We feel calm and relaxed and happy to fall asleep when we get tired.
I personally believe that children can never be hugged, snuggled, or loved enough, but I also understand the decision to not do it: The second time I got pregnant, it was with twins. I tried co-sleeping with them, but it didn't work for me or my husband. Eventually, I had to get them into their own cribs.
While motherhood can be the best thing in the world, it may also be the hardest thing you ever do. Do what is best for your family and what will make you happiest all around. And if you co-sleep with your children, trust me, you're not alone! There are a lot more mommies doing it than you realize.
Editor's note: mbg welcomes all types and styles of parenting. We feel that every family should do what's best for them, but please know that the AAP does not recommend that babies share a bed with their parents. While they can be in the same room, the recommendation is that babies are placed on their backs on a firm sleep surface like a crib or bassinet with a tight-fitting sheet.
Struggling with sleep? Here's the sleep trick that could save your marriage.