3 Make-Ahead Veggie Side Recipes So There's Something Healthy At The Thanksgiving Table
Contributing Food Editor
By Liz Moody
Contributing Food Editor
Liz Moody is a food editor, recipe developer and green smoothie enthusiast. She received her creative writing and psychology degree from The University of California, Berkeley. Moody is the author of two cookbooks: Healthier Together and Glow Pops and the host of the Healthier Together podcast.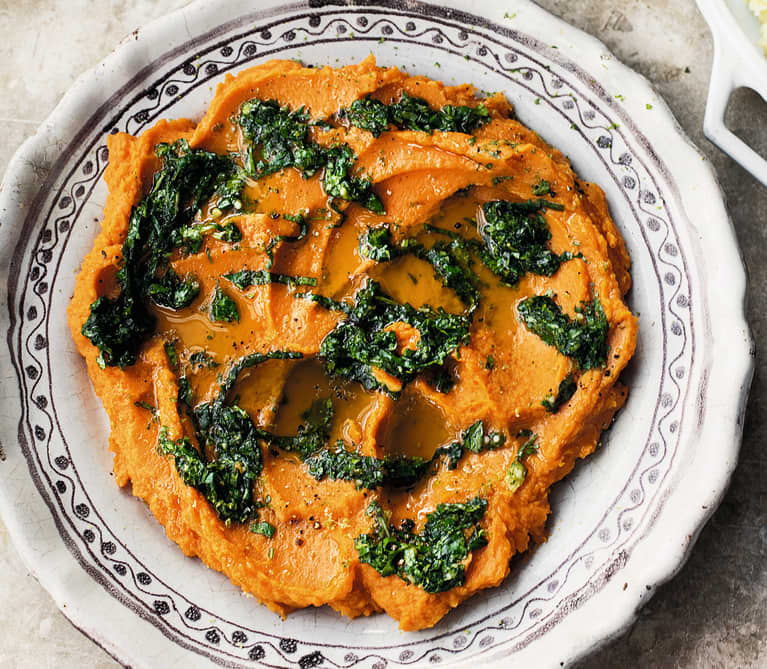 Our editors have independently chosen the products listed on this page. If you purchase something mentioned in this article, we may
earn a small commission
.
Here at mbg, we believe that coming together and celebrating community is a key part of wellness—which is why, this Thanksgiving, we won't be asking you to forgo turkey for salad or sacrifice diving into a bowl of stuffing. Instead, we're arming you with little tweaks that let you keep the best foods of Thanksgiving and ditch the worst (hello, food coma). From the one ingredient that'll make your traditional desserts gut-healing and blood-sugar-balancing to the pregame breakfast your stomach will thank you for, think of it as having your pumpkin pie and eating it too. That's something we can all be grateful for.
While you want to make sure there's plenty of room on your plate for all of the delicious treats that come with your family's Thanksgiving, it's a good insurance policy to bring along your own, vegetable-rich side dish to guarantee some color on your plate. With that in mind, we reached out to three of our favorite healthy cookbook authors to get their take on a healthy Thanksgiving side dish.
Yotam Ottolenghi scarcely needs an introduction: the restaurateur and award-winning cookbook author almost single-handedly introduced healthy Middle Eastern flavors to the West. His sweet potato mash, excerpted from his new weeknight-friendly book, Simple, is brought to life with a zesty lime salsa that'll cut through the heavier flavors of the holiday.
Ali Maffucci, the founder of Inspiralized, has mastered the art of making vegetables accessible. In this recipe, excerpted from her new book Inspiralized and Beyond, she turns cauliflower into cheesy biscuits that even kids will love (trust us; her son, Luca, is the cutest recipe tester on the planet).
Nik Sharma's new cookbook, Season, has been one of the biggest hits of fall (we named it one of our top picks!). His food combines the best of produce-driven California cuisine and spice-forward Indian flavor profiles for new takes on your favorite vegetables. This recipe, excerpted from the book, combines shaved Brussels sprouts with mustard seeds, coconut oil, and poppy seeds and is easy enough to make that it's sure to become a new staple.
Sweet Potato Mash With Lime Salsa
"This is delicious alongside all sorts of things: grilled chops, for example, grilled sausages, pan-fried pork loin, or tofu," writes Yotam Ottolenghi in Simple. "I like to keep the skins, brush them very lightly with olive oil, and roast them for about 8 minutes at 425°F, to eat as a chip-like snack."
Serves 4
Ingredients
2 lb. sweet potatoes, unpeeled and cut in half lengthwise
¼ cup olive oil
Salt
¼ cup basil leaves, finely chopped
¼ cup cilantro, finely chopped
½ garlic clove, minced
2 limes: finely zest to get 2 teaspoons, then juice to get 1 tablespoon
Black pepper
Preheat the oven to 425°F.
Rub the sweet potatoes with 1 tablespoon of oil and season with ¼ teaspoon of salt. Place on a parchment-lined baking sheet, cut side down, and roast for 30 to 35 minutes, until very soft.
While the sweet potatoes are roasting, make the salsa. Put the remaining 3 tablespoons of oil into a small bowl with the basil, cilantro, garlic, lime zest, lime juice, and a good pinch of salt, and stir to combine.
Once cool enough to handle, remove the skins from the sweet potatoes. They should slide off easily, but you can scoop the flesh out with a spoon if you prefer. Mash the flesh together with ⅛ teaspoon of salt and plenty of black pepper until smooth.
Transfer to a platter, create divots in the surface, and spoon the salsa evenly over it. Serve hot.
To make it ahead: Wait to top with salsa, transporting it separately. Reheat sweet potatoes in 425-degree oven until warm, then add salsa just before serving.
Based on excerpts from Ottolenghi Simple: A Cookbook by Yotam Ottolenghi, with the permission of Ten Speed Press, a division of The Crown Publishing Group. Copyright © 2018.
Cheesy Cauliflower Biscuits
"These cheesy cauliflower biscuits are your healthy answer to Southern comfort food. Having gone to college in North Carolina, I ate my fair share of biscuits—buttermilk biscuits, chive biscuits, and, of course, cheesy biscuits. Biscuits were in the dining halls and filled the bread basket at many restaurants," writes Ali Maffucci in Inspiralized and Beyond. "I'd never had a biscuit until I got to college, and once I discovered them, well, let's just say they were a contributing factor to my 'freshman 15.' This wholesome cauliflower version is not quite as fluffy as the original, but it's just as flavorful."
Makes 6 biscuits
Ingredients
8 cups cauliflower florets (from 1 medium head)
2 large eggs
¼ cup almond flour, plus more as needed
¼ cup minced fresh chives
½ teaspoon garlic powder
¼ teaspoon onion powder
½ teaspoon fine sea salt
1 cup plus 2 tablespoons shredded cheddar cheese
1 tablespoon extra-virgin olive oil
Preheat the oven to 400°F. Line a baking sheet with parchment paper.
In a food processor, pulse the cauliflower until it reaches a rice-like consistency, working in batches as needed. Transfer the rice to a clean kitchen towel. Gather the sides and squeeze out excess liquid over the sink. Transfer the cauliflower to a large bowl and add the eggs, almond flour, chives, garlic powder, onion powder, and salt. Using a spatula, stir to combine. Add a little more almond flour if the mixture seems too wet.
Scoop 6 large mounds of the cauliflower mixture, about ⅓ cup each, onto the prepared baking sheet. Place 2 tablespoons of the cheddar cheese in the center of each mound. Fold the cauliflower mixture to enclose the cheese and form it into a biscuit shape.
Space the biscuits apart evenly on the baking sheet and brush the tops with the olive oil. Bake the biscuits for about 30 minutes, until golden brown. Remove the pan from the oven. Turn the broiler to high. Sprinkle another tablespoon of cheese over each biscuit. Return to the oven and broil for 1 to 2 minutes, until the cheese melts. Remove the biscuits from the oven, transfer to a rack, and let cool slightly. Serve warm.
Shaved Brussels Sprouts With Poppy Seeds, Black Mustard, and Coconut Oil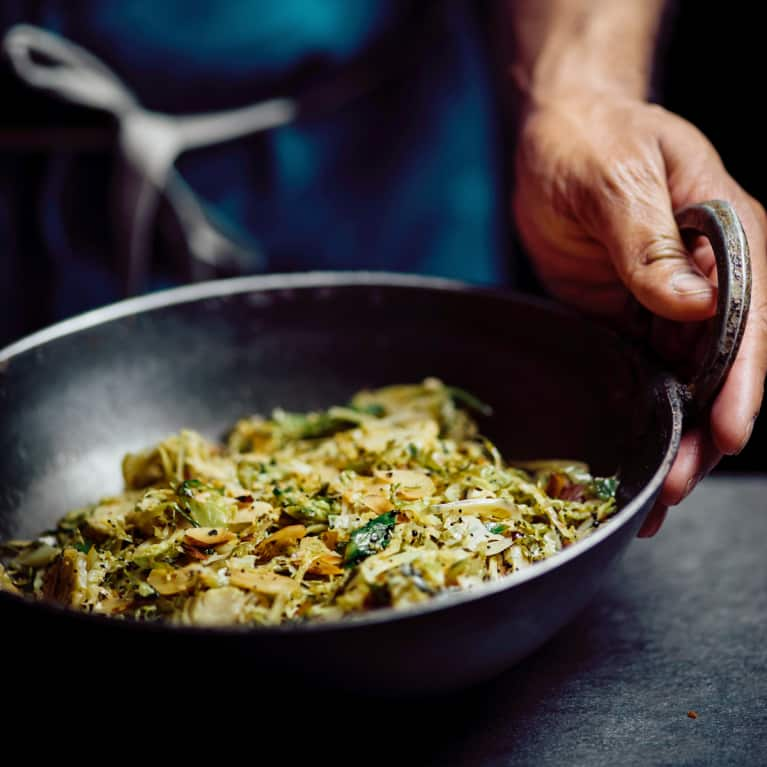 "We have two ridiculously tall coconut trees in the garden of our apartment complex in Mumbai," writes Nik Sharma in Season. "They're so tall that my parents usually hire men to climb up the trees and cut off the fresh coconuts when they're ripe. The harvest is shared among neighbors, friends, and family, who put them to good use. Almost every conceivable part of the coconut is used in coastal Indian cooking. Building on that idea, I've seasoned these Brussels sprouts with a few spices tempered in hot, fragrant coconut oil to introduce a hint of that warm tropical nuttiness we associate with this fruit."
Serves 4
Ingredients
14 ounces Brussels sprouts
1 tablespoon coconut oil
1 teaspoon poppy seeds
1 teaspoon black mustard seeds
2 tablespoons sliced raw almonds
1 teaspoon dried red chili flakes
2 garlic cloves, sliced
1 teaspoon fine sea salt
½ teaspoon freshly ground black pepper
1 tablespoon fresh lime juice
Trim the stems off the Brussels sprouts and remove any damaged leaves. With a mandoline, a sharp knife, or a food processor fitted with a slicing disk, cut the Brussels sprouts into thin slices.
Melt the coconut oil in a wok or a medium Dutch oven over medium-high heat. Add the poppy seeds, mustard seeds, and almonds, and cook until the seeds start to sizzle and pop, 30 to 45 seconds. Add the chili flakes and garlic, and cook for another 30 seconds, until the garlic is fragrant. Add the shaved Brussels sprouts and salt and pepper, and stir gently to coat evenly. Turn the heat to medium-low and cook, stirring occasionally, until the Brussels sprouts start to brown and char a little, 8 to 10 minutes.
Remove from the heat, add the lime juice, and taste and adjust the seasoning, if necessary. Serve hot or warm.
To make it ahead: Do everything except adding the lime juice. Reheat in the oven or in a pan with a bit of coconut oil over medium until warmed through, then add the lime juice just before serving.
Based on excerpts from Season: Big Flavors, Beautiful Food by Nik Sharma, with the permission of Chronicle Books, a division of McEvoy Group. Copyright © 2018.