Close Banner
Advertisement
This ad is displayed using third party content and we do not control its accessibility features.
Vegan Recipe: Cheesy Baked Parmesan-Spinach Artichoke Dip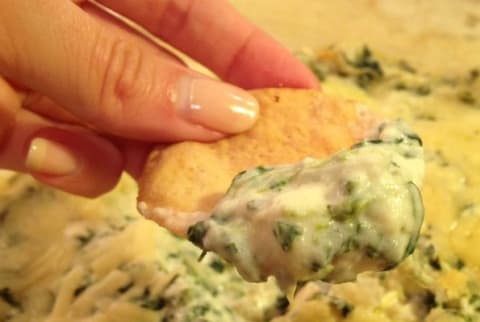 Summertime means picnics and potlucks, grilling and family gatherings. It also means more things to do and less time to do them. You need a dish and you need it now. And yes, it needs to be dairy free!
Check out this vegan Baked Parmesan-Spinach Artichoke Dip from The Healthy Voyager. This simple recipe can be whipped up in a matter of minutes and will hold nicely in a chafing dish at a party — if it even lasts that long.
1 can (14 oz.) artichoke hearts, drained, chopped
1 pkg. (10 oz.) frozen chopped spinach, thawed, drained
1 cup GO Veggie! Grated Parmesan Cheese
1 cup vegan mayonnaise
1 cup vegan sour cream
2 cloves garlic, minced
1 tablespoon lemon juice
1/2 cup minced white onion
1 teaspoon fresh ground white pepper
Salt, to taste
½ cup GO Veggie! Vegan Mozzarella Style Shreds, for topping
Preheat the oven to 350 degrees F. Grease a casserole dish with nonstick spray.
Combine all the ingredients, except shredded cheese, in a large bowl, stirring until all ingredients are well incorporated. Scrape into the prepared casserole dish and sprinkle shredded cheese on top.
Transfer to a chafing dish and keep warm over a low flame. You can also use a small crock pot to keep warm and melty. Serve with pita chips, tortilla chips or cubes of sourdough bread.
Live the life you love — without giving up delicious cheese flavor. That's what GO Veggie!™ is all about. Eat smart. Live happy. Get up and GO Veggie!