This Vegan Broccoli-Cheddar Soup Is The Ultimate Healthy Comfort Food

Contributing Food Editor
By Liz Moody
Contributing Food Editor
Liz Moody is a food editor, recipe developer and green smoothie enthusiast. She received her creative writing and psychology degree from The University of California, Berkeley. Moody is the author of two cookbooks: Healthier Together and Glow Pops and the host of the Healthier Together podcast.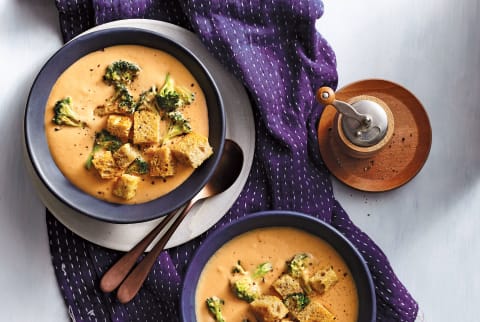 Image by Brandi Doming / The Vegan 8
October 30, 2018
Brandi Doming is all about maximizing results. The Vegan 8 blogger and newly minted author of The Vegan 8 cookbook creates recipes that are, well, vegan and made with eight ingredients or less. While it's simple in terms of ingredients, this vegan Broccoli-Cheddar Soup doesn't skimp on flavor—it's rich and creamy, packed with umami notes that sink into the broccoli florets. In others words, it's the perfect weeknight comfort dinner.
Advertisement
This ad is displayed using third party content and we do not control its accessibility features.
Ultimate Vegan Broccoli-Cheddar Soup
5 heaping cups (300 g) broccoli florets
1¾ teaspoons (10 g) fine salt, separated
¼ + ⅛ teaspoon (1½ g) ground black pepper, separated
2 heaping cups peeled ¼-inch pieces Yukon Gold potatoes (300 g)
1 packed cup (160 g) finely chopped yellow onion
¾ cup (114 g) raw, unsalted cashews
¾ cup (180 g) tomato sauce
½ cup (120 g) unsweetened plain coconut yogurt
2 teaspoons (10 g) apple cider vinegar
1¼ teaspoons (3 g) smoked paprika
Optional: ⅛ teaspoon cayenne pepper, 2 tablespoons (12 g) nutritional yeast, cubed bread, sliced fresh green onions
Advertisement
This ad is displayed using third party content and we do not control its accessibility features.
Preheat the oven to 375°F (190°C). Line a sheet pan with parchment paper.
Spread the broccoli out on the prepared pan, and season with ¼ teaspoon salt and ⅛ teaspoon pepper. Bake at 375°F for 15 to 20 minutes or until tender and beginning to brown on top but still firm.
Meanwhile, add the potatoes, 3 cups (720 g) water, onion, and ½ teaspoon salt to a pot over medium heat. Bring to a simmer, and cook until the potatoes are tender, about 10 minutes.
Meanwhile, add the cashews, tomato sauce, yogurt, vinegar, paprika, remaining 1 teaspoon salt, remaining ¼ teaspoon pepper, and, if desired, cayenne and nutritional yeast to a high-powered blender or food processor (see Note), and blend until completely smooth. Scrape the sides as needed. Set aside.
Once the cooked potatoes are tender, immediately remove the pan from the heat. Add the potato mixture, including the water, to the blender. Blend until completely smooth. Be careful not to overblend, or the starch in the potatoes will release too much and make the texture too glue-like. You only need to blend until just combined. Taste and add more salt or spices, if desired.
Pour in bowls and top with the roasted broccoli. Garnish with cubed bread and fresh green onions, if desired.
Note: If you do not have a high-powered blender like a Vitamix, you'll need to soak your cashews for 8 hours or preferably overnight in a bowl of warm water to soften, and then drain, rinse, and proceed with the recipe. Otherwise, the soup will be gritty. If using soaked cashews, a food processor works better than a regular, non-high-powered blender. Alternatively, you can sub with raw cashew butter (see page 247 for how to make this) for the same amount, 114 g, which is about 7 tablespoons. If using store-bought, make sure to use a raw cashew butter with no added oil.
Based on excerpts from The Vegan 8 by Brandi Doming, with the permission of Oxmoor House. Copyright © 2018.
Advertisement
This ad is displayed using third party content and we do not control its accessibility features.