These Are All Of The Different Veggies You Can Turn Into Bacon (And Exactly How To Do It)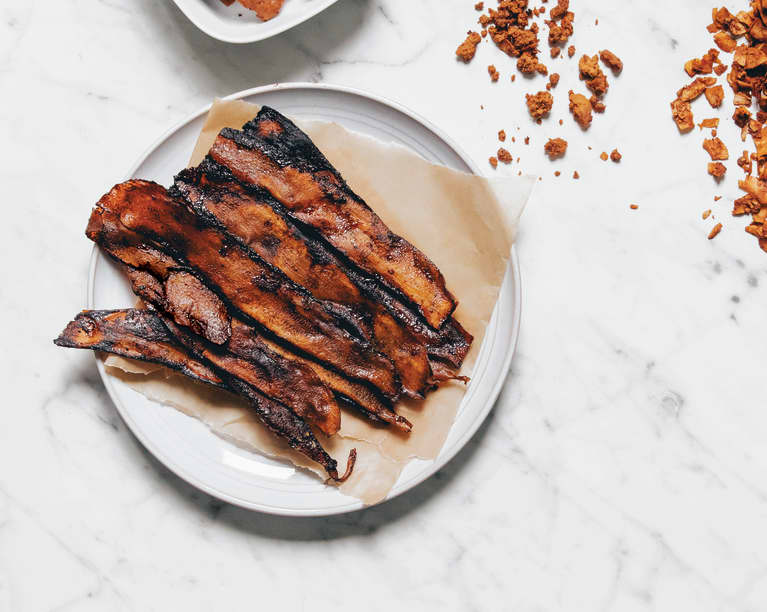 Our editors have independently chosen the products listed on this page. If you purchase something mentioned in this article, we may
earn a small commission
.
Lauren Toyota isn't just Hot For Food—with a super popular YouTube channel and a new book, Hot for Food Vegan Comfort Classics: 101 Recipes to Feed Your Face, filled with drool-worthy fare (think nacho cheese, ramen burgers, lemon meringue pie tarts, and more), she's on fire. She's also makin' bacon, and has mastered a base recipe that can be used to bacon-ize just about everything. Here, she shares her secret formula, plus three of her fave vegan bacon subs.
The future of bacon is before you . . . a tangy, sweet, and smoky marinade to drown endless options in. Then you can bake or fry up a ton of "baconlike" crispy stuff for any dish you're craving. These recipes make decent-size batches so you'll have leftovers and in many cases enough for multiple recipes in the book. The marinade below is the base ingredient, followed by some of my favorite options.
Ingredients
¼ cup low-sodium tamari or soy sauce
2 tablespoons maple syrup
1 tablespoon liquid smoke
1 teaspoon smoked paprika
Combine all of the marinade ingredients together in a bowl or wide dish with a whisk or fork.
3 cups sliced, blanched almonds
Bacon Marinade (see above)
Preheat the oven to 350°F.
Stir the almond slices into the marinade and coat well.
Line a baking sheet with parchment paper. Scoop out the almonds from marinade with a slotted spoon and spread in an even layer on the baking sheet. Reserve the excess marinade for brushing during bake time.
Bake for 25 to 35 minutes, tossing every 10 to 15 minutes to prevent burning. Watch closely as your oven temperature and bake times may vary. If the almonds are not darkening, you can brush on extra marinade halfway through baking. When the almonds are crispy, dark brown, and slightly sticky, remove the baking sheet from the oven and place on a wire rack to cool. The almonds may stick together, but once they're cooled and dry you can break them up with a sharp knife and store in an airtight container. The bacon will last 2 months if stored in a cool, dry place, but it never lasts that long in my house.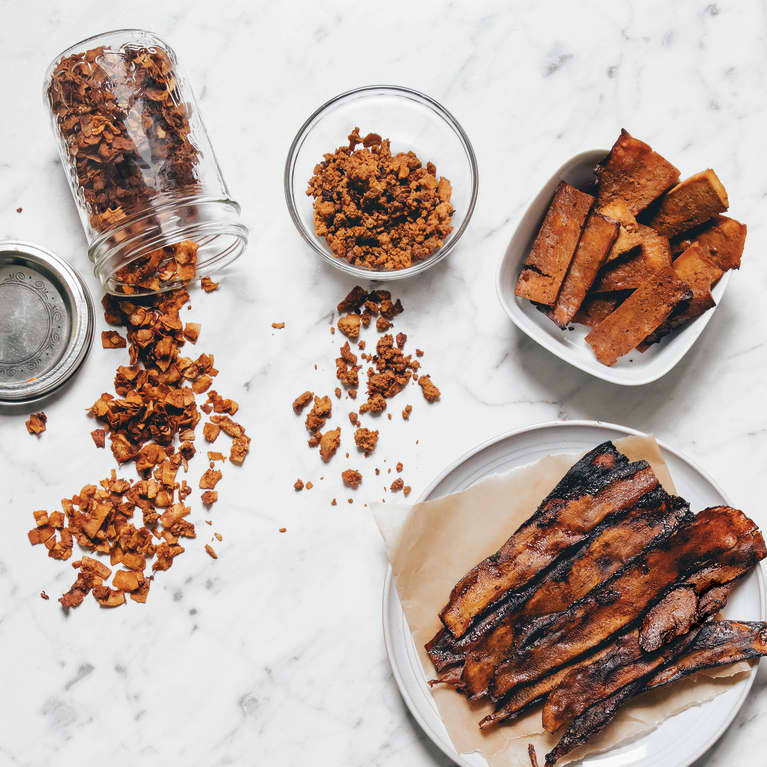 1 cassava root
Bacon Marinade (see above)
1 to 2 tablespoons vegetable oil, for frying
Heat a nonstick pan over medium-low heat with a small amount of oil. When the pan is hot, place 4 or 5 strips into the pan. Cook for 3 to 4 minutes on the first side and 2 to 3 minutes after flipped. You may need to lower the heat so the pan doesn't get too hot and burn the bacon. Once or twice while frying a batch, add a little bit of the excess marinade to help caramelize the bacon. Also add more oil to the pan before frying each batch.
Peel the tough, brown, waxy skin from the cassava and discard. Your cassava root should be firm and white, not gray or mushy. That is a sign of spoilage.
Using the peeler or a mandolin, shave off thin strips of cassava about 1 ¼ inches wide to resemble strip bacon.
Marinate the strips for 15 minutes.
Remove the fried strips from the pan and set on a plate. Placing the strips on paper towels isn't advised, as they will stick.
The bacon lasts up to 2 weeks stored in an airtight container at room temperature or in the fridge. Warm up leftover strips in the oven or in a pan on the stove before serving with recipes.
1 tablespoon vegetable oil
Bacon Marinade (see above)
4 ounces shiitake mushroom caps (about 6 large caps), sliced thin, or 2 large portobello mushrooms, sliced thin
Preheat the oven to 350°F.
Add the vegetable oil to the marinade and combine well.
Marinate the mushrooms for 15 minutes.
Line a baking sheet with parchment paper. Lay out the mushroom slices spaced slightly apart from each other. Reserve the excess marinade for brushing during bake time.