You Haven't Lived Until You've Tried This Easy, DIY Vegan Almond Bacon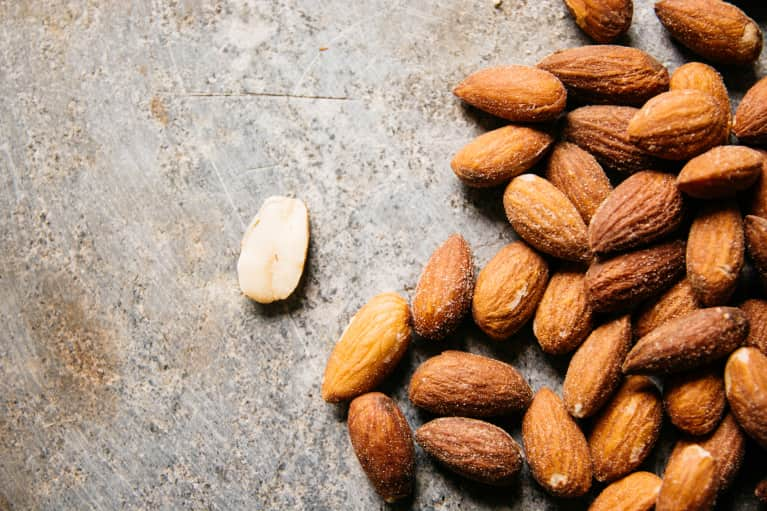 Our editors have independently chosen the products listed on this page. If you purchase something mentioned in this article, we may
earn a small commission
.
There's a secret in the plant-based cooking world: With the right spices, you can turn a number of things into crunchy, bacon-like objects. Here, Sonja and Alex Overhiser, the couple behind the blog A Couple Cooks and the genius new Pretty Simple Cooking, spruce up almond slivers to be umami-packed bites that taste just like bacon, no animal necessary. Use them as a topper for their Famous Loaded Sweet Potato Rounds, and you've got an easy dinner or snack at the ready. "These bites are great party food," the couple explains, "but we've also heard of people eating them as a meal (for example, us!)." It's just one of 100 vegetarian recipes that are organized in chapters, brilliantly, from simplest to most complex, and part of Sonja and Alex's mission to prove that good cooking can be, well, pretty simple. Try the recipe below and see for yourself!
Famous Loaded Sweet Potato Rounds
Serves 4 to 6
Ingredients for the sweet potatoes
2 pounds sweet potatoes (small, thin potatoes are best)
2 tablespoons extra-virgin olive oil (we love Spectrum Organic Extra-Virgin)
1 teaspoon garlic powder
1 teaspoon chili powder
1 teaspoon kosher salt
Ingredients for the almond bacon
½ cup sliced almonds
1 tablespoon soy sauce or tamari (Eden Organic makes a great gluten-free version)
1 tablespoon liquid smoke
½ tablespoon pure maple syrup
½ teaspoon paprika
½ teaspoon salt (Redmond Real Salt is filled with healthy minerals)
3 to 4 scallions
½ cup sour cream (omit if vegan)
Mexican hot sauce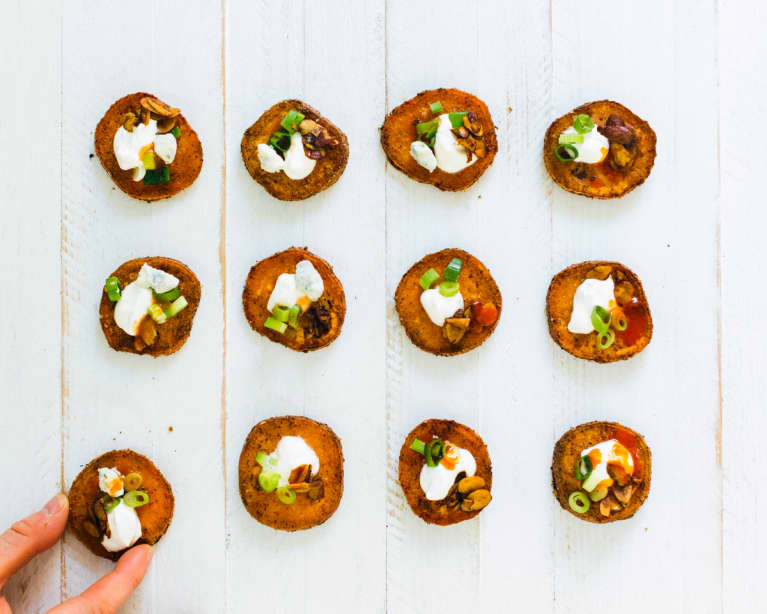 Preheat oven to 350°F. Roast the potatoes: Cut the sweet potatoes into ¼-inch slices, leaving the skin on.
In a large bowl, mix the sweet potato rounds with the olive oil, garlic powder, chili powder, and kosher salt; stir to thoroughly coat. Line two baking sheets with parchment paper or silicone mats, then place the slices in a single layer on the sheets.
Bake 10 minutes on one side, then remove from the oven, flip the slices, and bake another 5 to 7 minutes until tender (but not crisp).
Make the almond bacon: In a small bowl, mix the sliced almonds, soy sauce, liquid smoke, maple syrup, paprika, and kosher salt. Allow to sit for 2 minutes. Spoon the almonds into a large dry skillet, discarding the liquid that remains at the bottom of the bowl. Heat the skillet over medium-low heat and saute the almonds for 5 to 6 minutes, stirring frequently, until they are sticky and most of the liquid is evaporated. Take care that they do not burn, and scrape any sticky bits from the bottom of the pan. When the almonds are sticky and darkened in color, remove them from the heat, spread them on a plate in a single layer, and allow them to dry until serving, about 10 minutes.
Assemble the rounds: Thinly slice the scallions. When the potatoes are done, remove them from the oven and place them on a serving plate. To each round, add a small dollop of sour cream and top with sliced scallions. Add a dot of hot sauce. Top with almond bacon and serve immediately.