A Gluten-Free Thanksgiving (With A Turkey That Cooks In Under An Hour)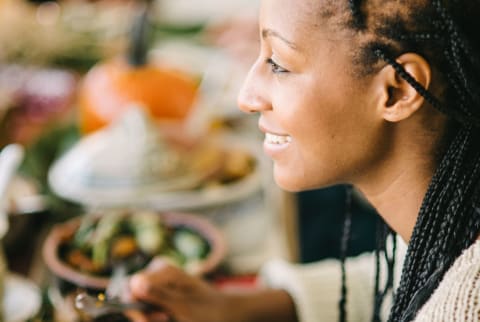 Image by Cameron Whitman / Stocksy
November 20, 2014
Erika Lenkert's GFF Magazine, a quarterly food book-magazine hybrid, is bridging the gap between gluten-free living and world class food magazines by publishing exceptional health-focused recipes and content from expert contributors with stunning photos taken by the other half of GFF, Maren Caruso. The mag comes in print and digital and we're personally into the print version for its super-thick paper, quality binding and recipes you'll go back to again and again.
Today, GFF shares three recipes from their Thanksgiving table.
Advertisement
This ad is displayed using third party content and we do not control its accessibility features.
A Gluten-Free Thanksgiving With GFF Magazine
Heritage Turchetta
Don't let our verbosity deter you. The hardest thing about this recipe by James Beard Award-winning chef Craig Stoll recipe is explaining it. Perseverance results in a gorgeous roasted bird that is ready in one hour and seduces with the juicy, rich flavors of porchetta (Italian boneless, rolled-up pork roast with brown, crispy skin). Craig recommends using a heritage turkey. (His choice is BN Ranch.) "They really retain their moisture and the breast eats more like dark meat than dry white meat," he promises. He also uses lardo (salumi made from cured strips of fatback seasoned with herbs and spices), rather than readily available salt pork; if you can find it, use it. FYI, ask your butcher to bone and halve the turkey for you. For smaller parties, cook only half the turkey and freeze the other half for future use. Regardless, you'll need 10 feet of butcher's twine for this recipe.
Serves 10 to 12
Ingredients
1 tablespoon fennel seed
10 ounces salt pork, skin trimmed and discarded, or lardo
1 large clove garlic
1 tablespoon rosemary, finely chopped
1 18-pound turkey, boneless, trimmed of extra fat, and cut into two equal halves
kosher salt and freshly ground black pepper
2 tablespoons olive oil
Preparation
1. Toast the fennel seed in a pan over medium heat, about 3 minutes, then grind in a spice or coffee grinder.
2. Dice the salt pork into small pieces and transfer it to a food processor. Add the garlic and ground fennel seed and process to a smooth paste. Add the rosemary and pulse once or twice to combine.
3. Lay a sheet of parchment paper on the counter. Spread out one turkey half, skin side down, on the paper. Orient it so the dark meat is away from you and the lighter (breast) meat is closest. Keeping the skin intact, gently detach the breast meat from the skin, loosening with a paring knife as necessary; it should pull away pretty easily. Cut the breast in half lengthwise.
4. Season the breast and thigh meat with 1 teaspoon salt and 1/2 teaspoon pepper. Smear half of the salt pork mixture over the leg and thigh (dark) meat and the breast meat. Stack the two breast pieces on top of the leg and thigh meat so that the meat is even in height and width from left to right. Grasp the stack of meat with both hands, one on either side, and roll it toward you, encasing the whole turkey in its skin and leaving no exposed meat.
5. Preheat the oven to 450°F. Measure a length of butcher's twine that can easily wrap and knot around the rolled turkey. Cut off a dozen more pieces of the same length. Wrap one piece of string around the turkey on one end of the roll and tie a firm but not-too-tight knot. Tie another an inch away. Continue until the entire turkey is secure. Repeat the same procedures for the other half turkey.
6. Preheat the oven to 400°F. Place a rack in a sheet pan, and place both trussed turkey rolls on the rack. Season the outside of each with 1 tablespoon salt and 1 teaspoon pepper. Rub 1 tablespoon olive oil all over each half bird. Roast for 30 minutes, then reduce the oven temperature to 375°F and roast for 20 to 25 minutes more. The turkey should be golden brown and have an internal temperature of 150°F. Remove from the oven and let it rest for 20 minutes before carving and serving.
Brussels Sprouts with Rosemary and Pistachios
Serves 6 to 8 as a side dish
Found regularly on the fall and winter menus at James Beard Award-winning chef Craig Stoll's San Francisco restaurant, Delfina, this deliciously simple dish accented with gastrique (caramelized sugar deglazed with vinegar) could easily become one of your quick go-to lunches or dinners. It definitely has for us.
Ingredients
2 pounds brussels sprouts
3/4 cup pistachios, hazelnuts, or walnuts
2 1/2 tablespoons sugar
2 1/2 tablespoons sherry vinegar
6 tablespoons olive or canola oil
2 tablespoons unsalted butter
kosher salt
1 teaspoon chopped garlic
1 teaspoon chopped Italian parsley
1/2 teaspoon chopped fresh rosemary
Advertisement
This ad is displayed using third party content and we do not control its accessibility features.
Preparation
1. Preheat the oven to 350°F. Trim the bottoms of the brussels sprouts and remove any discolored or damaged outer leaves. Cut each sprout in half or in quarters from stem to tip, depending on size. Set aside.
2. Toast the pistachios in a small baking pan in the oven for 10 minutes or until lightly browned. Remove from the heat, pour the nuts onto a plate to cool them, chop them coarsely, and set aside.
3. In a small saucepan, mix together the sugar and 1 tablespoon water over medium-high heat. Cook, stirring occasionally, until the sugar caramelizes to a mahogany brown color. Remove from the heat and immediately add the vinegar, standing back to avoid splatters. Whisk briefly, pour into a small heatproof container, and set aside.
4. Heat a wide, heavy sauté pan over medium-high heat. When the pan is hot, add half of the oil and half of the butter. Before the butter melts completely, add half of the brussels sprouts and season liberally with salt. The pan should be full but should only contain a single layer of sprouts. Sauté for 10 minutes, turning the sprouts so all sides brown evenly. When just cooked through and lightly browned, remove the sprouts from the pan and set them aside.
5. Add the remaining oil and butter to the pan and sauté the rest of the sprouts. After 9 minutes, add the garlic, parsley, and rosemary and cook until the sprouts are done and the herbs and garlic are fragrant, about 1 minute.
6. Return the rest of the cooked sprouts to the pan and stir to combine. Warm the sugar-vinegar gastrique in the microwave for 15 seconds to loosen up the sugar. Pour it into pan with the sprouts and add the pistachios and a generous pinch of salt. Toss to coat and serve.
Better Pumpkin Pie
Makes 1 9-inch pie
We were reluctant to publish a pumpkin pie recipe. Most people already have one and the Libby's label rendition pretty much does the trick. But this lighter-textured, perfectly spiced recipe from our regular contributor Jeffrey Larsen—complete with easy ways to make it vegan—changed our mind. It's special. Note: to make this pie vegan, replace the eggs with 1/4 cup flax meal (5 tablespoons flax seed ground into a fine meal in a spice or coffee grinder), added to the canned pumpkin mixture and cooked along with the sugar, spices, and salt; replace the half-and-half with 1 cup well-mixed canned coconut milk combined with 3 tablespoons cornstarch; and expect the pie to take an extra 10 minutes or so to bake.
Ingredients
1 Perfect GF Piecrust (see recipe below), frozen or at room temperature
1 (15-ounce) can pumpkin puree
1 cup brown sugar, firmly packed
1 teaspoon pure vanilla extract
2 teaspoons ground ginger
2 teaspoons cinnamon
1/4 teaspoon nutmeg
1/2 teaspoon kosher salt
1 cup half-and-half
4 large eggs
Preparation
1. Adjust the oven rack to the lower-middle position and preheat the oven to 375°F. Bake the piecrust for 10 minutes, and set it aside to cool slightly.
2. In a medium bowl combine the pumpkin puree, brown sugar, vanilla extract, spices, and salt. Whisk until well incorporated. Transfer the filling mixture to a 2- to 3-quart saucepan, bring it to a sputtering simmer over medium heat, and cook, stirring constantly, until it's thick and shiny, about 5 minutes. (This step takes the "canned" flavor out of the pumpkin and blooms the spices.) Pour the filling back into the bowl and cool until just warm to the touch.
3. In another bowl, mix together the half-and-half and the eggs. Whisk until well incorporated, then mix in the cooled filling until combined.
4. Pour the filling into the pie shell to just below the edge; do not overfill. (Feel free to bake any extra filling in a ramekin alongside the pie.) Bake the pie for 35 to 40 minutes, or until the filling is puffed and firm and the center jiggles just slightly. If the crust starts to get too brown during baking, cover the areas in question with strips of aluminum foil.
5. Cool on a wire rack for at least 1 hour and then serve, or refrigerate for up to a week after the pie is completely cool.
Perfect GF Piecrust
Makes one 9-inch standard or deep-dish piecrust
Triple-threat food stylist, recipe developer, and allergen-free cooking instructor Jeffrey Larsen shows how to make the ultimate GF piecrust—with vegan variations. (Just replace the butter with an equal amount of Earth Balance Vegan Buttery Sticks, and replace the sour cream with 2 tablespoons cold water.) Put this recipe in your back pocket and pull it out again and again for quiches and pies. FYI, This dough doesn't need to rest in the refrigerator before use. But you can wrap it in plastic and refrigerate it for a night or freeze it for a month or more; just bring it back to room temperature before you roll it.
Ingredients
1/2 cup (60 grams) brown rice flour, plus more for rolling the dough
1/3 cup (34 grams) tapioca starch
1/3 cup (48 grams) potato starch (not potato flour)
1/4 cup (34 grams) sweet rice flour
1 tablespoon sugar
1 teaspoon xanthan gum
1/2 teaspoon kosher salt
1/2 cup (4 ounces/1 stick) cold, unsalted butter, diced
1 1/2 tablespoons sour cream, or 2 tablespoons ice water (for vegan)
1 1/2 tablespoons rice vinegar
Advertisement
This ad is displayed using third party content and we do not control its accessibility features.
1. In a medium bowl or food processor, mix together the 1/2 cup brown rice flour, the tapioca starch, potato starch, sweet rice flour, sugar, xanthan gum, and salt. Cut in the butter with a pastry blender or a fork until it forms pea-size pieces. Add the sour cream and rice vinegar and combine with your hands.
2. Turn the dough out onto the counter and knead gently. If it seems dry, add 1 teaspoon of cold water at a time and knead the dough until it's smooth.
3. Sprinkle a sheet of parchment paper with brown rice flour. Flatten the dough into a disk on the paper. Sprinkle it with a little more brown rice flour and roll it out until the dough is 11 to 12 inches in diameter.
4. Invert a 9-inch pie plate on top of the dough. Slip one hand under the parchment paper while holding the pie plate with the other hand. Carefully flip the whole thing over so the dough is on the pie plate.
5. Carefully peel off the paper while easing the dough into the plate. Gently press the dough into the pie plate, press any cracks together, and trim the edges of the dough so they just reach the edge of the pie plate. (You can use the trimmings to patch any breaks.)
6. To create a decorative edge, make a pattern with a spoon or fork; if the spoon sticks to the dough, dip it in GF flour before each use. Prick the crust with a fork on the bottom and partway up the sides. Use the piecrust or freeze it, wrapped well in plastic wrap, for future use.
Best news: Our friends over at GFF are offering MBG readers 40% off the inaugural issue, a friends and family rate, which you can redeem here from now until December 20th with code: MBG40.
Excerpted from Issue 1 of GFF Magazine.
Advertisement
This ad is displayed using third party content and we do not control its accessibility features.
Erika Lenkert
Founder, GFF Magazine
Erika Lenkert is the founder and editor of GFF Magazine. She's a food journalist and author for 20 years and mom to a daughter who had to be GF for three years. She's been gluten-free since 2001, even while developing hundreds of recipes for Every Day with Rachael Ray, reviewing restaurants for the San Francisco Chronicle, authoring cookbooks, and writing for Food & Wine, Food Network, Bon Appétit, Travel & Leisure, and InStyle.