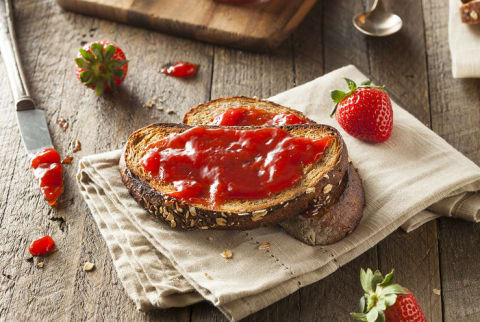 June 14, 2015
Because butter and jam just ain't cool anymore.
Grab two slices of your favorite toast (mine is organic rye sourdough!) and top it with …
2 tablespoons hulled tahini
1 teaspoon miso paste
1 tablespoon water
1/2 an avocado
Sea salt and black pepper
Toasted bread, to serve
1. In a small bowl mix together the tahini, miso paste and water until it forms a thick paste.
2. Remove the pit from the avocado and using a folk, mash the flesh in the shell.
3. Slather the tahini miso paste onto your toast, spread on the avocado and sprinkle with sea salt and pepper to taste.
Ricotta + Coconut Caramalized Bananas
¼ cup ricotta
1 banana, sliced
1 tablespoon coconut oil
1 tablespoon shredded coconut
1 teaspoon cinnamon
Pinch of sea salt
Toasted bread, to serve
1. Heat coconut oil in a fry pan.
2. Add chopped bananas, shredded coconut, cinnamon and salt and cook until bananas start to caramelize and get sticky.
3. Spread ricotta onto your toast and top with the hot caramelized bananas.
Peanut Butter, Fresh Strawberry Chia Jam + Cacao
1 cup strawberries (if frozen make sure to defrost first)
1 tablespoon pure maple syrup
2 tablespoons chia seeds
2 tablespoons organic peanut butter
1 tablespoon cacao nibs
Toasted bread, to serve
1. Place strawberries in a blender, mini food processor or small bowl and process/mash until pureed.
2. Add the maple syrup and chia seeds and process/stir until well combined. Set aside for about 15 minutes to thicken.
3. Slather the peanut butter onto your toast and top with 1 tablespoon of the strawberry chia jam. Top with cacao nibs for an extra chocolaty crunch!

Kavisha Jega
Kavisha is a food and wellness coach who works to empower people to live healthier and happier lives. She is currently studying her Masters in Wellness and is best known for her expertise in healthy eating and lifestyle balance. Her unique holistic food coaching programs allow her services to be customised to each individual's needs.